With one of the toughest divisions in all of the Central Coast Section, it comes as no surprise there are four PAL Bay Division teams in the final four of the three CCS brackets.
Here is a look at those semifinal matchups:
No. 5 Carlmont (17-9) vs No. 8 Mitty (16-7) at Los Gatos High School, 7 p.m.
It wasn't as easy as years past, but Carlmont scrapped and clawed its way to the PAL Bay Division championship and into the Open Division, beating No. 4 Mountain View 5-3 in eight innings in Saturday's quarterfinal game.
The Scots will take on a Mitty squad that beat them 3-1 in the first round of the Open Division last season, a year in which the Scots went 31-1 and were the No. 1 seed.
Mitty advanced to the semifinals of the 2019 tournament by knocking off the No. 1 seed for the second time in a row, beating WCAL rival Presentation 5-4 Tuesday.
The WCAL has not been kind to Carlmont this season as the Scots were 1-5 against the best league in the section. That includes a 10-0 loss to Mitty in the Charlie Miguel Invitational tournament in March.
Since that loss, however, the Scots are 11-3 and have won their last four in a row.
It's no coincidence that Carlmont leadoff hitter Ashley Trierweiler has gotten hot during the Scots' run. She's collected 13 hits over her last four games and needs only two more to reach the 200-hit plateau for her career.
Trierweiler was shut down by Mitty earlier this season, however, going 0 for 2.
No. 3 Aragon (20-6) vs No. 2 San Mateo (17-5) at College of San Mateo, 5 p.m.
If nothing else, the city of San Mateo is guaranteed a team in the CCS Division I finals as two of the city's three schools square off in a semifinal game at CSM.
The Bearcats beat No. 7 Branham 8-4 in the quarterfinals Monday, while Aragon got past No. 6 Gilroy, 7-4.
Both finished in a tie for second place in the Bay Division standings with 10-4 records, both have solid pitching and both can bang the ball.
The teams split their season series this year, with Aragon posting a 5-1 win March 21 and San Mateo picking up a 3-0 victory April 23.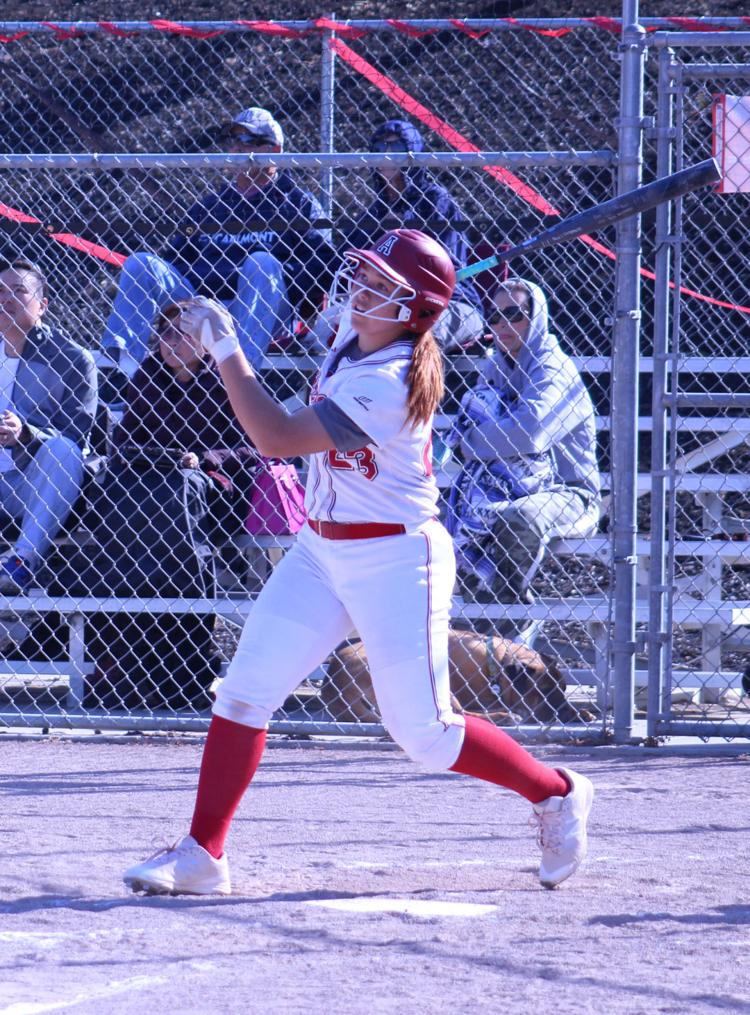 While San Mateo may be good in the slugging department, Aragon has been great. Of the Dons' 248 hits, 90 have been for extra bases — 53 doubles, 28 home runs and nine triples. Megan Grant and Olivia DiNardo, both freshmen, hit 12 and nine homers, respectively, this season.
Despite the ability to swing the bat, this game may be decided by pitching and both have two of the best. San Mateo will look to sophomore Sage Hager, who is 10-5 win a 1.22 ERA. She's averaged more than a strikeout per inning this season, while walking only 15.
Aragon will counter with senior Holly Fletcher, who is 14.5 with a 2.26 ERA. Like Hager, Fletcher averages more than one strikeout per inning with just 24 walks.
No. 3 Hillsdale (16-7) vs No. 10 Aptos (16-9) at Los Gatos High School, 4:30 p.m.
Hillsdale appears to be peaking at the right time, while Aptos is currently playing the role of Cinderella.
The Knights won their fifth game in row following an 11-0, no-hit win over Monte Vista Christian in a quarterfinal game Monday, this after burying Mercy-Burlingame 11-1 in the bracket opener.
The Knights' late-season success coincides with catcher Bri Santos getting hot at the plate. During Hillsdale's five-game run, Santos is batting .632 (12 for 19) with two homers, two triples, 11 RBIs and six runs scored.
Pitcher Kealani Cardona (formerly Kaufusi) has also rounded into form. She's been in lockdown mode the last three games, having allowed a total of three runs.
Aptos, meanwhile, is riding a wave of confidence, having knocked off No. 7 St. Francis-Watsonville 10-7 in 14 innings in the first round. The Mariners followed that up with a 2-0 win over No. 2 Carmel in the quarterfinals.
Aptos is simply continuing a hot streak that saw it win its last five regular-season games.