The South San Francisco and Menlo School girls' basketball teams have a lot in common this season.
Both teams graduated most of their starters from a season ago, both have young rosters this season and both have set up tough non-league schedules.
Where the teams differ is in the win-loss column. Menlo is coming off a championship in the Alameda High School tournament as the Knights have posted a 5-1 record early in the season.
South City, on the other hand, picked up its first win of the season Monday, after a steady diet of some of the best teams in the Central Coast Section.
Both teams continued their schedule of tough opposition as they met in Menlo's home opener Tuesday night. And while the Knights did what they do — using a suffocating defense — the Warriors did what has happened several times already this season — they wilted down the stretch.
"We hung in there, but it looked like we hit a wall," said South City head coach Paul Carion. "Right now, we're lacking attackers. But as the season goes on, we'll get there."
South City (1-4 overall), which trailed most of the game, never fell behind by more than a couple points. Menlo (6-1) held a 14-12 lead after one quarter, 25-22 at halftime and 39-31 after three period.
In the fourth, the Knights threatened to put the game out of reach as they built a 44-35 lead with just over six minutes to play.
But the Warriors had one last push in them, as they closed to 46-40 following a 3-pointer from Ula Talolo with 5:20 left to play.
South City, however, scored only three points the rest of the way as Menlo closed the game on a 11-3 run.
"Our first home and we we're a little lethargic," said Menlo head coach John Paye. "SSF was strategic in how they wanted to attack."
Menlo struggled with its shot most of the night, going just 21 for 62 from the floor. The Knights countered that, however, by dominating in the post and with their rebounding. While the teams both finished with 29 boards, Menlo pulled down 15 offensive rebounds, getting multiple looks at the basket.
What the Knights may have been missing in quality, they made up for with quantity.
"We've been averaging seven or eight 3s a game. We had two, or something (Tuesday night). The mid-range wasn't there, so you have to be able to score on the block."
Despite having the size to combat Menlo's bigs, South City's Becca Tasi and Karizma Bergesen both got into early foul trouble, which blunted their defense.
And the Knights took advantage, especially 5-11 freshman center Sharon Nejad, who finished with 15 points and 15 rebounds.
"Both our bigs had three fouls early and we couldn't defend at the rim," Carion said. "Right now, we're not a very deep team."
Menlo point guard Avery Lee, fresh off an MVP performance at the Alameda tournament, also struggled with her shot, but she finished the night with a game-high 19 points.
South City was paced by Tasi, who recorded a double-double with 10 points and 10 rebounds. Talolo added eight, knocking down a pair of 3-pointers.
"Talolo is really starting to step up her scoring," Carion said.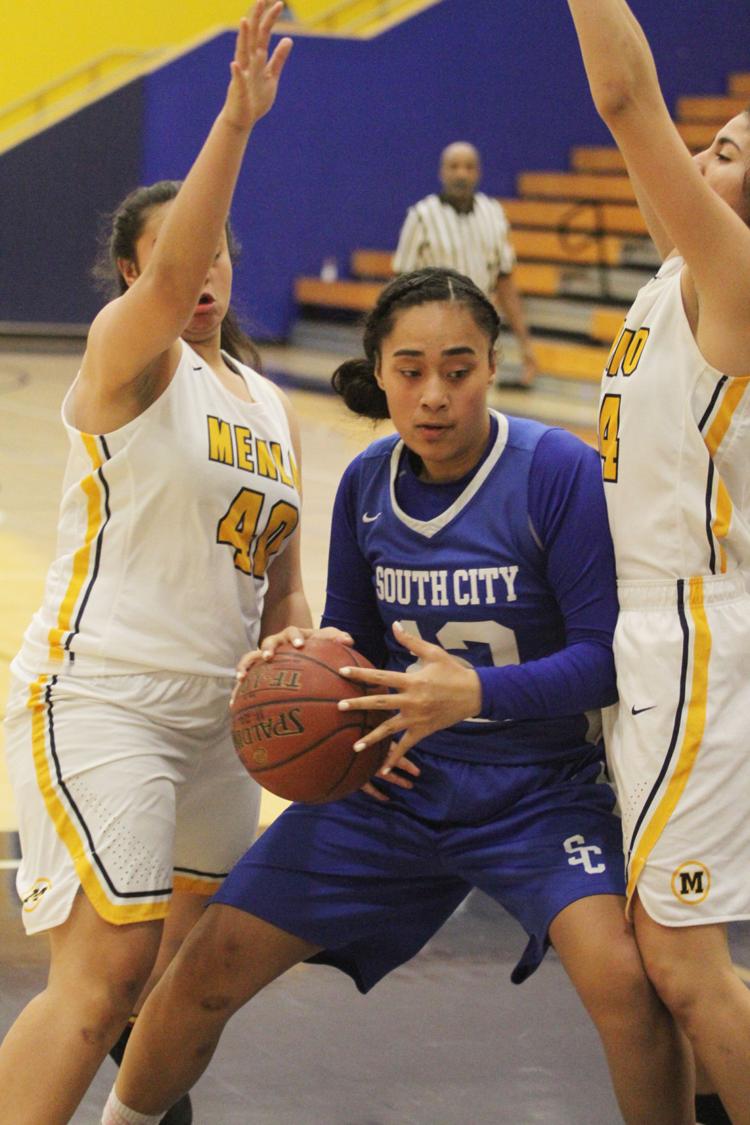 The other aspect of playing Menlo is dealing with its full-court pressure. South City had a hard time getting into an offensive set as the Warriors spent half of the 30-second shot clock just getting the ball into the front court.
The Warriors did make Menlo pay when they did break press, getting a number of easy layups, but the Knights never stop. In addition to the press, the Knights also do an excellent job of getting in the passing lanes and tying up opposing players who expose too much of the ball. Menlo finished the game with 14 steals with South City also turning the ball over 15 times.
"The points off turnovers, and second and third chances (hurt us)," Carion said.