The streak started innocently enough with Pinewood's Feb. 8, 2013 victory over Menlo School.
With that win, the girls' basketball team at Pinewood set off a 65-game winning streak in West Bay Athletic League Foothill Division games, spanning six seasons of running the table in league play.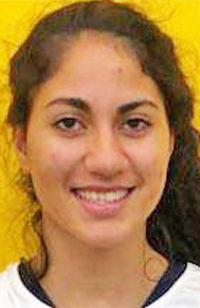 Saturday night, that streak came to an end in riveting fashion as Menlo (1-0 WBAL Foothill, 11-1 overall) opened its WBAL Foothill slate with a 46-45 victory over Pinewood (0-1, 10-1). It marks the first time the Lady Knights have beaten the Panthers since the 2011-12 season.
"It was a good night for Menlo girls' basketball [Saturday] night," Knights head coach John Paye said.
As the final buzzer sounded, it seemed as though Pinewood had extended its winning streak when an attempt at a 3-point buzzer-beater fell through the cylinder for the Panthers. The apparent game-winner was waived off though, ruled to be released from the shooter's hand after the buzzer.
"It hit the rim bounced straight up in the air and went in," Paye said. "The (Pinewood) players went crazy, jumping up and down. Then the referee stepped in and said: 'No basket! No basket!'"
Sophomore center Sharon Nejad recorded a double-double for Menlo with a game-high 18 points and 10 rebounds. But it was junior guard Coco Layton who put the Knights in front for good from the free-throw line.
With the game tied 45-45, Layton was fouled on an inbound play in the closing seconds to get to the stripe. She drilled the first free throw then missed the second one, allowing Pinewood to force the ball up the court with four seconds remaining, only to release the 3-point attempt just after time expired.
The Knights had to overcome early foul trouble. Nejad and senior forward Maeia Makoni each incurred three fouls in the first half, forcing Menlo to turn to 5-8 senior Bella Stuart. During Menlo's CIF Division II state championship run last season, Stuart missed much of the season due to a broken thumb. Saturday she saw her most minutes of the year, Paye said.
"We've been really impressed with Bella's feistiness on defense … and her overall intense style," Paye said.
Paye credited Menlo's defense with defining the win. With Pinewood currently ranked No. 10 in the nation according to MaxPreps.com, the powerhouse's 45 points Saturday was its lowest single-game total of the season.
"It was really our defensive intensity and close-out defense," Paye said. "That was really the thing that helped us limit them to 45 points."
The defense was especially exemplary down the stretch as Menlo finished on a 14-5 run. With the Panthers leading 40-32 in the fourth quarter, Layton and junior guard Avery Lee heated up down the stretch for Menlo. Lee finished with nine points, as did Makoni, though all Makoni's scoring came on three first-half 3-pointers before fouling out in the third quarter.
Layton added eight points while junior Danielle McNair scored two. McNair's only field goal came at a big time, though, hitting a layup with under three minutes to go in regulation.
"[McNair] was kind of our spark plug," Paye said. "That really got our energy up and our fans behind us. And that was one of the key plays."
Entering play, Pinewood was riding a 15-game winning streak over Menlo in head-to-head play.
Since moving to the WBAL in 2008-09, Menlo has never won a Foothill Division championship. The Knights did earn a WBAL Skyline Division championship in 2008-09, but have finished no better than second-place in the upper Foothill Division since then, once in 2015-16 and again last season.
"We only play 10 WBAL games and to win your first one really helps you get going," Paye said.
Next up, Menlo travels to Woodside Priory for a Tuesday tipoff at 5 p.m. Priory features an intriguing transfer student in 6-foot junior Bineta Diatta, whose mother Astou Ndiaye-Diatta played on the same Seattle Reign team of the now-defunct American Basketball League with Paye's sister Kate.