Add Menlo-Atherton football to the long list of teams affected by COVID.
M-A's varsity football game scheduled for Saturday against Placer High School has been canceled. Placer called off the game due to the Auburn-based team following COVID protocol. Head coach Joey Montoya called M-A head coach Chris Saunders Sunday night to cancel the game, Saunders said.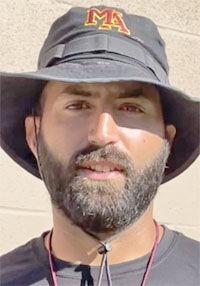 Saunders said he immediately began reaching out to other schools looking for another opponent. M-A is tentatively set to make up for the lost game with a road trip to Oak Ridge Friday, Oct. 1.
This week essentially becomes M-A's bye week.
"Up to this point, I really haven't dealt with that," Saunders said. "Even with last year, we made it through all five games, just barely, but we made it. So, it was a little stressful last night ... and it was amazing how many coaches were like: 'No, we just picked [a game] up.' … So, it's a pretty stressful deal trying to get it together."
Saunders said he reached out to six different teams, and had one offer to play this weekend. Ultimately, M-A opted to focus on scheduling a game for Oct. 1.
M-A's matchup with Placer was to be played at home. Now, the Bears are potentially traveling to Oak Ridge, which comes with an additional level of planning for transportation. With the school located in El Dorado Hills, over two hours away, M-A must reserve private charter buses as district buses will not accommodate a road trip of such distance.
The Bears are coming off Saturday's annual Honor Bowl game, played against Pleasant Valley at the neutral site of Liberty-Brentwood. The game, however, counted as a home game for M-A.
"We've got to play the game at this point," Saunders said. "Our Honor Bowl game was technically a home game, but obviously it's a neutral site. … So, losing a home game is kind of a bummer."
All teams in the pandemic era are dealing with the uncertainty of games being played from week to week. Saunders acknowledged the possibility of M-A losing a week from its 10-game schedule. Serra already faced this issue when its Week 1 game in Pittsburg was canceled due to poor air quality.
"I know we won't be the only ones," Saunders said. "Obviously there are some schools already that are down to nine games. … Yeah, it would be a bummer because in football you only get 10 games to begin with. That's probably the biggest issue with that, and the biggest harm of not playing a game, is taking away a high school football game because you just don't get that many."
The content of this article has been edited.