MOUNTAIN VIEW — The observer who only saw the 49-28 final score of Friday night's CCS Division I Semifinal would think that St. Francis ran all over Menlo-Atherton, just as the Lancers have done to foes all year.
The observer who attended the game at Ron Calcagno Stadium saw the Bears execute their gameplan perfectly, to the point where they had a shot at delivering a piercing blow before the top-seeded Lancers showed their might.
"High school football is mostly about momentum, and momentum shifted throughout the game," Menlo-Atherton head coach Chris Saunders said.
Fifth-seeded Menlo-Atherton (9-3) had that momentum with a 21-7 lead late in the second quarter after Jeremiah Earby stopped St. Francis quarterback Josh Perry's attempt at a fourth-down conversion by a matter of inches and even had the chance to build on that lead after Earby gained 27 yards on a screen pass, but the hosts took control across the final 100 seconds of the first half.
First, Nico Andrighetto, whose last-minute touchdown ended De La Salle's 30-year unbeaten streak against Northern California opponents in September, made a leaping grab to intercept a deep pass from Matt MacLeod to Jalen Moss. A 21-yard completion from Perry to Tim Netane, who joined the Lancers after spending three years at Carlmont, took St. Francis (11-0) across midfield, and tight end Dillon Golden caught a 10-yard touchdown pass with 12 seconds left in the half to cut the lead to 21-14.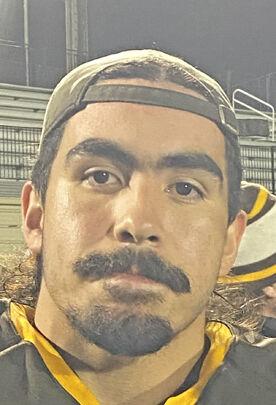 As good as the Lancer passing game was, with Perry completing eight of 12 passes for 120 yards and a touchdown, he threw just once in the second half. Instead, the final two quarters belonged to Camilo Arquette, a three-year starter at both running back and linebacker for St. Francis with the flowing hair and mustache of a grown man. After carrying the ball just once in the first half, Arquette finished the night with 113 yards on 17 carries and three touchdowns. The M-A front prevented Viliami Teu, who lit Serra up for 344 yards two weeks earlier, from finding holes, but Arquette's power running was too much to handle. He carried nine times on the opening drive of the second half, scoring from a yard out to tie the game, and after Michael Taliauli sacked Matt MacLeod to force a quick three-and-out, the hosts were knocking on the door at the end of the third quarter.
Perry hit Netane for a 12-yard completion on third down, his only pass of the second half, to open the fourth quarter, and Arquette scored on a 2-yard run to put the hosts ahead for the first time, 28-21. After a hold wiped out a 15-yard Dane Fifita carry, Arquette intercepted MacLeod to set up Perry's 1-yard dive for a two-score lead.
The Bears did mount one last threat, with Fifita gaining 18 and 11 yards on screens before a 1-yard MacLeod plunge, but Peyton Warford recovered the ensuing onside kick and Teu iced the game with a 48-yard touchdown run. In all, Teu ran 28 times for 150 yards.
Fifita finished with 12 carries for 48 yards and added 49 more yards with three receptions.
One last interception by Warford and Arquette's final touchdown run, a 1-yard plunge, accounted for the final score and put an end to MacLeod's high school career. As eventful as life has been for any high schooler over the past four years, MacLeod's journey has been particularly remarkable, from getting called up to varsity as a freshman to help lead the Bears to a state championship to going undefeated in league play across all four seasons and three head coaches.
"The last four years have been special, meeting all these new people," MacLeod said. "I built lifelong relationships all because of a silly game where people tackle each other."
MacLeod completed 14 of 25 passes for 295 yards and ran six times for 24 yards, accounting for a pair of touchdowns through the air and two more on the ground. He called off the first drive of the game with a 16-yard run, then hit Fresno State commit Jalen Moss on a quick route for what ultimately became a 61-yard score. Moss, who dislocated his shoulder in the fourth quarter, had four catches for 88 yards. Cal defensive back commit Jeremiah Earby had a monster offensive game for the second week in a row, with five catches for 136 yards. After a 4-yard Teu touchdown run got the Lancers on the board midway through the second, MacLeod found Earby deep for a 58-yard score on the very first play of the next drive.MacLeod's excellence left an impression on second-year head coach Chris Saunders, who had always directed run-heavy offenses before coming to M-A.
"It's gonna be hard to go back," Saunders said. "That's the most fun I've ever had calling plays in my life."