Editor's note: This story has been corrected to show the correct spelling of Brendan Carney.
Believing the school's football team was going "to do well" in 2018, Menlo-Atherton boys' basketball coach Mike Molieri purposely scheduled a late season opener.
He wanted the least amount of impact of playing without two starters who are still playing football in the Northern California 3-AA championship Friday night.
But Molieri and the Bears didn't ease into the season. Instead, they jumped right into the deep end with a road game against cross-town rival Sacred Heart Prep Wednesday night.
After an up-and-down first quarter that saw SHP take an early lead, the Bears found their footing and hit the gas. M-A scored 20 points in the second quarter and 23 more in the third to take control and post a 66-47 win over the Gators.
"I didn't know what I had," Molieri said about a team its first game action of the season. "But nobody cares who we have out there. They have to perform."
And M-A (1-0) showed that it can beat a team in a variety of ways. When the Bears' shots weren't falling in the first period, they shot just 4 for 13, it was their rebounding that kept them close.
M-A actually held a 7-5 advantage midway through the opening period when Heath Hooper scored on a tip-in.
But SHP would outscore the Bears 9-4 over the final 3:48. Jai Deshpande knocked down a spinning floater to tie the game at 7 and followed that with a layup off the bounce.
But the big play was a Brendan Carney 4-point play with 1:46 left in the first period. He sent up the 3 from the left corner and the defender closing him out knocked him to the floor. He buried the shot and the and-1 for a 13-10 Gators' lead. Carney then capped the run with a layup at the buzzer off the steal for a 15-12 SHP lead after one quarter of play.
In the second period the Bears got into a rhythm, thanks to a defense that transitioned to instant offense as they came up with five steals in the period and eight in the first half. Down 20-17 with 6:13 left in the second, M-A went on a 13-4 run, with a pair of fastbreak layups from Hooper and Will Beasley and a 3 from Tripaldi keyed the charge. When Trevor Wargo knocked down a 3-pointer with 2:44 left in the period, M-A led 27-24.
"Their defensive pressure is the key," said SHP head coach Tony Martinelli. "That tends to get other teams to turn it over and that results in layups at the other end."
The Gators, however, hit some shots down the stretch to stay close and trailed 32-29 at halftime.
In the third quarter, the Bears put together all three phases of the game. They shot well, going 9 for 18 from the field, they dominated the boards 12-6 and they scored in transition, going on a 11-2 run to open the second half. At one point, the Bears scored nine unanswered points, with Hooper bookending that run with a pair of layups as M-A pushed its lead to 43-31.
When Hooper took a bounce pass on the baseline after dribble penetration from Tripaldi, M-A led 43-31 with 5:21 left in the third period.
The Gators managed to cut their deficit to 12 points early in the fourth quarter when Ryan Van Thaden knocked down a 3, but back-to-back layups from Tripaldi and Hooper pushed the M-A lead back to 16, 61-45, and the Gators were done.
Hooper, a 6-2 senior post had a strong opener, finishing with a team-high 14 points and also pulled down 7 rebounds.
"He had an opportunity to step up," Molieri said of Hooper. "He gave us a great game offensively."
Beasley finished with 13 points, as he converted a pair of fastbreak layups during their third-quarter run. Tripaldi chipped in with 11 points, including a pair of 3-pointers.
"We can score points," Molieri said. "If we're patient, we can score on teams."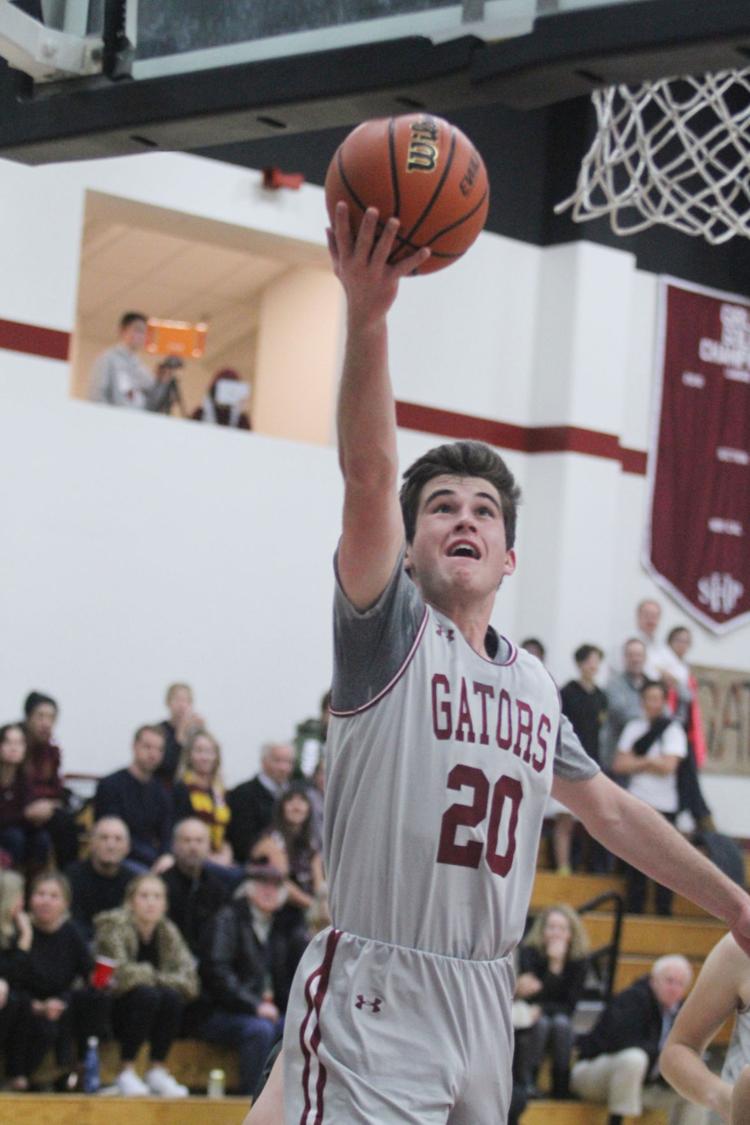 SHP's Carney led all scorers, finishing with 15 points, including three 3-pointers. Deshpande scored on a number of twisting, acrobatic shots to finish with 13 for the Gators.
"We missed a lot of good, open looks," Martinelli said.