Ashley Trierweiler added to Carlmont's all-time career hits record with a 3-for-4 day and extended her historic high school career in the process.
The senior leadoff hitter delivered a go-ahead double in the top of the eight inning to lead the No. 5-seed Scots (17-9) to a 5-3 win in the Central Coast Section Open Division softball opener over No. 4 Mountain View (17-7) Saturday at Hawes Park in Redwood City.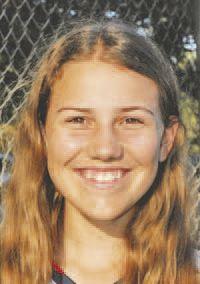 With several rainouts of CCS games Saturday, Carlmont got its game in thanks to drawing the early 10 a.m. game at Hawes Park. All games scheduled for the venue later in the day were postponed.
"It wasn't that bad, it was just spitting," Carlmont head coach Marco Giuliacci said. "As soon as the game was over, it started pouring. They didn't even start the second game."
Carlmont jumped out to a 3-0 lead after four innings of play. But Mountain View tied it up in the fifth with a two-run homer by Lauren Dove, followed by a game-tying solo shot by Ilona Sullivan. Scots starting pitcher Sanni Karhiaho faced the minimum through the final three frames though, including retiring the side in the order in each the sixth and seventh.
Then Trierweiler's bat brought down the rain. Carlmont senior Logan Bonetti led off the eighth inning with a single. Andrea Racioppi bunted Bonetti to second. Trierweiler followed with her third hit of the day, and RBI double to put Carlmont up 4-3. Sam Chu then traded places with Trierweiler with an RBI double to give the Scots some breathing room.
Mountain View got its leadoff hitter on to start the bottom of the eighth, But after Karhiaho notched her seventh strikeout of the day, the game ended on a line drive to Chu at second base, who promptly threw to first to finish the game with a double play. The umpire's out call wasn't prompt though as the runner at first was initially called safe. The call, however, was quickly reversed to an out.
"It was a little strange because the first call by the umpire was safe," Giuliacci said. "Then she changed her call. We all jumped up like: 'What?' But she did a great job because she made the right call. She was obviously out."
A Scots celebration ensued.
"Pretty much erupted in cheers and running out (on the field)," Giuliacci said. "Relatively crazy."
Trierweiler has now recorded eight straight multi-hit games, including five three-hit games, and two four-hit games. The left-handed leadoff hitter is batting .576 and ranks third in the CCS with 49 hits on the year, according to MaxPreps.com. She now lists at 198 career hits — Carlmont's all-time program record — two shy of becoming the first player in program history to reach the 200-hit plateau.
Carlmont now advances to the Open Division semifinals to be played Wednesday or Thursday at a time to be determined. The Scots' opponent is yet to be determined as well as the game between No. 1 Presentation and No. 8 Mitty was rained out and has been rescheduled for Tuesday.
Aragon, San Mateo both rained out
No. 2 San Mateo got the rainout it wanted Saturday. The Bearcats' CCS Division I quarterfinal matchup with No. 7 Branham was originally scheduled for a neutral site in Sunnyvale. The game will now be moved to San Mateo's home diamond Monday at 4 p.m.
No. 3 Aragon made the trip all the way to Salinas before its Division I quarterfinal against No. 6 Gilroy was announced as a rainout. The silver lining for the Dons is they will not have travel with the game being rescheduled for Monday at the College of San Mateo. First pitch is scheduled for 5 p.m.
Hillsdale, Bgame rained out
No. 3 Hillsdale will be at home Monday at 4 p.m. after its CCS Division II quarterfinal with No. 11 Monte Vista Christian in Redwood City was rained out Saturday.
No. 9 Burlingame also had its Saturday game postponed. The Panthers will now travel to No. 1 Valley Christian-San Jose Monday at 4 p.m.