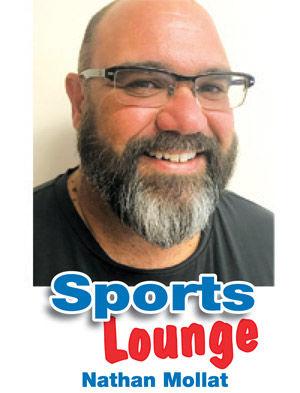 In my previous column, I talked about the light at the end of the tunnel when it comes to pro sports. Well, looks like high school sports is also creeping back into the limelight.
Wednesday, Wheatland Union High School football tweeted that it has been cleared to resume modified practice beginning May 27. Wheatland is about 40 miles north of Sacramento. In a subsequent message, Wheatland football tweeted, "Northern Section allowed districts to make the call based on county directives (Wheatland is in Yuba County)."
Earlier Wednesday, I talked with San Mateo athletic director Jeff Scheller, who was excited to hear that Peninsula Athletic League leaders were finally starting to discuss precautions necessary to get sports rolling again in San Mateo County. Football coaches in the West Catholic Athletic League got together Tuesday to discuss similar issues.
While the return of all high school sports, in particular, is predicated on county health officials giving the go-ahead to send kids back to school campuses, it's nice to finally hear that these things are being discussed because, for the last eight weeks, I haven't heard a peep from anyone about ways to reopen high school athletics.
The common refrain, initially, was there will be no sports if there are any kind of restrictions in the classroom. But that statement is too black and white and there is whole lot of gray regarding the coronavirus. Maybe 30, 40 years ago, after-school sports could be lumped under the umbrella of "school," but high school athletics are so much more sophisticated than a generation ago that it deserves to be dealt with as a separate entity.
The bottom line is this: the coronavirus is simply not going to vanish any time soon and prep sports is like the rest of society, in the process of figuring out way to safely reopen. Officials need to come up with solutions and protocol that can be implemented that would allow prep sports to more safely be practiced and played again.
It may take some drastic measures and out-of-the-box thinking. How would you feel about football and wrestling in the spring? What if swimming and water polo swapped seasons, with polo moving to the spring and swimming to the fall? Don't automatically pooh pooh it because it's being discussed.
Besides, you want the alternative, which would be no fall sports at all? So let's come up with a plan that can get approved and when given a cautious all clear, coaches, players and administrators will know what needs to be done and the steps necessary to accomplish them.
The good news is, the official start of the 2020-21 high school sports season is Aug. 7, so there is still plenty of time to get the particulars hammered out.
No matter how much the Oakland A's are a "big league" organization, it certainly doesn't act like it. A recent report said the A's have not paid rent for the usage of the Oakland Coliseum. The team claims since it hasn't had access to the facility for the last eight weeks, it has been unable to generate the revenue necessary to pay the rent.
The amount owed? $1.2 million. A pittance, one would think, for a professional sports franchise.
It's true, the A's haven't used the Coliseum for the last two months. But they don't have $1.2 million in the team piggy bank? A team in Major League Baseball can't afford the cost of a below-average long reliever?
"We recognize that we've all been upended in a number of ways," Henry Gardner, interim executive director of the Coliseum authority, said in an Associated Press report. "Maybe there are some things we are willing to negotiate and waive, but we can't just say no rent."
If you're interested, PlayVS, the official esports partner of the California Interscholastic Federation, is hosting the 2020 League of Legends California Cup. The LoL tournament is free for high school teams in the state.
Your school does not have to have a team, per se. You just need seven other players to form a team. You will, however, need to have a school administrator provide some of the information necessary to participate.
The deadline is Friday, so better get on it now. For more information, go to playvs.com.