Like nearly every other team in the Peninsula Athletic League, the Hillsdale boys' basketball team has not been immune to the effects of COVID.
Going into Friday night's home game against San Mateo, Hillsdale head coach Arjuna Manning-Laisne said his team has had only four practices since a 52-47 win over Jefferson New Year's Eve.
Does the team have to get re-acquainted all over again?
"It feels like it," Manning-Laisne said. "I got a new perspective on practice."
The Knights managed to knock the rust off — and that was about all — in 72-57 loss to Carlmont Wednesday before taking on the Bearcats Friday.
San Mateo, which was competitive in a 66-55 loss to Sequoia Wednesday, struggled throughout against the Knights, who posted a 53-38 victory.
"I thought we played well," said Manning-Laisne. "Our defense played well tonight."
It was the Knights' defense that propelled them on this night. Hillsdale (1-1 PAL South, 5-9 overall) was especially stingy at the beginning of each half. They held San Mateo (0-2, 6-9) to four points in the first quarter and with the Bearcats still within striking distance at halftime, the Knights took firm control in the third, outscoring San Mateo 18-5 to lead 43-20 going into the final quarter.
"Definitely pleased with the way we played (defensively in the third)," Manning-Laisne said. "I liked the fact we could pressure the ball and not get called for hand checks. When we can do that (pressure the ball effectively), we can get out and run."
Up 25-15 to start the second half, Hillsdale scored 16 unanswered points to open up a 41-15 lead. Jordan Hauser had a big hand in the spurt as he went on to score a game-high 14 points. Hauser scored seven straight points at one junction — hitting a 3-pointer, two free throws and a layup. He scored seven points in the first half as well.
"He's a fantastic player," Manning-Laisne said of Hauser. "The hustle plays and energy he brings to the team … we really need that."
Dante Hauser, Jordan's twin brother, was right behind Jordan in the scoring column, finishing with 13 points. In addition to showing off a fancy handle, Dante Hauser showed he can dial it in from deep. He hit a trio of 3-pointers, including one in the first half that was three steps behind the arc.
"He's one of our best shooters and I've been begging him to shoot it more," Manning-Laisne said. "He's a guy who can do that on a consistent basis."
Manning-Laisne was also happy to see his bigs get involved, as well. Zachary Clumeck, a 6-4 power forward, scored eight first-half points as several times the San Mateo defense jumped out to slow the Hillsdale guards, only to leave Clumeck wide open under the basket.
"He found some tough, physical baskets," Manning-Laisne said.
Neither team got off to an especially good start. It took more than two minutes for the first basket to be scored, with Jordan Hauser swooping in for a layup. Clumeck followed with a layup and Dante Hauser scored on a fastbreak layup after a Brady Carson steal.
San Mateo finally broke the seal on a Gabriel Jaen layup off a fastbreak, but back-to-back 3s from Dante Hauser and Carson gave the Knights a 12-4 lead at the end of the first quarter.
Jordan Hauser put together a personal 5-0 run to start the second quarter to boost the Knights' lead 17-4.
With the Knights threatening to pull away, San Mateo stayed in the game. Tian Doong converted a three-point play and Owen Bergstrom knocked down jumper to trail by eight, 17-9, midway through the second quarter and trailed 25-15 at the break.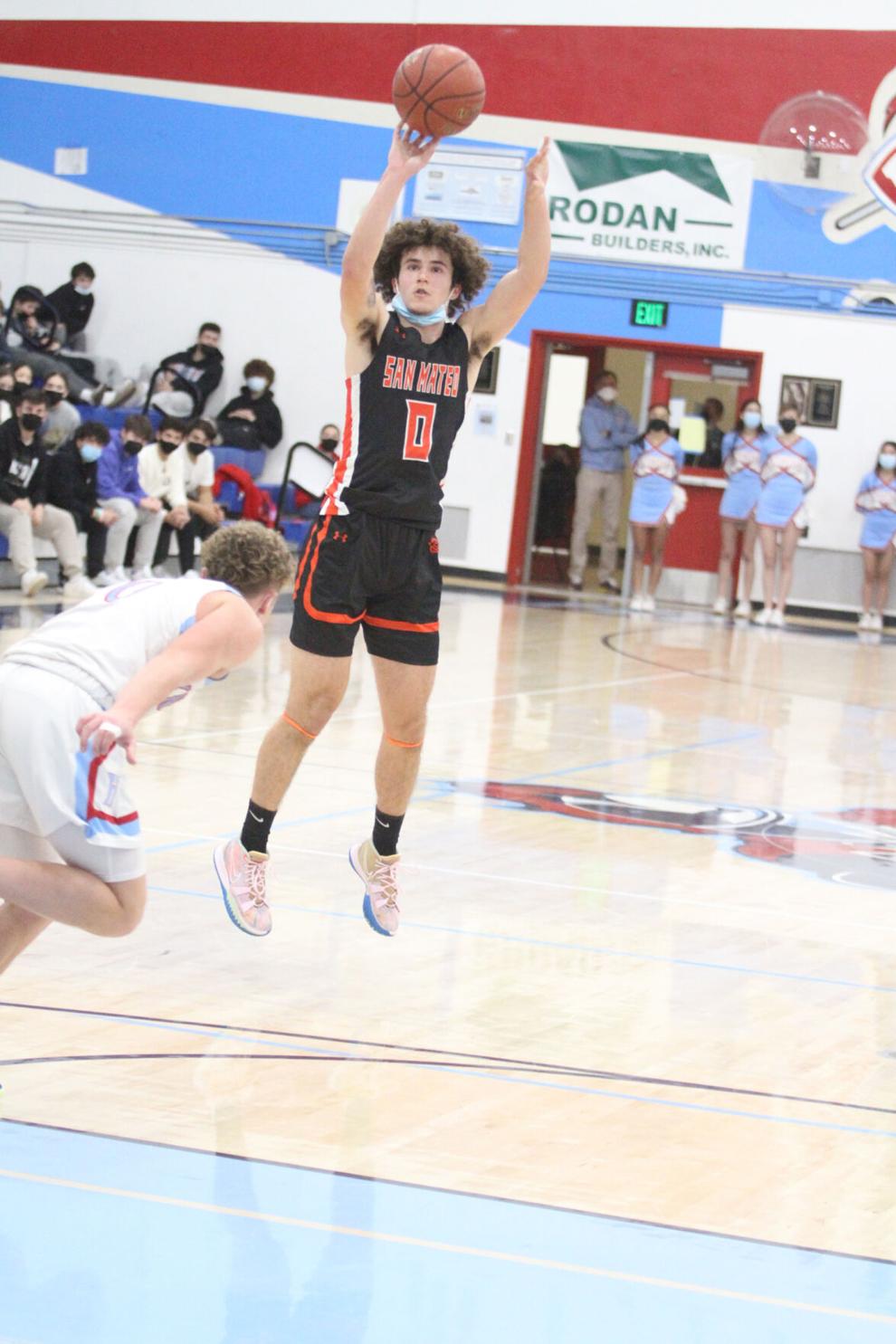 After an abysmal third quarter, the Bearcats put together its best eight minutes of the game in the final period, scoring 18 points. Ethan Nekota scored six of his nine points in the fourth, scoring on a putback and then draining a fade-away jumper on an inbound play.
But it was too little, too late for San Mateo.
Noah Gagne led the Bearcats with 12 points.