Many of Hillsdale's volleyball players hadn't even discovered the sport the last time the Lady Knights played powerhouse Sacred Heart Cathedral. Hillsdale head coach Dwight Crump, however, remembers it well.
It was Crump's second year at Hillsdale when the Fightin' Irish eased to victory in the 2013 Central Coast Section Division III quarterfinals to end the Knights' season. It took some years for Hillsdale's program to recover, but the Knights have been on the rise, qualifying for the CCS playoffs every year since 2017, and even won the unofficial Peninsula Athletic League championship in last year's truncated 10-game, no-postseason format.
So, it was a major play for Crump to schedule Hillsdale's 2021 opener against SHC. And the result might suggest a minor coup in the CCS power structure as Hillsdale walked away with an opening-day sweep, taking down the mighty Irish 25-18, 25-21, 25-14.
"The girls, they were fired up from the beginning when we knew they were going to play them," Crump said. "And they couldn't hold their emotions back after they won."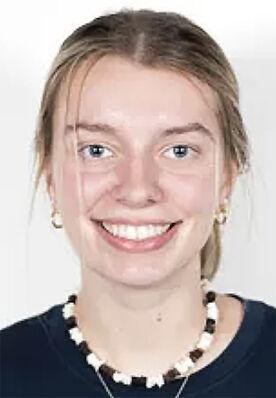 SHC is a proper volleyball powerhouse. Under legendary head coach Margi Beima, the Irish have won 25 or more overall matches in every full season since 2008. Last season, they played just two spring matches in the wake of coronavirus closures, and promptly posted a 2-0 record.
Hillsdale, however, has been building something a powerhouse of its own. Led by four-year varsity starters Victoria Vanos and Jessica Dean, the Knights played like it Thursday on their home court.
"I was totally impressed with their pin hitters," Beima said via text, "the way their setters distributed sets and their overall serve receive and defense. Hillsdale is a contender for sure this year."
Hillsdale's outside-hitting duo each emerged with a double-double, as Vanos went for 17 kills and 14 digs, while Dean added 13 kills and 16 digs.
"It's exciting to watch as a coach because they don't make mistakes and they work so well together," Crump said. "And they're my two powerhouse outside hitters. It's going to be an awesome season, and I know the competition is going to be fierce."
Hillsdale has now won two straight to start the year, doubling down Friday with a 25-17, 25-17, 25-15 sweep of Lincoln-SF.
The Knights have tremendous depth behind their four-year varsity attackers. Seniors Sahara Daily, Sophia Makarewycz and Gwen Wong are all three-year varsity players.
Wong was the defensive stronghold against SHC, pacing Hillsdale with 20 digs.
"It's when you have girls that have played together that long, they have chemistry," Crump said. "And the thing we use this year is, we are family. … That's kind of our theme."
Vanos and Dean are co-captains and each bring plenty of length to the front row. As sophomores two years ago, they led the Knights to the CCS Division II semifinals.
"[Vanos] has power now," Crump said of his 6-2 senior. "She's power, she's got smart play on the court, she knows when to hit the ball, to kill the ball … and her serves were just dynamite."
Dean, at 5-11, continues to master six-rotation play and was the star of the show Thursday, according to Crump.
"Her defense was just amazing," Crump said. "She was picking up balls that no one ever thought she was going to get."
El Camino had such a massive turnout for volleyball tryouts this year, head coach Apollo Madayag did something that would have seemed impossible to his program just a few, short, fringy years ago.
Madayag added a freshman team to the program this year to give El Camino a three-tier volleyball program. Madayag said over 60 girls enlisted for tryouts, forcing him to cut players after just one day in the gym.
"The Olympics really had a hand in it," Madayag said. "A lot of the girls said: 'I want to be a volleyball star!'"
Madayag's success with the EC varsity squad has generated plenty of excitement in its own right. The Lady Colts have grown into a CCS contender in recent years. They reached the Division III quarterfinals in 2018. Then after winning the PAL Ocean Division title with a perfect 14-0 record in 2019, El Camino advanced to the DIII semifinals, the best postseason run in program history.
Madayag has his work cut out for him this season when the Colts open this coming Wednesday against Washignton-SF. Despite the record turnout, Madayag said the varsity squad is light on experience, with just four players having year-round club experience, including three who play for him at the SF Tremors Volleyball Club.
"It's an uphill battle but you never know what I'm going to come up with," Madayag said. "We're going to be scrappy."
Menlo School (1-0) opened its season Thursday with a 25-10, 25-18, 25-18 win over Aragon (0-1).
Senior outside hitter Sharon Nejad led the Lady Knights with seven kills. Head coach Tony Holland's two-setter rotation produced 16 assists from senior Hanna Hoffman while senior Zoe Gregory totaled 12.
Mercy-Burlingame 3, Balboa-SF 0
Mercy-Burlingame's new head coach Ray Sum earned his first victory Thursday as the Crusaders (1-0)  swept to a 25-18, 25-23, 25-22 victory over Balboa (0-1).
Sophomore outside hitter Jenna Manuel scored a team-high seven kills for Mercy, while junior Katie Callagy scored three blocks.
Half Moon Bay 3, Scotts Valley 0
The Cougars opened the season with a sweep of the Falcons, 25-5, 25-11.
Tani Vogel collected 9 services aces for HMB, while Mia Etheridge added 7 more.