The 2021 Big Game was like a major league event.
Sure, the annual rivalry softball showdown between Aragon and Hillsdale was moved from its traditional night-game venue of Chanteloup Field for the more modest confines of day softball at Hillsdale. But there was nothing modest about the turnout, a packed house of fans streaming down the grassy right-field concourse, a scene the state of California, by and large, has been prohibited from sharing in since prior to the coronavirus pandemic.
The two teams gave the crowd exactly what it needed, a brilliant caliber of softball that helped fans forget that as recently as a month or so ago, a gathering of this magnitude was outlawed. As for the players, many of whom are steeped in softball roots going back to their San Mateo Youth Softball days, the 2021 Big Game was a sweet and much needed breath of normalcy.
"What's great is … they're back at it," Aragon head coach Gustavo Garrard said. "They're back with their friends, and that's what San Mateo and these types of schools need."
And a better high school softball game you will not see.
Hillsdale (9-3 PAL Bay, 13-6 overall) showed up to defend its home turf, rallying for three runs in the bottom of the sixth for a stunning 3-2 victory over first-place Aragon. It marks the first loss of the season in Peninsula Athletic League Bay Division play for the Lady Dons.
Junior third baseman Alex Bunton delivered the go-ahead run, lining a one-out single to right-center to drive home junior Leialoha Ah Tou. Bunton had gone hitless in her previous two at-bats and, with the game on the line, was determined to right her day in a big way.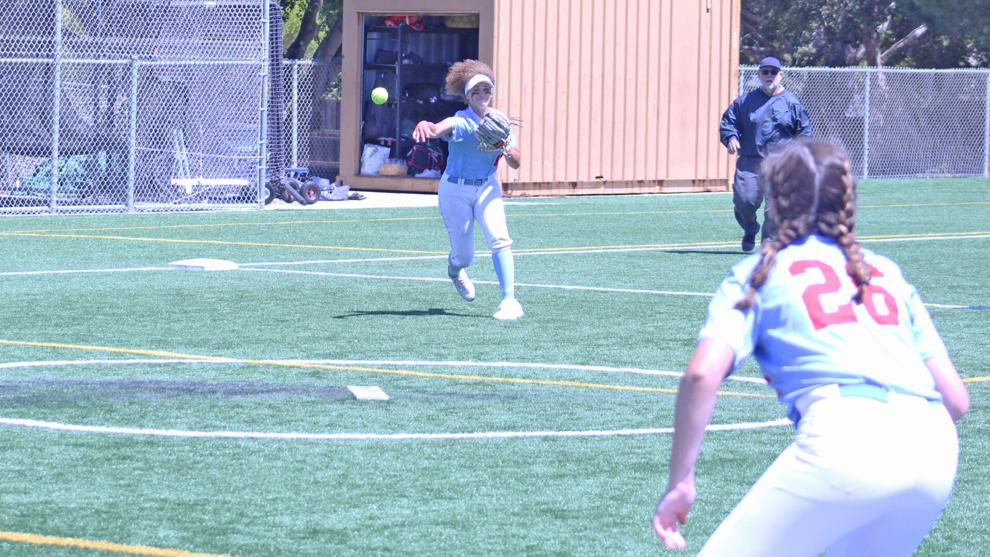 "I think we're all very happy," Bunton said. "I'm especially happy. I was very mad going into that at-bat and I'm very happy I was able to pull it off."
Aragon didn't go quietly though.
The Dons (11-1, 12-2) loaded the bases with one out in the top of the seventh. To add intrigue to the brewing rally, Aragon juniors Liv DiNardo and Megan Grant were due up fourth and fifth, respectively, in the inning, meaning if Hillsdale starting pitcher Ashley Driscoll could retire the side in order, she could avoid facing the most dangerous one-two punch in the Central Coast Section.
Hillsdale had already done plenty to counter the potent left-handed sluggers, employing an over-shift to the right side of the diamond. It's something Hillsdale head coach Clinch Fuentes installed specifically for Aragon after the previous May 6 meeting between the two teams, when DiNardo and Grant combined for three home runs and eight RBIs in a 9-6 Aragon win.
Driscoll ultimately had to go through the heart of Aragon's batting order, though, after No. 9 hitter Brooke Tran got hit by a pitch. Senior Samantha Kennedy followed with a single, bringing DiNardo to the plate with two on and one out.
"I was just thinking: 'Wow, this is a great opportunity for us to show what we can do,'" Fuentes said. "These girls are strong. We've been in a lot of positions where we've been in tough spots — bases loaded, no outs — and these girls have always come through. So, this one I felt really comfortable with."
And Hillsdale's sophomore pitcher rose to the occasion, running a high fastball up the bat of DiNardo to induce a towering popup for the second out of the inning.
"This is kind of a kid's dream to go up against someone you grew up with who is such a talented player and see if you've still got it," said Fuentes, who once coached DiNardo on one of her earliest youth softball teams. "And she still had it."
Driscoll then walked Grant on four pitches to load the bases to face cleanup hitter Iris Nai.
Nai roasted a grounder to the right side of the infield, but Hillsdale second baseman Hannah Levy was able to wrestle the groundball while ranging toward second base, then beat Grant in a race to the bag by a step while inadvertently spiking Grant and tumbling to the ground for the final out of the game.
"[Driscoll] pitched a hell of a game," Garrard said. "Hats off to her. She pitched a great game, kept everything nice and tight. We couldn't adjust to her pitching, and the wind."
Tran pitched a hell of a game as well for Aragon. The sophomore left-hander took a one-hit shutout into the sixth inning before running into trouble.
"She pitched her heart out," Garrard said. "What was frustrating was it was like the umpire was just squeezing her. … As the game went on into the deeper innings, it just felt like we weren't getting any of the calls."
It was back-to-back walks to Chaelyn Fuentes and Bella Carreon to lead off the frame that set the table. Mika Chong followed by roping an RBI double to left-center to score pinch runner Sahara Daily. Levy followed with a controversial at-bat as she lifted a fly ball to right field.
The second out of the inning allowed Carreon to score the tying run from third; that was never in doubt. But the throw from right fielder Mia Gacutan went to third base and arrived just ahead of courtesy runner Ah Tou's feet-first slide. Ah Tou — who soon went on to score the game-winning run — was called safe, however, leaving the third baseman DiNardo hopping around in objection to the safe call.
"I saw an out," Garrard said. "I felt an out in my heart. But the umpire, he happened to be right there on top of the play, so there wasn't going to be any overturning. … I thought the tag was definitely applied before the leg hit the bag."
With the win, Hillsdale keeps its hopes mathematically alive of sharing a PAL Bay Division title. The second-place Knights trail Aragon in the standings by two games with two to play. The Dons can wrap up the Bay Division title outright next week with a win over either Half Moon Bay or Woodside.