There's just no slowing down for Mika Chong.
Coming off her sophomore year at Hillsdale, the slugger wasted little time delving into the summer ranks with her West Bay Warriors travel softball team. Just hours after Hillsdale's loss in the Central Coast Section Division II championship game Saturday, May 25 in San Jose, Chong was in the lineup for the Warriors 16U Gold team for three games later that day in Roseville.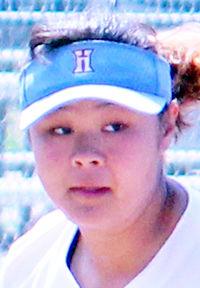 Chong scuffled through those three games, going just 1 for 7. Since then — en fuego. The right-handed hitting slugger has since put together a 10-game hitting streak, capped by an unstoppable performance Saturday and Sunday at the Zoom into June showcase in Irvine, going 9 for 13 with home run and five RBIs.
"That's no surprise with her," Warriors coach Kelly McDonald said.
Heading into her junior season, Chong faces the most important summer in terms of her playing at the next level. Colleges cannot contact players until September of their junior year, but come Sept. 1 the incoming junior should expect plenty of attention from college recruiters.
"She can hit at any level," McDonald said. "So I think it's just a matter, for her, she's very artistic … so it's a thing of trying to find a fit that can allow her to do what she wants to do at the next level."
Chong likes to draw and paint, and said that will factor into her college decision. She also is mindful of the weather, citing how she does not like it too hot. The pressure on the other hand, knowing college scouts are out in force on the travel circuit, doesn't get to her, she said.
"I don't really get nervous, so I don't feel that many nerves when I'm going up to bat," Chong said. "For me, it's just a matter of focusing on doing everything right and doing things the way I'm supposed."
This focus is evident in her performance. The season line for Chong through 13 games this summer is a .545 batting average with two homers and 14 RBIs, this after her leading Hillsdale with a .439 average and 23 RBIs.
"She has wasted no time as proving one of the best offensive players in our program and on that team," McDonald said.
The Warriors posted a 4-1 record at the Irvine showcase, though it was a set schedule with no competitive structure. The competitive tournament came the previous weekend in posting a 4-1 record at the New Mexico National Qualifier to earn Premier Girls Fastpitch bid to the national championships held at the end of July in Huntington Beach.
The final game Sunday, June 2 in New Mexico, a 14-3 win over Power Surge-San Diego, saw Chong go 2 for 3 with a triple and three RBIs. The Warriors totaled 12 hits in the game, with Giuliana Selvitella (San Mateo HS) going 2 for 2 with a home run. Sage Hager (San Mateo) earned the win in the circle, her second outing and second complete game of the tournament.
"We would have had the opportunity to go up to three qualifiers and we got it done on the first ones," McDonald said.
The Warriors 14U Gold team also qualified in the Premier qualifier in New Mexico, posting a 6-1 record over two days. Aragon's freshmen phenoms Megan Grant and Olivia DiNardo are the backbone of that team, and both showed up in force.
DiNardo hit .364 (8 for 22) with a home run and seven RBIs through the seven games, while Grant hit .500 (10 for 20) with a homer and seven RBIs.
The tandem missed the first three games of the summer Saturday, May 25 in Roseville because they were busy elsewhere. That same afternoon, their Aragon Dons were busy winning the CCS Division I softball championship, the first in program history.
Since returning to the Warriors lineup through 10 games, Grant is batting .433 (13 for 30) with a homer and 14 RBIs, and DiNardo has socked three homers.