Hugo Guzman Jr. pitched a gem. But it wasn't enough.
San Mateo American locked up in a classic pitching duel Tuesday night against El Dorado Hills in the Northern California Little League State All-Star 10-11s Tournament at Mike Logan Park in San Jose. With the score tied at 1 heading into the sixth and final inning, however, El Dorado Hills rallied for six runs in its final at-bat to claim a 7-1 victory.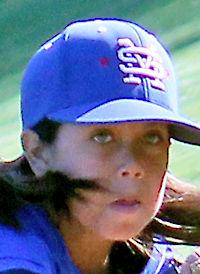 The loss, the first of the tournament for American, drops them to the elimination bracket. American will face River Park-Fresno Wednesday night at Mike Logan Park at 5:30 p.m. River Park is riding a wave of momentum, having won its elimination game Tuesday 10-9 with a walk-off grand slam.
"We don't know a lot about them but I know they're coming in with a lot of momentum," American manager Jason Gordon said.
Jason Gordon said Guzman deserved to win Tuesday. The right-hander — known as "little Tim Lincecum" for his small stature and long, wavy hair — worked 4 2/3 innings, allowing just one unearned run on five hits while striking out eight.
El Dorado Hills right-hander Alekx Bentley, however, was even better. Entering in the second inning in relief of Brody Rodenspiel, the two hurlers combined on a one-hitter, with American not breaking up the no-hitter until Chase Gordon singled with one out in the sixth.
"[Bentley] is two feet taller than Hugo, and he was throwing high 60s … but honestly we just scrapped and Hugo just kept pitching out of jams," Jason Gordon said.
American struck first, scratching out a run in the second inning. With one out, Donovan Friedland got hit by a Rodenspiel pitch, then motored all the way around to third on a groundout. El Dorado Hills then brought in its ace, Bentley, who with his second pitch of the night uncorked a wild pitch to score Friedland, giving American a 1-0 lead.
Bentley, though, went on lockdown for the rest of the night. After working through a pair of walks in the third, he set down 10 of the last 11 batters he faced, totaling 10 strikeouts throughout.
In the fourth, Guzman was betrayed by his defense as El Dorado Hills' Chase Fontana opened the frame by reaching second base on a dropped fly ball. Noah Teply followed with an RBI single to tie it 1-1.
"We had it and we just coughed it up," Jason Gordon said.
Guzman exited in the fifth with two on and two out after recording his eighth strikeout of the evening. Oscar Osuna entered in relief and induced a quick groundout to retire the side, keeping the score deadlocked a 1.
But in the sixth, after a single by Fontana, Teply reached on an error to put runners at first and second. Anthony Jackson followed with an RBI single to give El Dorado Hills the lead. Rodenspiel then doubled home two runs. Two more American errors later in the inning led to a run apiece.
American totaled four errors in the contest.
"They jumped on us in the last inning," Jason Gordon said.