Get used to the Barry Bonds comparisons as Hunter Bishop comes home to the Bay Area.
The San Francisco Giants made Bishop the 10th overall pick in the Major League Baseball First-Year Player Draft Monday night, selecting the San Carlos native in the first round out of Arizona State.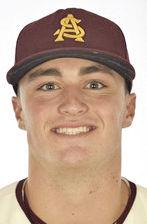 Bishop was the third player to be selected out of the Pac-12 behind first overall pick Adley Rutschman, a catcher out of Oregon State, tabbed by the Baltimore Orioles, followed by 2018 Golden Spikes Award winner Andrew Vaughn, who was taken with the third overall pick out of Cal by the Chicago White Sox.
Bishop has a bit more in common with Bonds than just being a left-handed power-hitting outfielder. The 20-year-old junior graduated from Serra in 2016 after garnering West Catholic Athletic League Player of the Year honors. He bypassed signing a professional deal that year after being drafted in the 24th round by the San Diego Padres. He went on to play the next three seasons at Bonds' alma mater Arizona State.
"When he came to play for us at Serra, just the projectable tools, the athleticism," said Craig Gianinno, Bishop's manager while at Serra who now works as the Director of Player Development at University of San Francisco. "I think it was almost stressed early on at Serra and it was just a matter of time where he got a chance to develop the skills and the tools. And obviously he's been able to do that."
Bishop grew into a power hitter through two years at Serra. A transfer from St. Francis-Mountain View after his freshman year, he went on to hit .411 through two varsity seasons with the Padres. He saw the bulk of his playing time as a senior, hitting .426 with three home runs.
After his first two seasons with the Sun Devils, Bishop wasn't exactly in the first-round conversation. He hit a cumulative nine home runs through his first two years and settled on a .250 batting average as a sophomore.
As a junior, though, Bishop blew up, hitting .342 while ranking second in the Pac-12 with 22 home runs and 63 RBIs. He also ranked second in the conference with a .748 slugging percentage.
With the investment the Giants are making in left-handed power bats under first-year Director of Pro Scouting Zack Minasian, one has to wonder if the team is indeed committed to bringing in the notoriously pitcher-friendly fences at Oracle Park.
In the second round, the Giants selected another lefty slugger in Louisville junior Logan Wyatt, an All-Atlantic Coast Conference first baseman in 2018. A career .358 hitter through three years at Louisville, Wyatt hit nine home runs in each of his last two seasons.
The draft continues Tuesday with rounds 3 through 10, with names like Stanford first baseman Andrew Daschbach — a graduate of Sacred Heart Prep — still on the board. The 40-round draft concludes Wednesday.