The rigors of the catching position had Ramon Enriquez somewhat skeptical heading into his first season at Oklahoma Baptist University.
After catching every game this season for the Great American Conference Tournament champion Bison, however, Enriquez has shown to have plenty left in the tank as he continues to produce with his middle-of-the-order bat.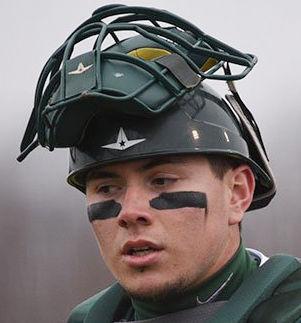 Enriquez — a graduate of Capuchino and transfer from Skyline College — proved a legitimate NCAA Division II slugger batting cleanup at Oklahoma Baptist this season, earning All-American honors with a .341 average with 14 home runs while ranking second in the GAC with 71 RBIs.
"I'm actually extremely satisfied with how things went this year," Enriquez said. "I was going into the year extremely skeptical with how my performance was going to be because they asked me to catch every single game … but surprisingly I was able to keep my offensive numbers up."
Picking up right where he left off, Enriquez hasn't trailed off playing on the wood-bat summer circuit. Rostering with the Duluth Huskies of the Northwoods League, the right-handed hitter has continued to drive the ball. Through 12 games, he is batting .286 and is tied for seventh in the league with two home runs. Six players are tied for first with three homers.
"Things are going great," Enriquez said. "The numbers are still there. I'm still getting over a little bit of being fatigued, but I can get over that."
Enriquez was Oklahoma Baptist's first NCAA All-American in program history, but with a caveat. Through the 2017 season, the Bison were an NAIA program, but were promoted to the NCAA Division II level last year.
The powerhouse baseball program produced a number of NAIA All-Americans over the years, several thanks to a steady San Mateo County pipeline, including current Blue Jays Triple-A pitcher Julian Merryweather and 2013 NAIA Player of the Year Matt Page, both also transfers from Skyline.
It was a historic season for Oklahoma Baptist in many regards. Longtime head coach Bobby Cox — after 35 years and 1,378 wins for the Bison — retired after the team's postseason finale May 18. Despite his tenure spanning four decades, watching Enriquez catch every game in 2019 was a first for Cox.
"I don't think I've ever had a guy do that," said Cox, not to be confused with the former Atlanta Braves manager of the same name. "It was pretty impressive."
Signing with the Duluth Huskies marks Enriquez's first formal summer schedule since 2016, when he was part of another bit of baseball history. That summer, following his senior year at Capuchino, Enriquez played for the American Legion Post 82 Shockers team that reached the American Legion World Series. It was also the final season of American Legion Post 82 baseball, which folded prior to the 2017 summer season.
Last summer, Enriquez played with the Humboldt Crabs, who have played independently since 2013 after the disbanding that year of the Far West League. In putting himself on the prospect map at Oklahoma Baptist this season, Enriquez figures to be a candidate as a senior draftee in the MLB draft next season if he continues to improve, Cox said.
"He has all the tools, the makeup, the toughness to play at the next level," Cox said. "He has enough arm strength. He just needs to polish up a little bit … and I think playing in the Northwoods League this summer is really going to help him do that."
Enriquez's defensive statistics were suspect this season, though Cox said the numbers are misleading. The junior backstop was charged with 30 passed balls, and he threw out just 18% of would-be base stealers.
"We had a pitching staff that was prone to that, especially early, and struggled to throw strikes," Cox said. "And the stolen base thing was kind of inflated because we had trouble holding on runners. … Some of those numbers were skewed from that standpoint and some of that was just bad pitching on our part, no doubt."
The Bison turned it around through the final month of the regular season, though, winning their last seven games in GAC play to reach the six-team field in the GAC Tournament.
Oklahoma Baptist went on to extend the overall winning streak to 11 games, winning four straight in the tourney to claim the GAC Tournament title, during which Enriquez hit .353 with a home run and nine RBIs, including a homer and five RBIs in the 12-3 win in the championship game May 7 against Harding University-Arizona.
"It was great to send [Cox] off on a great note," Enriquez said, "getting his first (Division II) conference tournament title with another back-to-back regional berth."
The Bisons went on to post a 2-2 record in the NCAA Division II regional playoffs, being eliminated on May 18 by Augustana University-South Dakota.
"For the most part our year was just phenomenal," Enriquez said. "More towards the end of the year everyone started getting more close as a team. The last 13 games of the year, we were just the hottest team in Division II baseball."
One other player of local interest is teaming with Enriquez with the Duluth Huskies. Evan Yedinak — a 2016 graduate of Woodside who played at Cañada College the past two years — has made five relief appearances for the Huskies, posting a 1-0 record with a 4.35 ERA.
"He's been very effective," Enriquez said. "I love catching him. In general, all his pitches are pretty nice. I can call any pitch in any situation and I know he's going to be able to execute it."