The Jeremiah family has a long history with Aragon baseball. When Pierson and Josh Jeremiah were playing for the Dons in the mid-to-late 2000s, youngest brother Jace Jeremiah was a fixture at his older brother's games.
More than a decade after Josh Jeremiah graduated, Jace Jeremiah had his moment in the spotlight as the sophomore shortstop helped lead the Dons to a 9-4 win over Mills and clinch the Dons' first Peninsula Athletic League Ocean Division championship since 2009.
"The first year we won it … I thought it'd be like that every year," said Aragon manager Lenny Souza, who was in his second season when he guided the Dons to a 14-0 Ocean Division campaign a decade ago.
"It took me a while to learn it's tough to do it year in and year out in the PAL."
Souza can thank the exploits of Jeremiah, who despite being the Dons' leadoff hitter, was their RBI man Thursday as he went 3 for 4 with a pair of two-run doubles.
"I'm excited to win league," Jeremiah said. "We haven't done it in 10 years."
It was the bottom of the Dons' order that primed the offense, as No. 8 Drake Kenneally and No. 9 hitter Thomas Calvo were on base ahead of both of Jeremiah's RBI hits. Kenneally and Calvo drew back-to-back walks to open the bottom of the second to bring up Jeremiah. He had singled, stole second, took third on a wild pitch and scored in the first inning and worked a 3-1 count in the second before squaring up a ball and sending it to right-center field to chase home both runners.
Kenneally and Calvo were on base ahead of Jeremiah again in the third — on a single and hit by pitch, respectively. This time, Jeremiah took a 1-1 pitch and drove it into the right-center gap, sliding safely into second, popping up clapping his hands.
"We've been waiting for Jace to get here for a long time," Souza said.
Jeremiah's intimate knowledge of the winds and tendencies of Aragon's field helped him in his at-bats, he said.
"Just go right-center," Jeremiah said. "The wind pushes the ball that way anyway."
Jeremiah had half of Aragon's six hits, but the Dons also took advantage of seven walks and two hit batters. Evan Donath had the other big day offensively for Dons as the senior designated hitter drove in three runs with a sacrifice fly in the first while his double in the sixth drove in a pair of insurance runs.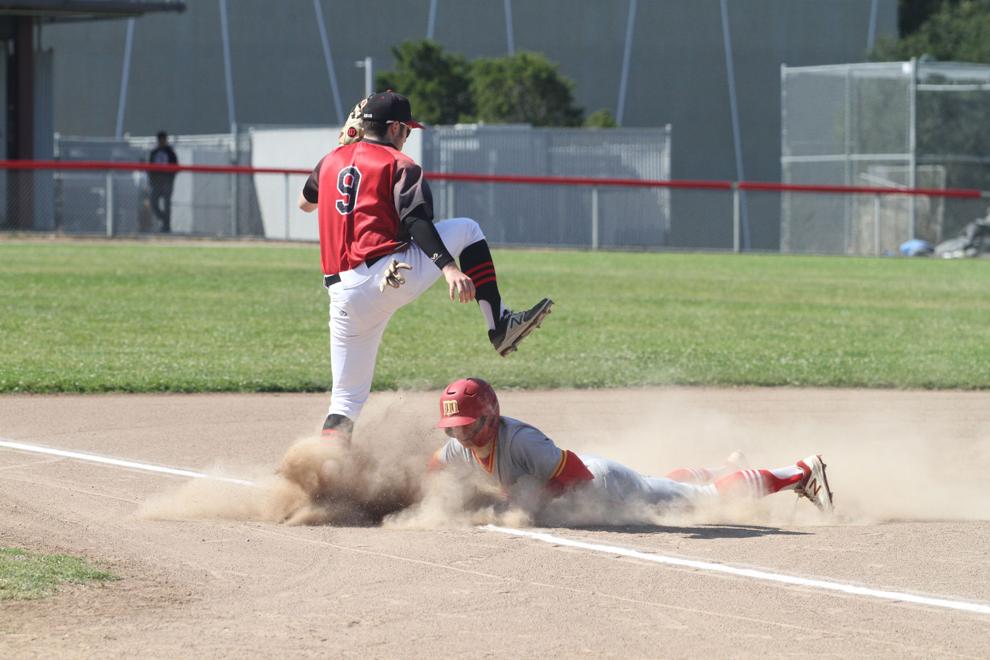 Aragon (11-3 PAL Ocean, 19-5 overall) needed all the offense it could get because despite going winless in Ocean Division play, Mills did not mail it in Thursday. The Vikings actually took a 1-0 lead in the top of the first when James Gayer drilled a triple to straightaway centerfield with one out and scored on a Rion Leung single to center. Nick Alvarez followed and hit a hot shot off the third baseman's glove to reach on an error.
The Vikings plated a second run when cleanup hitter Sean Baugh hit what appeared to be a sacrifice fly to left, as Aragon left fielder Conor Hourigan made an over-the-shoulder catch with his back to the infield.
Alvarez, thinking the ball would drop, was halfway to third when the ball was caught. On his way back to first, he missed second base, however. The Dons appealed the play and he was ruled out and the second run was wiped off the board.
The Dons responded with two runs in the bottom of the first on a bases-loaded walk to Matt Mukai and a sacrifice fly from Donath.
Jeremiah's double in the second pushed Aragon's lead to 4-1, but Mills rallied for three runs in the top of the third to tie it. Gayer reached on an infield hit and went to third on an errant pickoff throw that sailed out of bounds. He came in to score on a Leung single.
Alvarez followed with a double to out runners on second and third and Baugh drove in Leung with a groundout, followed by an RBI single from Kobe Fowler.
But Aragon took the lead for good in the bottom of the third. Mukai drew a walk to lead off the inning, with courtesy runner Alika Woon stealing second and scoring on Kenneally's two-out single to give Aragon a 5-4 lead. After Calvo was hit by a pitch, Jeremiah stroked his second two-run double to put the Dons up 7-4.
Donath's two-run double in the sixth extended Aragon's lead to 9-4.
Cam Grant, Aragon's four-year centerfielder, said the team felt some pressure with the expectation of sweeping Mills this week.
"But once we get on the field … it's just another ball game," Grant said.
In addition to being the Dons' first PAL division title in 10 years, it is also their first Central Coast Section appearance since 2015, when they finished second in the Ocean Division.
"I feel there are other teams (I've had) who could have done it (make CCS)," Souza said. "But it's hard to do."
For Grant, it's the realization of a goal he set as a freshman.
"Four years in the making," Grant said.