Central Coast Section champions – Carlmont's Aidan Dimick (Division I) and Serra's Tommy Rogers (Division II) – each finished in the top-10 of their respective divisions at the CIF state cross country championships at Woodward Park in Fresno Saturday.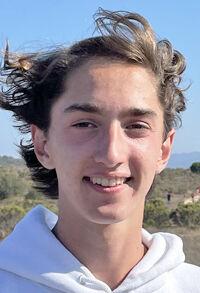 In addition, the Crystal Springs Upland's boys' team finished third in the Division V team standings.
Like he did in the CCS finals when he had the fastest overall time, Dimick was, again, the fastest of all San Mateo County runners. Dimick covered the 2.05-mile course in a time of 15:14.7, which was good for eighth place in the Division I race. Colin Sahlman of Division I team champion Newbury Park, captured the title of Faster Runner in the State, winning the DI race in a time of 14:26.5.
Dimick's time, however, was the 16th fastest time, overall, among nearly 1,000 runners.
Serra's Rogers was also impressive, as his time of 15:28.8 was good for a fourth-place finish in the Division II race. Dana Hill's Jai Dawson took the DII title with a time of 15:19.1.
Rogers time was the 34th-fastest time in all divisions.
Crystal Springs had two runners finish in the top-20 of the Division V race to help the Gryphons to a third place team finish, behind team champion Lick Wilmerding-SF and Santa Fe Christian. Freshman Benjamin Bouie was the Gryphons' top finisher, taking 14th place with a time of 16:08.8. Furious Clay, a junior, was 20th for Crystal Springs, covering the course in a time of 16:28.6.
Nueva School's Joshua Byun was 26th in the DV race, finishing with a time of 16:36.7.
Kaiya Brooks had a strong showing as the Crystal Springs junior finished fifth in the Division V girls' race with a time of 18:36.4. Santa Fe Christian's Revere Schmidt took the title with a time of 18:19.1.
The Woodside boys' team, which won the Division II team title at CCS, finished 17th at the state final. The Wildcats were led by Max Hohendorf, who was 55th in a time of 16:15.6.
Woodside's Elle Marsyla, who was fourth at CCS, finished 20th at the state meet, finishing in a time of 18:32.9. The winner, Dalia Frias of Mira Costa, took the title with a time of 16:52.0.
San Mateo County's other CCS champion, Capuchino's Myla Brignardello, did not fare as well, barely failing to eclipse the 20-minute mark by finishing with a 20:00.2 in the Division III race, good for 84th place. The DIII winner was Hanne Thomson of Montgomery-Santa Rosa, who posted a time of 17:38.0.
El Camino's Yutaka Roberts was 90th in the boys' DIII race, finishing with a time of 16:43.3. The DIII winner was Tamalpais' Caden Carney, who won with a time of 15:04.6.
Menlo School's Pretre brothers both had top-20 finishes in the Division IV race, helping the Knights to a seventh-place team finish. Junior Justin Pretre was 14th in a time of 15:48.3. Freshman Landon Pretre was 17th, finishing with a 15:54.6. The winner, Max Sannes of Big Bear, posted a time of 15:00.5.
In the girls' Division IV race, Sacred Heart Prep's Julia Soderberry was the highest county finisher, posting a time of 18:57.3, good for 23rd place. The winner, Sophia Nordenholz of Albany, ran a time of 16:46.0.
In the girls' DI race, Menlo-Atherton's Katie Lorenz finished in a time of 18:32.3 to finish 31st. The winning time was 17:07.5 by Anna McNatt of McClatchy in Sacramento.