San Joaquin Delta sophomore Vinny Bologna nearly pumped one out in the 11th inning but the Mustangs were ultimately eliminated at the California Community College state baseball tournament with a 7-6 loss in 16 innings to Sacramento City in a game that lasted 5 hours and 22 minutes.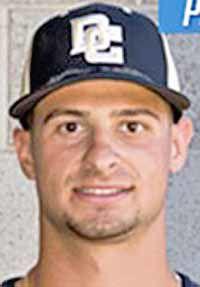 Bologna — a graduate of Carlmont — finished the season with 17 home runs, tops in the state this year. The sophomore slugger nearly produced No. 18 with a long drive to center at Fresno's Euless Ballpark in the 11th inning, but it was hauled in at the warning track.
Delta center fielder Dario Gomez twice prolonged the game with his outfield arm. In the 14th, he cut down a run at the plate with a clutch swipe tag by catcher Thomas Greely when Sac City's Noah McCoy attempted to score from third on a fly ball. Then in the 15th, Gomez threw out Anthony Galati at the plate attempting to stretch a triple into an inside-the-park homer.
Sac City was scheduled to play Orange Coast in an elimination game Monday night. The winner advances to Tuesday's championship round with El Camino-Torrence, with El Camino needing be defeated twice.