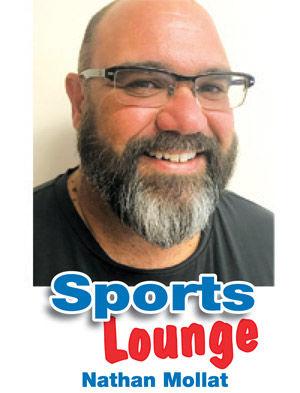 Other than my wife and kid now working and going to online class at home, my days haven't really changed much. I no longer have to get up early to take my kid to school, so that's nice, and I'm able to come into the office a little earlier, knowing that there are no games on which to report or wait.
But what does a sportswriter do when there is literally nothing in my realm happening?
Movies!
Ok. Ok. It's a bit of lazy column work. I'm sure you're sick of "top 10 sports movies," so I won't bore you with my list. What I will bore you with are my favorite sports movies that, almost inevitably, draw me in. Just to make it a little more interesting, I'll give a couple of categories, because not every sports movie is the same.
So, without further ado, let's dive in.
Best movies based on real-life events
No. 1 on this list is "Remember the Titans." For whatever reason, I almost always stop to watch this movie when it pops up while scrolling through the television guide. It's formulaic, but how can you not like Denzel Washington?
The other movie I stop to watch, almost without fail, is, "Rudy," the tale of the University of Notre Dame walk-on. Again, sappy and formulaic, it drew me in when it was first released in 1993.
"Miracle" would be another I stop to check out regularly, regardless of where it is in the movie. Unlike "Titans" which is set in 1970s West Virginia and "Rudy" in 1970s South Bend, Indiana, I was aware of 1980 US hockey team on which the movie is based. The story of a bunch of college kids beating the Soviet Union on its way to winning the Olympic gold medal. I watched, on tape delay, the 4-3 win over the USSR in the semifinals and remembered being really upset my parents made me go to church the next day, as ABC was showing, live, the gold-medal win over Finland — which a lot of people forget. The movie "Miracle" shows the behind-the-scenes story of what led to one of the biggest upsets in sports history.
"Moneyball" might be my favorite baseball movie, because like "Miracle," I remember that Oakland A's season orchestrated by general manager Billy Bean. I never got around to reading the book by Michael Lewis published in 2003 on which the movie is based. Maybe now might be a good time to sit down and read it.
"Eight Men Out," the movie based on the true story of the 1919 White Sox, that lost the World Series on purpose. This is among my favorites because I believe it most closely resembles what actually happened. There has been plenty of time to have studied in-depth the actions taken by a team now dubbed the "Black Sox."
On a basketball front, "Hoosiers" the story of small-town Hickory, Indiana winning the state high school title in the 1950s, and "Glory Road," the story of the 1966 NCAA-winning Texas Western (now UTEP) men's basketball team. One set at the high school level, one set in college, both feature the ultimate finish.
All these movies combine my two most favorite things: sports and history.
Best movies of fiction
I almost thought of putting "The Sandlot" into the category above because while it is a movie of fiction, it almost seems like the story of every Gen-X kid growing up, even though the movie takes place in the early 1960s. We had a group of neighbor kids who would go to the park every day and play, challenge other blocks to games and in general, formed our own little posse. "The Sandlot" is also one of those movies I will, inevitably, watch. Just watched about a half-hour this past Sunday.
"The Replacements" was a non-NFL sanctioned movie that featured the Washington Sentinels. The Keanu Reeves-Gene Hackman led movie of football misfits crossing the picket line when the regular players go on strike is your typical feel-good movie, with an ending you would expect.
"Necessary Roughness" and "The Program" are both similar to "The Replacements" in that neither is sanctioned by the NCAA, as both movies have collegiate settings. "Necessary Roughness" is a comedy that stars Scott Bakula as an aging former college quarterback who re-enrolls in college and leads a rag-tag team back to respectability. "The Program" which starred James Caan as a see-no-evil head football coach of a program in the South, shows the alleged dark, sinister side of college football: from illegal payments to players, to steroid abuse.
Some how, some way every sports movie list has to include "Major League" with Charlie Sheen, Tom Berenger and a young Wesley Snipes. It's the ultimate sports comedy and while just as formulaic and predictable as they rest — it's still a lot of fun.
Honorable mention would go to "Brewster's Millions" starring Richard Pryor and John Candy. Not necessarily a sports movie, but one that uses baseball as a means to an end.
Miscellaneous
If you're looking for something a little more off-the-beaten path and one that hasn't been played to death on television (yet), there was a movie released last year, "Fighting with My Family," a look at a wrestling family where the daughter makes the big time. It's based on the story of the WWE's Paige, who in 2014 became the youngest women's world champion at the age of 21. It unfolds just about how you think it would, with Vince Vaughn and Dwayne "The Rock" Johnson the most recognizable faces. But it's a feel-good story about a non-traditional sport. My wife enjoyed it enough to watch the whole thing through with me, so it must be, at least, OK.
***
On a more serious note, the 30th Peninsula Sports Hall of Fame induction ceremony, scheduled for May 14 at the San Mateo Historical Society in Redwood City, has been postponed and will be rescheduled when health concerns are alleviated.
Nathan Mollat can be reached by email: nathan@smdailyjournal.com or by phone: 344-5200 ext. 117.