Local rivals — San Mateo National and San Mateo American — faced off in first game of the District 52 9-10 All-Star championship series Monday, with SMA posting a 5-2 win to set up a winner-take-all title game.
The championship game is scheduled for 5:30 p.m. Tuesday at Kiwanis Field at Red Morton Park in Redwood City.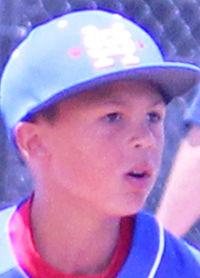 After a tough loss to SMN in the winner's bracket final last Wednesday, SMA came out with their bats swinging in the first inning, scoring two runs to get on the board first.
SMN looked to rally in the second inning with a shot to SMA shortstop RJ Church, but he dove for the ball, popped back up and threw to first for the out.
SMA Manager Steve Church said RJ Church, "is a firecracker. He gets everyone going with his words and his actions on the field."
Heading into the third inning, SMA looked to get some insurance runs. Cooper Hipps had a base hit and RJ Church following with a single to right. With two on for starting pitcher Jesus Olivas, he put the in play. The SMN first baseman overthrew the bag at third to send RJ Church home to put another run up on the board for a 3-0 lead.
"I felt like they played well and we did not play well," said SMN manager Tommy Peyovich. "Too many errors. We didn't play our best game and I am disappointed in that."
Milo Morelli started off with a walk looking to start a rally for SMN, but Olivas shuts it down, responding with a strikeout.
In the top of the fourth, SMN cleaned up its defense with starting pitcher Kurtis Lee striking out Julio Calderon and Jack Hickey right before hitting his pitching count. Ben Sakal comes in to pitch with two outs and had strike one on Bobby Krumins, before he hit a ball in the gap for a double. But Sakal got out of the inning when SMA's Leo Rhein lined out to the SMN third baseman.
Sakal looked to help himself when he got on by a bobbled pop fly to the outfield in the bottom of the fourth. Holden Benson followed and hit one in the gap to send Sakal home to get SMN on the board.
SMN continue its rally in the fifth inning with a leadoff double from Curtis Lee. Dom McDonough followed with a walk and Kurtis Lee with an outfield blooper to move the runners over. Sakal hit a sacrifice fly to bring in Curtis Lee but it was not enough to catch up to SMA.
SMN did not give up in the last inning, with a walk and a Morelli base hit to right field. Curtis Lee stepped to the plate and hit one right up the middle with a chance to score, but the runners held up to load the bases with two outs. But a pop up to center ended the game.
There was a scary incident midway through the game when a foul ball bounced off the telephone pole and hit a baby in the head. The child was taken to the hospital but the condition was unknown as of press time.