Carlmont is playing like a team on a mission. Now, that mission is to win the league championship outright.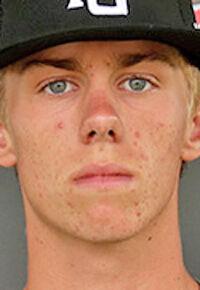 The Scots (11-2 PAL Bay, 19-6-1 overall) clinched at least a share of the Peninsula Athletic League Bay Division title Monday with a 1-0 walk-off victory at home against Sequoia (7-6, 9-15-1). Jack Vanoncini sent everyone home by splitting the right-center field gap with an RBI double to plate Collin O'Driscoll with the game's only run.
With the regular season ending Wednesday, Carlmont can wrap up the PAL Bay crown outright Wednesday at Sequoia.
"We did celebrate the win, but we definitely want to win the league outright," Carlmont manager Ryan Hamilton said. "So, we're going into Wednesday looking to win another game and looking to win the league outright."
The occasion was ripe for celebration. Sequoia battled Carlmont into a scoreless seventh inning, with Scots starting pitcher Colton Fisher and Ravens starter Jack Lanham trading zeroes through the first six. It wasn't your traditional classic pitching duel by any stretch, though. Each team finished the day with eight hits.
But it was a leadoff walk to O'Driscoll in the seventh that set up the game-winning run. After Carlmont followed with a fielder's choice, with no out recorded, to put runners at first and second, it put Sequoia in a position where it all but had to pitch to Vanoncini. He had walked in each of his three previous plate appearances, Hamilton said.
"He's been really clutch," Hamilton said. "Today he only had one at-bat … so his one at-bat he delivers a game-winning hit. You can't ask for much more than that."
Vanoncini turned in some clutch defense as well.
Fisher escaped two tough jams, including a two-out single that looked like it would give Sequoia the lead in the sixth. The Ravens had a runners at first and second and a two-out single saw left fielder Carson Vance hurrying in a throw to the infield. Vanoncini took the relay throw and fired a strike to the plate to cut down the would-be go-ahead run.
Fisher also preserved the shutout early on, pitching out of a second-and-third, no-out jam in the second. The senior right-hander bounced back with back-to-back strikeouts before inducing an inning-ending groundout, leaving Sequoia runners standing at second and third.
"He usually doesn't get rattled much at all," Hamilton said. "What is rare for him is to get strikeouts in strikeout situations. He's a pitch-to-contact kind of pitcher."
When Fisher walked off the mound after the top of the seventh, he still had plenty of pitches left in his arm. His pitch count was at 69 and he would likely have continued into extra innings, if necessary, Hamilton said.
"He was still looking good," Hamilton said. "He was only 69 pitches in, so he probably would have gone out for the eighth."
Carlmont has now won five straight games in PAL Bay play after losing to Burlingame April 22, leaving the Scots and the Panthers tied atop the league standings. The Panthers stumbled last Wednesday, though, with an 8-7 loss to the King's Academy in nine innings.
"We were happy about that but honestly we weren't surprised that TKA put up a good fight," Hamilton said. "We had a walk-off to beat them the previous Wednesday."