Heading into the final week of the Peninsula Athletic League softball season, three teams are vying for the all-important third-place finish in the Bay Division, with the top three finishers earning automatic postseason bids.
With Tuesday's 13-8 victory at Burlingame, Capuchino (8-5 PAL Bay, 16-8 overall) currently has outright possession of third place. Whether that holds up depends on a few variables.
"That's yet to be seen," Capuchino head coach Tanya Borghello said. "It definitely puts us in good position to come in third. So, it was necessary. But who knows?"
Entering play Tuesday, Cap, Burlingame and Carlmont were all tied for third place. Cap now holds a half game lead over Carlmont with Burlingame falling to fifth place. Carlmont can climb back into a third-place tie Wednesday but has to upset second-place Hillsdale to do so. The regular season concludes Thursday for all three teams.
Burlingame head coach John Saucedo has all but conceded his team having a chance to compete for the third automatic bid. Saucedo said the Panthers will now have to rely on an at-large bid.
"Now we have to try to get in the other way with our points and stuff," Saucedo said. "We're good because we've played a lot of 'A' teams. We have a lot of wins. … It's just a question of how they're going to do it."
Cap has now won four straight and is really getting its bats going. Hitting .306 as a team, the Lady Mustangs generated their best run total in Bay Division games Tuesday, exploding for seven runs in the second inning.
While Burlingame (7-6, 11-7) celebrated its senior day, with Tuesday being its final regular-season home game of the season, it might be more fitting to have called it freshman day. Burlingame was all set to pitch one of its top seniors, Kailey O'Connor, but the right-hander suffered an injury while warming up just prior to game time.
"Somebody walked up to me and said: 'John, you don't have your starting pitcher,'" Saucedo said. "Because I had already given [the umpire] my starting lineup."
Burlingame turned to freshman hurler Kasey Lyons to make her first varsity pitching appearance. The right-hander scuffled through the early going but bounced back to pitch a complete game.
"This was her first day and she did a great job," Saucedo said. "She stepped up, didn't even question it. She got in … and I think she pitched a great game."
Lyons — who pitches regularly for her Burlingame Flames travel team — admitted to a bout with the butterflies when she was told she might have to pitch just prior to game time.
"I was pretty nervous," Lyons said. "It was my first time and Kailey is just so good, it's hard to pitch after her. She's just so good. Hopefully I can be as good as her some time."
Cap countered with a lineup with four freshmen in it, including the first two batters in the order — Jasmine Shapiro and Elizabeth Do — and they set the table consistently. Do reached base in all five of her plate appearances.
And while the Mustangs knocked the ball around the yard — sophomore Nohemi Livingston drilled a two-run home run in the second, while sophomores Selah Romero and Alexis Centeno totaled three hits apiece — It was Do's defense that became the center of attention.
Centeno started the day at shortstop, but a defensive shuffle midway through the game saw Do move across the cornerstone sack to take over at short. The freshman experienced one of the weirdest defensive days ever. She committed two costly errors in the fourth inning, opening the door for a Burlingame four-run rally. But in the late innings, Do turned it around.
Before turning a sweet 6-3 double play to end the game, the freshman kicked up a cloud of dust by making a diving nab on a popup behind the mound for the first out of the seventh.
"It was coming kind of slowly and it was kind of loopy, so I figured I couldn't get to it if I didn't dive," Do said. "I just kind of tried and I got it."
It was quite a contrast, Do's freshly manicured red fingernails along with her dirtied-up uniform.
"I like it because it makes me look like I did something," Do said.
Cap had been playing solid defensively prior to Tuesday, according to Borghello, until committing five errors in the game.
"Defensively, it was a good day for them to fall apart," Borghello said.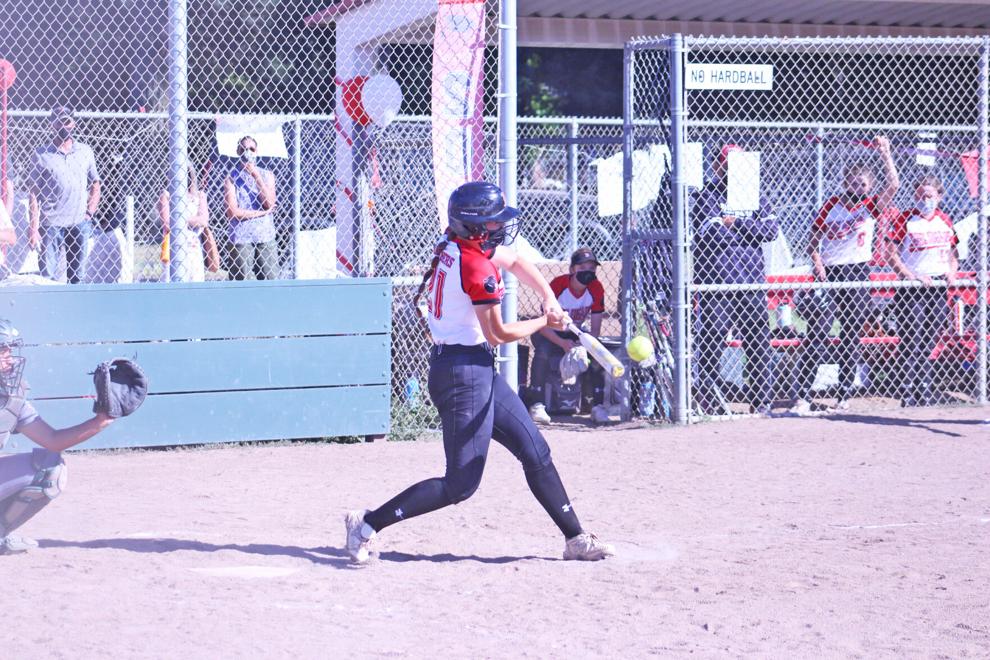 Burlingame catcher Sydney Fleming enjoyed a big day among the seniors on the diamond, going 4 for 4 with a home run hitting out of the cleanup spot.
First-place Aragon and second-place Hillsdale have already locked up automatic bids for the CCS postseason.