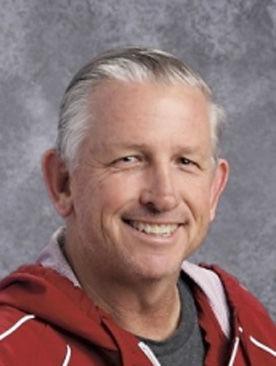 When Aragon's Steve Sell first joined the Central Coast Section administration 23 years ago as a member of the athletic director advisory council, it set in motion a parallel career to that of teacher, coach and athletic director.
Last week, Sell ascended to one of the highest positions in the CCS hierarchy, moving from the CCS vice president to president, as he takes over for David Grissom, who was elected commissioner of the CCS to replace the retired Duane Morgan.
"It means, I guess, you go from being a coach to an umpire," Sell said of moving one rung up the CCS administrative ladder. "You're the judge, or referee. Your main job is to make sure all parties get heard and the processes are followed and that all votes that take place are fair."
The vice president and president are both elected positions in the CCS and Sell will fill out Grissom's term until new elections are held next March.
Having always been an advocate for the Peninsula Athletic League specifically, and high school sports in general, Sell admits it will be hard going from arguing about proposed changes to actually listening to arguments about proposed changes. He said his decisions and discussions now have to come from the angle of what is best for the section as a whole.
"As a member of the executive committee, or board of managers, there are times when you advocate for your own league," Sell said. "In this position, that's not what the president is supposed to do. Your lens is supposed to be really broad. When you're up there, you're not representing anybody — not your school, not your league, not your sport."
Sell believes his long tenure with the CCS can help provide historical context during debates and discussions. Having been involved with many of the rules and by-laws that the section has implemented over the last two decades, Sell knows why some rules were written and for what purpose.
"A key question (during deliberations) is, 'Where did this (rule or by-law) come from and why was it written?' If you know what that is, you know the spirit of the law," Sell said. "I've been a part of near every by-law discussion (over the last 23 years). Served on a lot of committees who wrote by-laws. … I have a pretty good sense of what the by-laws are and where they came from."
Sell never intended to get so tightly woven into the fabric of sports politics, but he found through the years he enjoyed the machinations of taking ideas and implementing them for the betterment of high school sports in the CCS.
"I thought, for a while, I might apply for a commissioner's job. But I couldn't do it. I would miss being at the school site too much," Sell said. "When I got on the executive committee, I thought I could possibly be president, but I wasn't thinking about it."
After first joining the CCS in 1997, it's been a steady move up the CCS ranks. He was named to the board of managers in 2007, to the executive committee in 2012, was elected vice president in 2017 and re-elected in 2019.
"After my first (ever) meeting, I thought, 'This is really neat.' I love being part of the discussions and it fascinated me to see the by-laws get made," Sell said. "I had a certain philosophy of what high school athletics should be. … At these meetings, I found a forum … where you could have these debates.
"When I first started, then-assistant commissioner Steve Stearns would say, 'You're not here to represent your school or your league … but what is best for the section.' I think, globally, I took that to heart (23 years ago)."