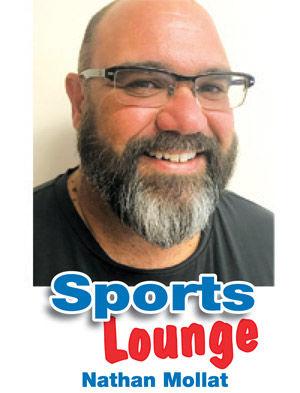 Everyone talks about the "new normal" when it comes to society, thanks to the pandemic. People in all walks of life have had to adjust how they go through their day in dealing with face masks, social distancing and choking smoke.
That new normal can extend to sports, as well, and not just in the sense that were no, or very few, fans in the stands during the first weekend of the NFL season.
Truth be told, it's not really new, but it is normal. Gone are the days when former Washington Football Team and Super Bowl winning quarterback Doug Williams was facetiously asked, "How long have you been a black quarterback," because what was once an anomaly is rapidly becoming the norm.
Normally, I would not ever write a column about the color of a player's skin — especially in football when it is difficult to see under the helmet and the amount of pads players wear. Plus, I simply don't care what color you are. I will treat you how you treat me.
But given today's social climate, I think it is a valid point because you see, at one point, there were no black quarterbacks in professional football and I'll tell you why, quite frankly: for decades, owners and coaches believed Black players, or any People of Color, for that matter, were not smart enough to play the position. I think that fallacy has more than been put to rest.
Occasionally, a Tom Flores or Jack Thompson (the Throwin Samoan), would find their way under center, but the number of quarterbacks who identified as POC were few and far between.
Now, you're seeing a wave of POC under center who are the faces of franchises, because that's what NFL quarterbacks are. Of the 32 teams in the NFL, 10 of them, more than 30%, are quarterbacked by POC. Nearly 30% of backup quarterbacks are POC, as well.
Of those 10 POC starting quarterbacks, seven came up victorious during the opening week: Patrick Mahomes (Chiefs), Russell Wilson (Seahawks), Ty Taylor (Chargers), Dwayne Haskins (Washington), Cam Newton (Patriots), Kyler Murray (Cardinals) and Lamar Jackson (Ravens). That's a winning percentage of 70, which any organization would take.
Why the recent change? Because more and more coaches at the youth, high school and college levels are looking to put their best athletes under center and not being afraid to groom a POC into a professional prospect. Just look at college recruiting site 247sports.com and its list of top high school quarterbacks in 2020. Of the top 20 quarterback prospects, eight (40%) are POC. A Yahoo! Sports story from July ranked its top 25 college quarterbacks, eight of whom were POC, 32%.
As you can see, this is no longer a "new normal." It's just normal.
There is a new candidate for "The Play:" that famous ending to the Cal-Stanford football game from 1982 that saw the Golden Bears win on the final play of the game with five laterals.
Friday night in Alabama, two high school teams doubled what Cal did. Undefeated Hillcrest was staring at its first loss of the season, trailing 2-1 Wetumpka 30-28 with 2.9 seconds left, with the ball at its own 41-yard line.
But here it is in a nutshell: down two points with just over two seconds to play, Hillcrest threw a pass in the flat that then turned into a rugby attack, with 10 — 10! — laterals and two fumbles before the ball was finally scooped up and ran into the end zone by quarterback Ethan Crawford for the improbable win.
Like all bizarre plays, there is some debate on whether the first lateral actually might have been thrown forward but, from what I saw, it was a perfectly parallel lateral.
There was quite a bit of San Mateo County football flavor on TV this past weekend. First, you had former College of San Mateo quarterback, Miles Kendrick, making the start Saturday night on national TV in the Jayhawks' loss to Coastal Carolina. Kendrick, who attended Valley Christian High School and earned the starting job for CSM for the 2017 season, completed 15 of 24 passes for 156 yards with two TDs and a pick. He was joined by fellow Bulldog alums — offensive lineman Api Mane, who prepped at Menlo-Atherton, and lineman Adagio Lopeti, out of Woodside.
On Sunday, a pair of Peninsula products helped the New England Patriots to a win over Miami. Of course, everyone is familiar with former Woodside and CSM standout Julian Edelman, but he was joined by San Mateo native Devin Asiasi, a tight end and De La Salle-Concord graduate drafted out of UCLA.