Editor's note: This story has been updated to show his height at 5-11
Samson Axe, a recent graduate of Menlo School, said he started dreaming of playing lacrosse in college sometime in middle school. Having picked up a stick in third grade, Axe, 5-11 and 180 pounds, grew into a solid lacrosse player and was a four-year varsity player for the Knights, drawing interest from colleges around the country.
And Axe accomplished his goal, being accepted to go to school and play lacrosse for Trinity College in Hartford, Connecticut, a NCAA Division III program.
At the same time, the Trinity football coach gave Axe preferred walk-on status, making him a two-sport collegiate athlete.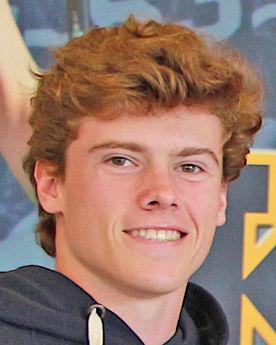 "I was looking at a decent amount of DI schools to play lacrosse," Axe said. "I was looking at (schools in) the Patriot League — Colgate, Lafayette. Brown came really close."
But it wasn't until his senior year that Axe thought he might also want to play football in college as well. He joined the Menlo program his freshman year before moving to varsity his junior and senior year as a running back.
"I always wanted to play football (growing up). … I tried to get my mom to let me play Pop Warner, but she wasn't having it," Axe said. "I didn't really push football recruiting much. … (but) I was narrowing down my options (for lacrosse) and football season was going on and I was into that."
During a phone call with the Trinity lacrosse coach, Axe was telling him how excited he was to play college lacrosse, but also mentioned he was thinking he wanted to play football as well.
"I had a call with the lacrosse coach … telling him I was psyched to do this, but (also told him) I wanted to play two sports. Then he gave me the football coach's number," Axe said. "[The lacrosse coach] was really open to it. A lot of people in the NESCAC (the conference in which Trinity plays) are two-sport athletes. Soccer-lacrosse, hockey-lacrosse are really popular."
Having played for roughly half his life, it's no surprise Axe developed into a college-caliber lacrosse midfielder. During his sophomore year, he was fourth on the team in goals (25) and assists (13). He followed that with 16 goals (third) and 27 assists (first) his junior year.
His senior season was one game into the schedule before the season was canceled because of the coronavirus.
Despite his accomplishments, Axe said there were actually a couple times he didn't think he would play lacrosse for a college team. The first time came when he was still in middle school. He said during that time lacrosse recruiting was the Wild West, when college coaches were allowed to have contact with players and their families when they were 11, 12 years old. He said before the recruiting rules were changed, players would often commit to colleges and universities as seventh, eighth and ninth graders, leaving those late bloomers not a lot of opportunities.
"Lacrosse recruiting used to be terrible. Kids would get recruited in the seventh and eighth grades," Axe said. "Being a little sixth grader, you get into your head about [college recruiting] — this guy is committed here, that guy is committed there.
"But I grew a lot as a player from seventh grade to freshman year, which is when I really got my head around it (the recruiting process)."
Axe said the rule was changed as he went into his sophomore year that college coaches were not allowed to start contacting players until their junior year.
But even with the recruiting playing field a little more level, there were still doubts he would play in college. Axe said he wasn't getting the interest from schools he favored — either the academics weren't right or the lacrosse program wasn't. He had even resigned himself to just playing club lacrosse in college.
But a strong 2019 summer season with one of the best West Coast club teams opened up Axe's recruiting prospects. He said one of the hardest parts of the recruiting process is that the East Coast is where a lot of college lacrosse opportunities are and it's hard to get noticed playing the West Coast.
But playing for West Coast Stars out of San Diego gave Axe the access to more college coaches as the club went back East and won their fair share of games.
"If I didn't have last summer, I probably wouldn't be playing (in college)," Axe said.
Not only did last summer secure him a spot on a college lacrosse team, it also allowed him to play college football. Playing in Menlo's spread offenses as a running back, Axe had his share of success on the football field. As a two-year varsity player, Axe accounted for 1,573 yards and 17 touchdowns on offense —1,229 yards rushing with 11 touchdowns and 36 catches for 344 yards and six more scores.
The physical nature of lacrosse did not completely prepare for Axe for football, however. On the first carry of his high school career, he took a handoff — and ran straight out of bounds.
He learned real quick that he was going to get hit playing football, which is when he leaned on his lacrosse training.
"One of the best things lacrosse taught me was not to take a hit straight on. I tried to juke and go around (would-be tacklers)," Axe said. "As a running back, you kind of take a beating. In lacrosse, these kids are trying to get the ball out of my stick, instead of trying to take my head off."
While Axe said he was relieved to get his commitment out of the way last fall, he has more immediate concerns — will there even be a season at all because of the pandemic? Bowdoin College, one of Trinity's conference opponents in the New England Small College Athletic Conference, announced Monday it was canceling its entire fall sports season.
Axe said he's already gotten his playbook for the football team and has started working out in anticipation of a late August reporting date, but he still doesn't know what will happen.
"I really hope we have a season," Axe said. "We'll see how it goes."