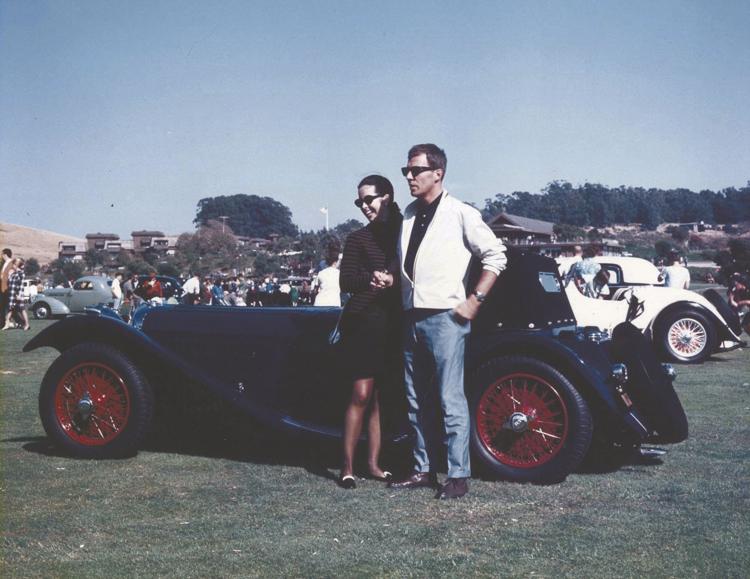 James H. Dunbar, Jr.
October 9, 1929 - April 22, 2019
The End of the Storied Road
Life's road is long, with many hills and valleys, curves and straightaways. It's always important to have skills, a faithful vehicle, and (if lucky) a trusty co-pilot. James H. Dunbar, Jr. – better known to Bay Area folks as the media legend Jim Dunbar – had all these things and more. His life was rich in so many ways, and with his passing this Spring, it is time to reflect on all that he has given to the Concours d'Elegance, the community of Hillsborough and the greater Bay Area. As Brooke Dunbar – Jim's daughter and local realtor – says: "Being around cars, jazz and friends was dad's religion. Gave him such joy". Some of her earliest and happiest memories involve her dad's love of antique automobiles and his passion for the community and Concours.
For those new to the region or too young to remember, Jim -- a National Radio Hall of Fame member -- was long known for his silky baritone voice and as a KGO radio personality and Program Director. He was a widely revered and trusted journalist; he interviewed every President and went to every inauguration. Having grown up in Dearborn Michigan, a love of cars was in his blood. His father belonged to Dearborn Country Club, and young Jim, occasionally caddied for Henry Ford himself; Jim was a 'car guy'. He graduated from Michigan State University with a degree in journalism where he called basketball games on the radio to pay the bills. Later, he became a jazz disc jockey after a two year stint in the army where he was a broadcaster at the base station in Fort Riley, Kansas. It was while working at a radio station in New Orleans (having replaced Dick Van Dyke who had embarked on a Broadway career), that he met his co-pilot and partner for life Beth Monroe, described by their daughter as a feisty Southern Belle. They celebrated their diamond (60th) wedding anniversary last December. Their son James was born in 1959 and Brooke was born in Illinois, when Jim worked in Chicago in 1962. The family moved West in 1963, in part to please Beth, a Florida native, who disliked the cold winters. The Dunbar's thought the job would be short-lived and joked about not unpacking. 37 years later, an illustrious Bay Area media scion, Jim had put down deep roots in our community. He was instrumental in getting Earth Day recognized and continued his profound connection to the Concours as an emcee and judge which began in the early 70's.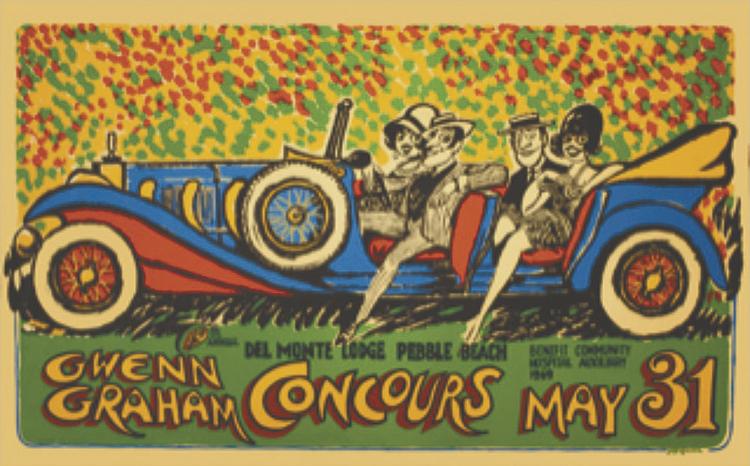 The 63rd annual, longest running Concours in the world, the 2019 Hillsborough Concours D'Elegance will be held at Crystal Springs Golf Course on July 21st, 2019, 10 am - 4 pm. The Hillsborough Concours d'Elegance has evolved while maintaining a proud tradition of honoring and celebrating excellence in automotive design and engineering. This tradition inspires the devotion of generations of passionate vintage car owners and aficionados. The Hillsborough Concours is held on the fine fairways of the Crystal Springs Golf Course, and the Tour d'Elegance – a road-rally for Concours participants and car enthusiasts ¬ will be held on Saturday, July 20th, 2019. Long a mom-and-pop community event, cherished for generations, the original event had a fair-like quality mixed with collective celebration and philanthropy. Initially the event was an organic response to supporting local schools and feeding the automotive interests of local families in the burgeoning suburbs of San Francisco and the nascent Silicon Valley. The Hillsborough Concours Foundation was established in 2010 to significantly extend the philanthropic reach and impact of the Concours organization. Today, in addition to the Hillsborough Schools Foundation, all net proceeds from the Concours and its associated activities will benefit Autism Speaks, a national charity with the goal to change the future for all who struggle with Autism spectrum disorders, and The Guardsmen, a San Francisco-based volunteer organization dedicated to helping at-risk children thrive.
Jim Dunbar was inextricably linked with the Concours for more than 25 years. It was a passion, hobby and his signature event. This year's Concours will be the last one for the Dunbar family, and to pay homage to the life and commitment of Jim Dunbar, they will be in the Pre-War section having a picnic and refreshments throughout the day. On the day I met with Brooke to discuss her father's life, his and her work and the Concours, she graciously gave me a ride in a cherry Model A Ford, one of her family's fine automobiles. We tootled around Burlingame honking the old klaxon waving at little kids and making grown ones smile. It is the joy the automotive world brought to Jim, that Brooke wanted to convey. A devoted daughter and carrier of the torch, she is a Coldwell Banker Realtor who specializes in the senior market. She works with clients from San Francisco to San Jose, as well as the coast, but much of her work is right in Burlingame, San Mateo and Hillsborough. She is a licenced SRES – Senior Real Estate Specialist – and works with both parents, children and others to help navigate the home buyers or sellers market. She has a unique quality of bridging generations, keenly aware older folks' interests, concerns and capacities, while firmly grounded in the present. Her manner is at once a throwback, steeped in the history of the area, while forward looking and fully aware of the current market. Like her father, Brooke seeks to glory in the achievements of the past while preparing for and interpreting the future.
Jim Dunbar's reassuring voice, his presence, wisdom will be missed. Brooke says he had a childhood hobby of reading the dictionary which she says fueled his precise wording on air. Many grew up with him and she says "He had a very calming effect on the San Francisco Bay Area. He had an inner calm given all of the cacophony and chaos when delivering news." His uniquely unfussy, but reassuring style changed the landscape of Bay Area radio. He was a brand, before there were personal brands and he pioneered newstalk radio. He had a way of humanizing news, taking the facts and presenting them with his own secret sauce of wisdom, worldliness, humor and a little improvisation, but his goal was always to keep listeners in a good mood as they started their day. Fans and listeners used to stop him at grocery stores and around town and he loved being an active member of the community. For so many years he had gotten up in the middle of the night to make his morning shift which started at 5:05 am. After his retirement, in 2000, Dunbar gave his alarm clock to his daughter and never got up before 9 am again. For a few years he created what he called "graceful little audio essays" for KGO. But that familiar voice could still be heard at senior centers where he volunteered to discuss current events and local issues for another decade and a half. Then he retired, but still was a force in the community and the annual Concours D'Elegance. Poetically, he died on Earth Day, a celebration of the planet, that has gone global and an event he had spearheaded. His legacy lives on in his family, his community and especially his beloved Concours D'Elegance. Jim Dunbar's influence remains strong and as he liked to say at the close of his ABC evening newscast "keep the faith"!