Meet Kim Lordier, Wayne Wichern, and Kay Podolsky, three of the many unique artists at Museum Studios, located at the Peninsula Museum of Art in Burlingame.
Kim Lordier: Capturing the Essence of Northern California's Natural Majesty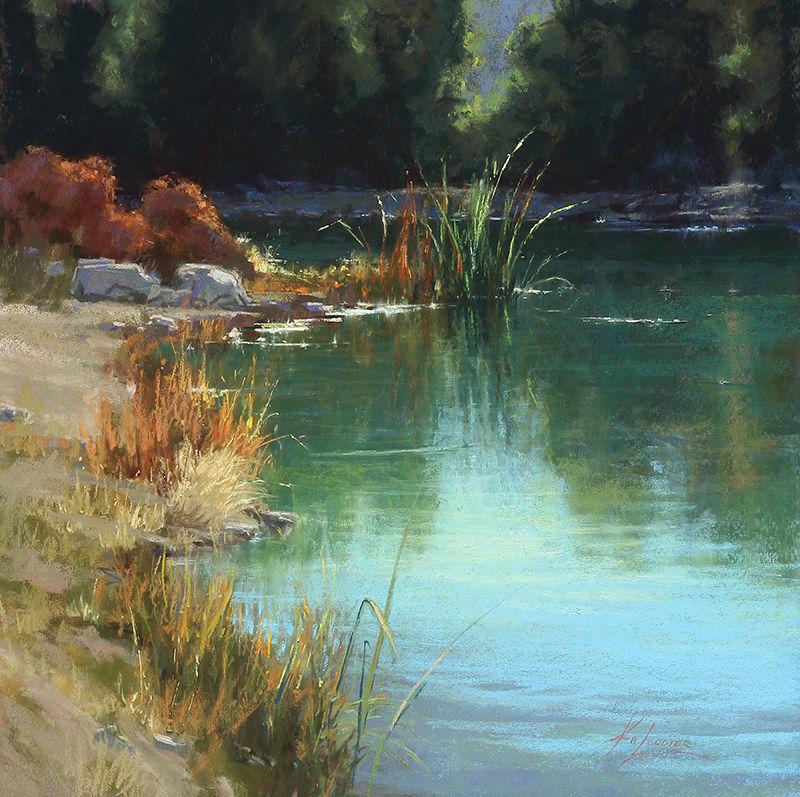 Kim's artistic trajectory is compelling. A native of the Bay Area and an equine lover and competitive rider, she started working at a young age painting pets to support her horse habit. "There's a lotta love in that" she says, about capturing the spirit of a beloved pet in a work of art. She herself has a regal quality with thick lustrous hair, a bright smile and elegant presence. She attended the Academy of Art University, in San Francisco, and seemed set on her path. Her dad was a flight captain for United, and so she put her portfolio under her bed and flew as a flight attendant for a number of years. In 2001 she found her creative voice and she attributes three pivotal events for shaping her artistic life. She was smitten with plein air painting -- the act of painting outdoors -- and found great inspiration out in nature. She also saw an early California Impressionist exhibit at the Oakland Museum, and was hit in the gut and "brought to my knees" as she emotionally shared. And finally, the events of 9/11 made her realize, viscerally, that she didn't want to waste time doing something she didn't love. Offered a voluntary furlough program and a safety net, of sorts, for four years, she embarked on her painting career full time.
Kim's artistic path has been accelerated. She attributes her national success to working from life, and during this period she also married and raised a son; now a freshman in High School. Her work depicts the jaw dropping and undeniably majestic landscapes of the Bay Area. The dancing of light on the golden hills, the coastline, the mountains and mother nature's vivid displays speak to her. Much of her work is in pastels and she graciously let me look at her materials, touch them, and see how the medium lends itself to the glorious colors and shapes of our landscape. She has worked in Maine and the Carolinas, but feels deeply connected to the scenes found in her backyard. She loves setting up her easel at the beach, digging her toes in the sand or up in the Sierras and feeling at one with nature, incorporating the sounds (the birds, waves or thunder reverberating through canyon walls), the quiet and all that Mother Nature has to offer, into her work.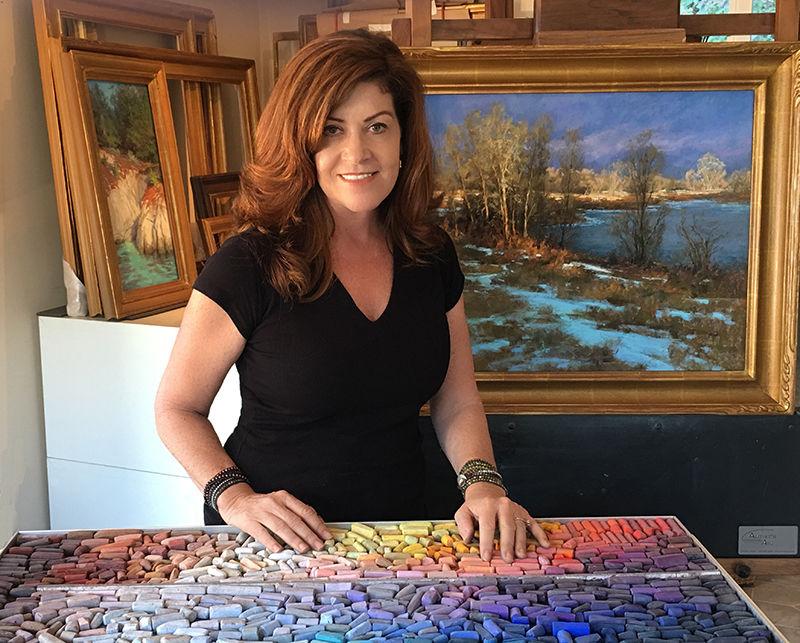 Kim has many collectors from Texas, the Midwest and of course California, and has solo shows for a gallery in Carmel, among many other esteemed galleries, museums and collections. A coveted workshop instructor, Kim leads workshops across the country. Meeting her on September 12th, I couldn't help but be struck by the poignancy of her story, and she fittingly said she feels "it is important to capture the beauty, no matter what's going on in our world." Her works are breathtaking and serene at the same time, and having witnessed the development of the Bay Area, her art is both testimony and an attempt to protect the natural wonders, we so often take for granted.
* * * * *
Email: kimspastels@aol.com
Studio #4 (shared with Ellen Howard)
Wayne Wichern: For Every Hat a Head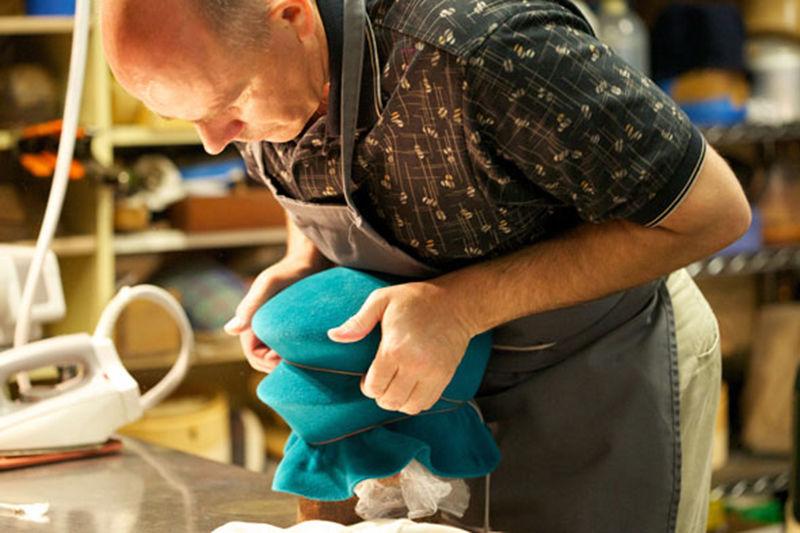 Wayne Wichern is a delight. His studio tantalizes with colorful, unique and masterfully crafted headwear. Wayne is a master milliner; a hat maker extraordinaire. He grew up in Wyoming in a farming family, and moved to Seattle, at a young age, to explore floral design. He was always interested in dance and moved to NYC in the late 70's to explore a career in ballet. At 21, he was considered a late starter and supported his training by selling dancewear and shoes at a famed store in the Theatre District. I grew up in NYC and happened to be in a children's ballet company at the time, and we mused about the possibility that he might have sold me pointe shoes all those years ago.
Working in the dancewear store cultivated an interest in costuming and costume crafts and one thing led to another, and here he is making glorious hats for weddings, the Kentucky Derby, special events and he even had a hat featured at this spring's Royal Wedding of Harry and Meghan! Students come from far and wide to take Wayne's hat making workshops. Hat making is having a bit of a renaissance in the wake of TV shows like Downton Abbey and The Crown. Nonetheless, it is not a huge field and students love the classes. The combination of Wayne's expertise and the studio location near SFO make his workshops popular. He also crafts custom creations, and though he now splits his time between Seattle and the Bay Area, his presence here is unmistakable.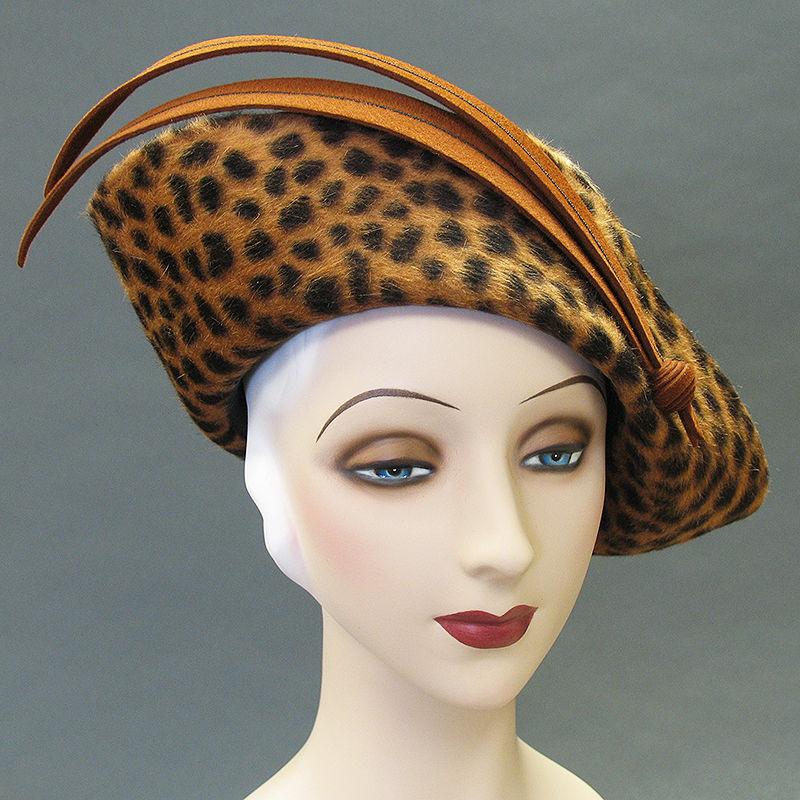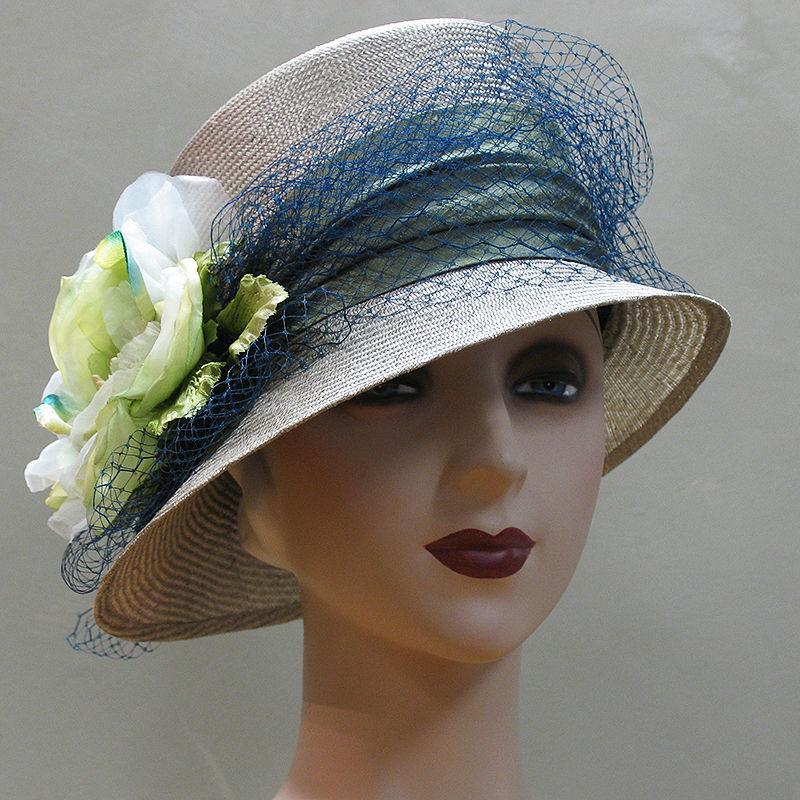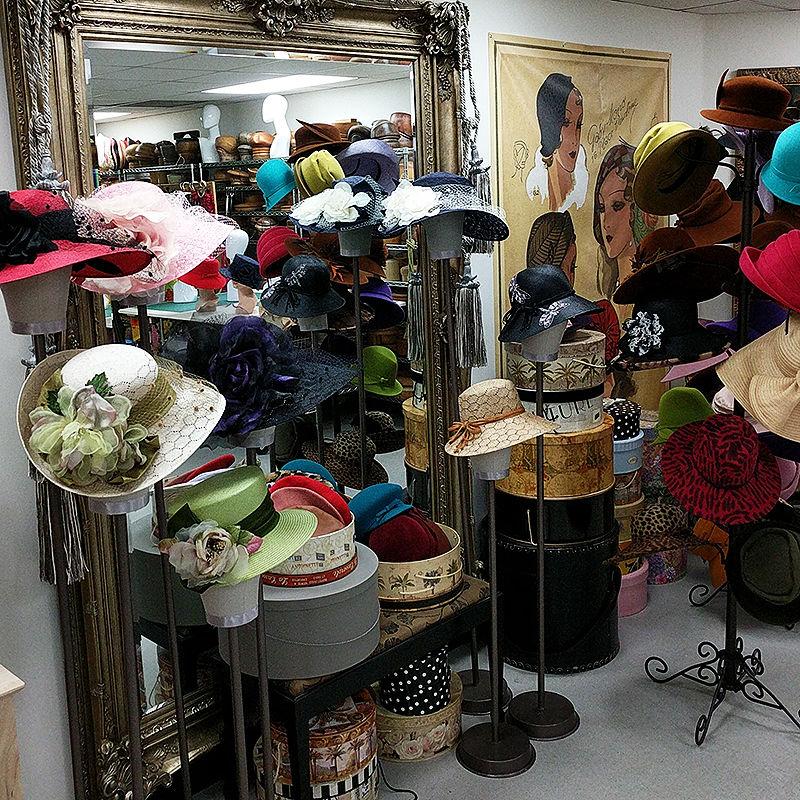 Sitting in his cozy and colorful atelier, I was struck by the hat blocks – wooden forms used to shape the hats – works of sculpture themselves. You really get a sense of the tactile nature and identity bathed in each hat. Wayne noted that people often say "hats don't work on me" and his response is, "it depends on the size, shape and variety" whether it be a cloche, sun hat, beret, topper, upturned breton or derby hat, a hat can create an effect. Hats have a transformational quality and every hat has a bit of a personality. People notice a hat and there is a certain 'theater' to wearing a hat. Made of felt or straw, with veils, ribbons, floral or other embellishments, you can tell each of Wayne's creations has a story to tell. There is a Lithuanian proverb: For Every Hat a Head!
* * * * *
Web:
Email:
wayne@waynewichernmillinery.com
Studio #3
Kay Podolsky: Making Moments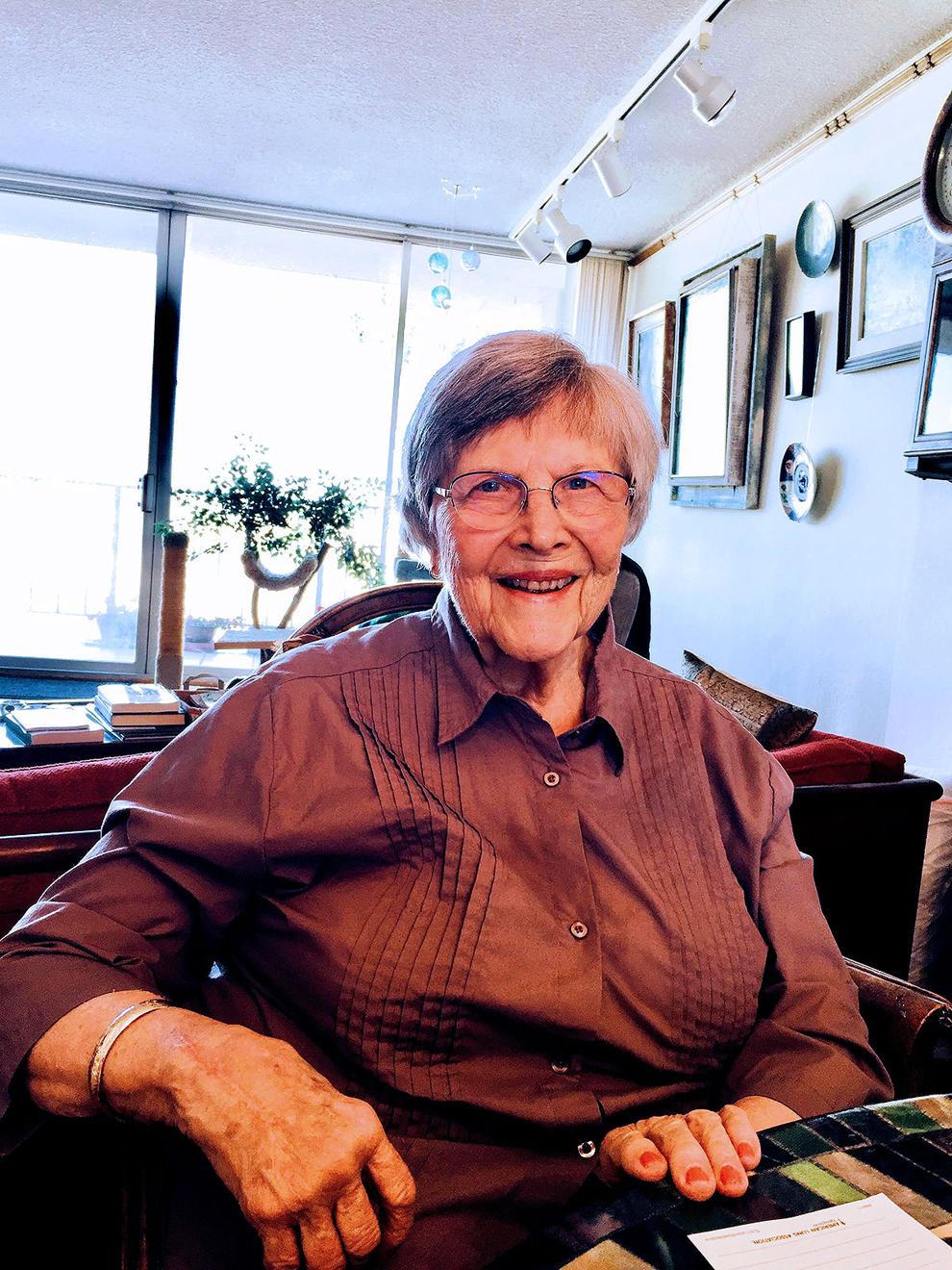 Kay is a force. At 85, she is an in-demand photographer and paper decoupage artist. Photographers produce two-dimensional images of three-dimensional objects and scenes. What fun it is, to take those flat pictures and re-create them with actual depth! This process of creating three dimensional images is called paper decoupage. It involves printing multiple copies of the image, cutting out sections, carefully tinting the edges, and layering the pieces with spacing in between to build the 3D artwork.
Kay's work draws you in. Her pet portraits are especially compelling as the fur coats and whiskers beg perspective and require very nimble work: "whiskers are very difficult and require a lot of time and effort" Kay says. Each work of art can take up to a week and framing can take another 4-5 days. Her subject matter is varied, a beautiful bowl of fuyu persimmons, to a geometrically arranged set of canoes on a lake and a number of Bay Area bridges. My eye was drawn to an iconic Barcelona old quarter street scene, since my family just returned from a trip to Spain. She captured the narrow perspective and sense of claustrophobia I had experienced, and I loved how the light peeked through the spaces to create an unusual city scene. I remembered immediately what it felt like to walk those streets! These works are time consuming and require meticulous care. The results are mesmerizing and the scenes truly jump out of the frame.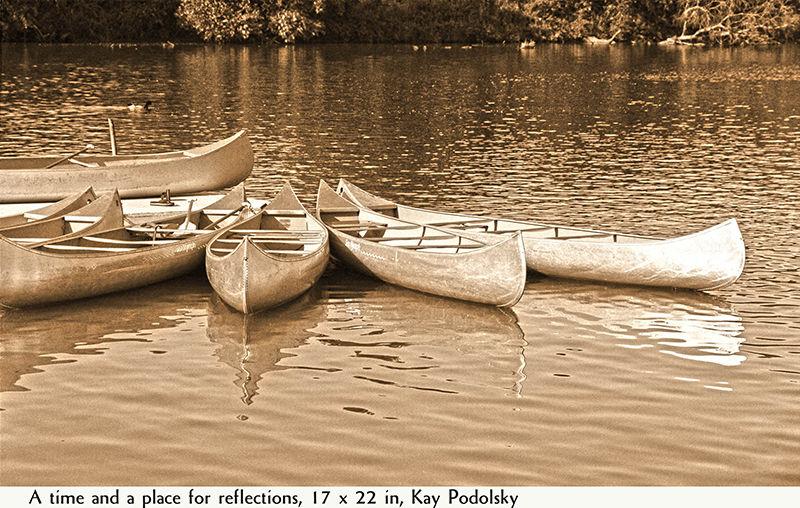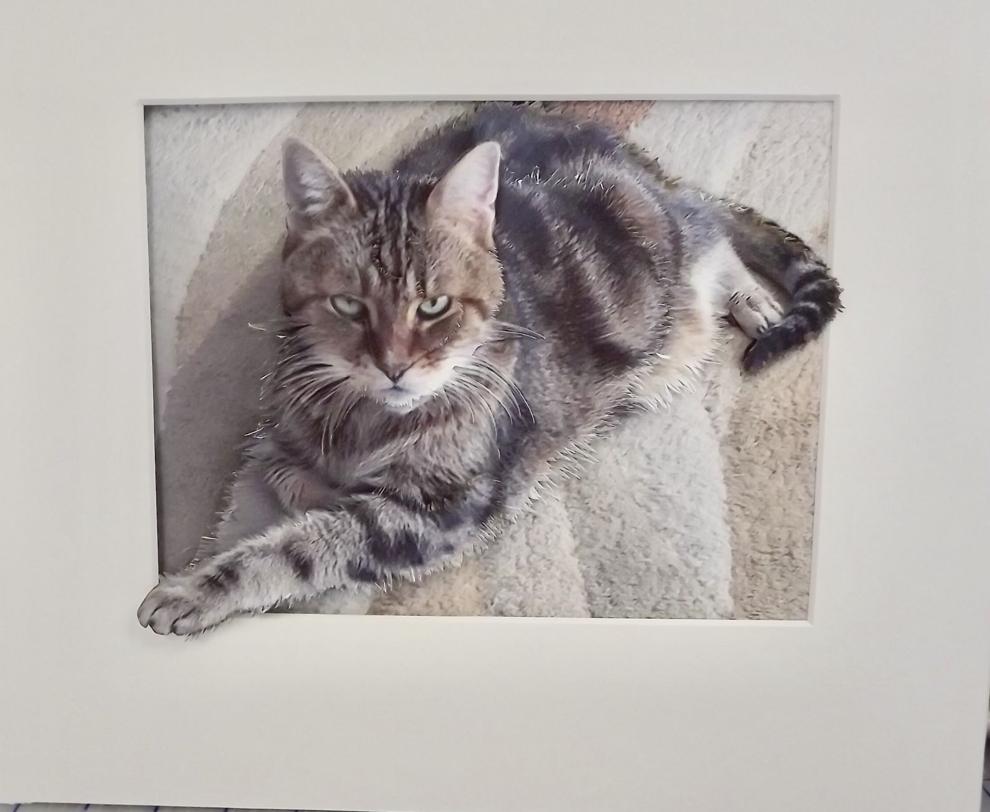 This great grandma went to college to be an art teacher, worked for PG&E and met her second husband while working in his medical office. Travels together inspired her photography over the years, and she focused primarily on still photography til about 8 years ago. On a trip to New Zealand, she saw a paper decoupage piece of a bi-plane that "flew off the wall" and she was hooked. She met the artists and decided this would be her focus. A style that was popular in the Victorian era, 3D decoupage is at once very modern and antique looking.
Kay loves working at the Peninsula Museum of Art studios and say "it is invaluable to be with a group of artists, we share ideas and it's very stimulating." She teaches classes in 3-dimensional work at the Museum Studios and loves sharing her skills and expertise.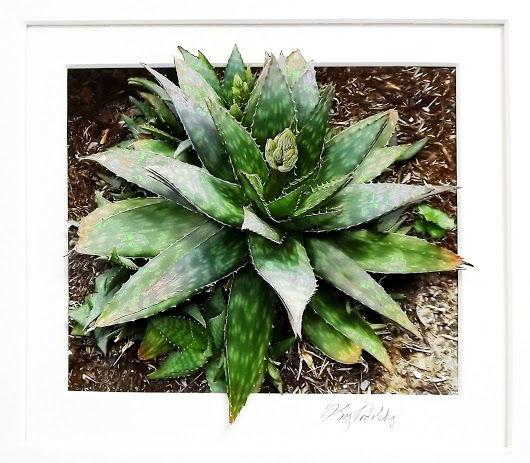 Ansel Adams said: "You don't take a photograph, you make it." and Kay Podolsky crafts artworks that make you want to jump inside them, touch them and linger while you examine all the layers.
Kay says this work "keeps her going" and her vibrant studio is fun to explore and proof of how a sense of purpose and creating art can keep one so vital!
* * * * *
Email: kaympod@gmail.com
Studio #5