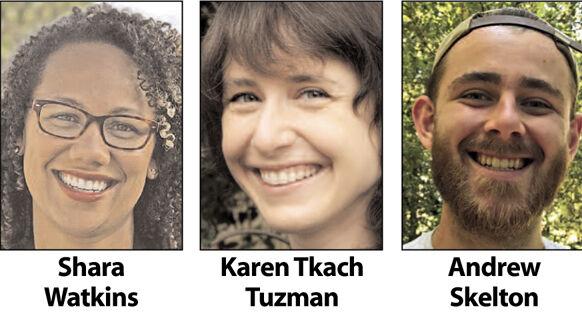 San Mateo County is no stranger to racial disparities in the policing of Black and brown bodies.
While some elected officials believe this is more of a national issues than a local one, the numbers clearly argue otherwise. According to a 2020 study by Bay Area News Group, while Black people make up only 7% of the five biggest Bay Area counties, they accounted for 27% of those killed by police in the region between 2015 and 2020 — the second largest disparity in the nation behind Oklahoma City. And according to a 2018 report by the Public Policy Institute of California (PPIC), San Mateo County's arrest rate for Black people is nine times higher than for white people; for Latinx people, it's twice as high. 
Moreover, the handful of officials who can hold our county's law enforcement accountable have not done so. 
In his decade-plus tenure, District Attorney Steve Wagstaffe has not charged any of the 52 officers involved in a total of 19 fatal use-of-force cases in San Mateo County. The San Mateo County Board of Supervisors, which holds power of the purse, approved a budget last year that sets aside nearly $1 million for new Tasers for the county Sheriff's Office, despite the fact that in the last three years, officers using Tasers killed three unarmed men of color: Chinedu Okobi, Warren Ragudo and Ramzi Saad.
One year ago, more than 2,000 people peacefully marched for Black lives in San Mateo. One year ago, San Mateo County sheriff's deputies arrived at that peaceful protest in full riot gear, including batons, zip tie restraints, rubber bullet guns and tear gas canisters. One year ago, few elected officials, and no one in law enforcement, spoke out or took responsibility.
One year later, we ask, what's changed?
Since last year, our county has taken incremental steps forward, but is nowhere close to achieving the accountability, justice and protection our communities demanded. 
While we welcomed the sheriff's decision to halt the use of chokeholds, fulfilling six of the items on the 8 Can't Wait checklist, that list is not a ceiling. It's a floor. 
Four police departments opted into a county pilot program to have mental health providers join 911 call responses, but these professionals are still riding along with armed officers. Our county could instead follow the lead of at least a half-dozen cities around the Bay Area connecting mental health first responders with fire department EMTs.
These steps are not trivial, but they are not enough. Complacency is not an option, because the lives of our community members remain at stake.
The April 7 death of Roger Allen at the hands of the Daly City police officers is a sobering reminder that our county remains a dangerous place for Black lives. The city is only now implementing a 4-year-old county recommendation to require officers to wear body cameras — too little, too late.
New data continues to reinforce disproportionality in policing both nationally and locally. 
That includes an analysis, conducted in 2021 by one of our coalition members for a Stanford University thesis, which shows Black and Latinx folks are 8.8- and 2.7-fold more likely to be arrested by the San Mateo Police Department, replicating the trends seen by the PPIC at the county level.
Latinx folks made up 40% of all SMPD arrests at the end of 2014, and 59% of all SMPD arrests at the end of 2020, despite making up less than a quarter of San Mateo's population. It isn't getting better with time, it's getting worse. And it will continue to do so if we let it.
We have enough data to know these problems exist in our neighborhoods and towns, but we still have an urgent need for more transparency. Frustratingly, the Sheriff's Office has refused to release comprehensive data on its use of force incidents, on the grounds it is not legally obligated to do so until 2022.
This isn't some other place. This is here. This isn't some other time. This is now. We are still waiting for ownership. For boldness. For change. 
If you plan to march with us on June 12 in Redwood City, you are committing to more than rallies, protests and words — you are committing to challenging a system that continues to police and kill Black and brown bodies at drastically higher rates than white bodies, right here in your backyard.
Shara Watkins is a member of the San Mateo-Foster City Elementary School District Board of Trustees, Karen Tkach Tuzman is a member of the California Democratic Party delegate representing Assembly District 22; and Andrew Skelton is a graduate student of sociology at Stanford University. They wrote this on behalf of the San Mateo County Law Enforcement Accountability Coalition.