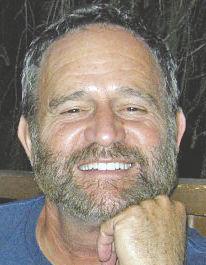 I once had a student in a fiction writing class who was living in her car. I found out about this by chance when she told me that the reason she'd missed the previous week was because her car had been towed from a parking lot outside a local gym, and it had taken time to eventually get it back.
This student rarely was absent and always sat in the front row. Her stories were about a harrowing childhood and a mostly homeless adulthood.
"No one else can put my words down with the dignity they deserve," she said to me one night after class. "My life is one of the few things I own."
For a couple of years after this she'd occasionally send me a story to read, then I never heard from her again. And though this all happened a long time ago, I can still remember, as I drove home from class that night, how our conversation got me thinking about the power of words, about learning the alphabet in elementary school, and how we've come to use it as adults.
How tacked above every classroom's chalkboard were green cardboard placards of the letters of the alphabet, symbols designed to teach us to communicate with one another. Though what was written on the chalkboard itself might appear one hour and be erased by the teacher the next, those letters were always there from the beginning of the school year to the end. They were never removed.
Of course, they were there to teach and guide us in our handwriting. But, what I didn't know then, but realized after I listened to my student, was they were also there to lend dignity to our lives. Those 26 letters looked down upon the 30 of us from their lordly perch above the chalkboard because they were giving us an opportunity: the opportunity to shape them into words that might help, in the years ahead, to diminish the distance between us. That is the virtue of letters; of language. Their task, surely, was to help us reach out to each other, not to increase our isolation and fear of one another.
One of my sadnesses about our current lives as American citizens is that the alphabet we once learned has been taken over by a new alphabet. An alphabet that has cannibalized our own to divide and conquer us.
I believe our dignity as a people is often defined by the words we use to describe the life of our nation and those of us who live here. Do we use words that acknowledge and include the many different stories we have to tell, which are at the very heart of an enduring democracy? Or do we create, from these differences, a new, darker alphabet, in which a true democracy can only cease to exist?
Soon, a bronze plaque will be mounted at the entrance to the Burlingame Library.
"Welcome," it will read. "All sizes, colors, and cultures, all sexes, beliefs, religions and types: all people-safe here."
One of the truths these words sadly infer and that the plaque's existence comments upon, is that as we've become a more diverse nation, we've become ever more divided. But what must be recovered — the alphabet that lends dignity to us as a democracy — are words such as these. Words that dignify us as citizens because they're not only a bulwark against what divides us, but, also, the hallmark of a civil society.
This is the alphabet of justice, equality and connection. It's the alphabet where people of many different voices come together in safety. Where no one gets left behind and where our government institutions exist as instruments of good for all, regardless of the birthplace of our heritage or the contrasting arcs of our lives.
This language, however, will not be easy to recover.
Michelle Obama has said: "For me, when you're a public figure in power, everything you do models what you want the country to do."
But, while there's a new president for the country to model, the toxicity of the words we've been governed by the last several years will not easily be overcome. The myriad possibilities of our democracy's alphabet and how we use those possibilities, for good or ill, lie unknown before us. The writer Rebecca Solnit speaks to this when she says that voting is a chess move, not a Valentine. Our country has only taken a first step toward its more honorable self. Difficult work lies on the path ahead.
But what we've lived with in our most recent past cannot be our new language.
In the coming years, that language must be fought for and won back.
Mike Nagler is a trustee on the Burlingame Library Board.