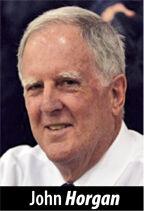 Putting a happy face on touchy subjects has become an art form. Labels are important. One such effort has been ongoing in San Mateo.
Caltrain, as it continues to upgrade its rail line through the Peninsula, has come up with a nifty description for details of a 1,000-foot spur track planned for its route between 10th and 14th avenues.
Not everyone in the immediate area is thrilled about the prospect of an extra stretch of storage track near their homes. There has been some pushback. 
Caltrain, though, is undaunted. How does the rail entity refer to the construction and moves to minimize its impact? It is said to be a "neighborhood enhancement project." 
In one way, it probably is — as long you realize that the reason for the planned upgrade is a project that has generated unhappiness in the first place.
None of this linguistic hocus-pocus is new, however. Remember, in today's world a homeless shelter has become a "navigation center" and a suspect in a crime has morphed into a "person of interest."
But all of this pales in comparison to recent Associated Press website headlines referring to the nature of persistent evenings of protests, rioting, arson, vandalism and overall urban chaos in Portland as "rowdy" and "unruly," among other gentle adjectives.
May we have the Pulitzer Prize for obfuscation, please? 
Searsville Lake is a lost local summer asset
Summer 2020, for better or worse, is still with us. It doesn't officially end until 12:01 a.m. Sept. 22.
Which means another vacation period will have gone by with local young folks (and some older ones as well) having no idea what they've missed. 
Searsville Lake was once a pleasant mecca for Peninsula residents seeking a relaxing aquatic experience in the heart of what is now Silicon Valley.
The lake, when public access was permitted, was a gem located at the southern end of Whiskey Hill Road in the hills to the west of Stanford University near Woodside/Portola Valley; it's been closed to the public since 1975.
In its heyday, the lake, created in 1892 by a 65-foot-tall concrete dam which trapped Corte Madera Creek water in the San Francisquito Creek watershed, was extremely popular. Sand was trucked in to create a splendid beach on the lake's shore, beginning in 1922.  
But environmental and other concerns forced the closure of the Stanford-owned recreational area and biological preserve. Controversy over the future of the dam, the lake (and its layers of silt) and the watershed continues to this day. 
Should the dam be torn down and water be allowed to flow freely east toward the Bay or not? The debate is ongoing.
 Susan Manheimer is in a whole new world
Let's have a healthy dollop of empathy for Susan Manheimer, the former police chief in San Mateo.
She knew full well that her employment move last spring would be challenging. But leading the deeply troubled Oakland Police Department, even on a temporary basis during a pandemic in an election year, has to be even more difficult than imagined.
As the interim chief, she's dealing with a host of problems, including: a frequently dysfunctional municipal government; a police force tarred with a history of serious problems (11 chiefs in 10 years, for example); regular outbreaks of violence and vandalism stemming from downtown protest marches; a persistently depressing murder rate; and other vexing issues she didn't face here on the more subdued Peninsula.
San Mateo, no doubt, has never looked so good.
Brisbane not thrilled about a rail yard rebirth
Officials in Brisbane don't mince words. When they took a close gander at a draft environmental impact report provided by the California High-Speed Rail Authority, they didn't hold back last week.
A proposal to build an extensive HSR maintenance facility in the eastern Baylands area of the North County burg doesn't sit well at all. Brisbane labeled the draft as "fatally defective" and "unusable as a matter of law."
The town, after all, has big development plans for the Baylands, in spite of its history as the site of a previous (and removed) Southern Pacific Railroad freight yard and repair complex, beginning way back in the age of steam.
In sum, the village wants HSR planners to "rule out the Baylands and focus on safe and legal alternatives" — so, again, not in our backyard.