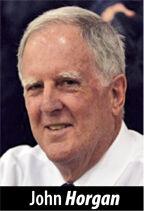 As steps to facilitate and finalize Stanford's University's purchase of the Belmont campus of Notre Dame de Namur University proceed, the future of one prominent edifice on the leafy property remains in some question. 
What will happen to Ralston Hall, the elegant, though flawed, mansion that dates all the way back to 1868 when it was opened in grand style by San Francisco businessman William Ralston?
The 55,000-square-foot building is a National Historic Landmark, an imposing architectural gem that had served the college beginning in 1923 when the Sisters of Notre Dame de Namur moved their institution to Belmont from San Jose.
However, in 2012, inspectors discovered serious problems with the mansion's foundation and other aspects of the structure and it was deemed seismically unsafe and shuttered. It has been closed and off limits to one and all since then. An initial engineering estimate put the cost of repairs at a minimum of $12 million.
Fundraising efforts commenced not long after the seismic issues were revealed. According to a website devoted to saving the building, $6,452,792 had been raised (or promised) as of the end of 2015. It is not clear how much money, if any, has been spent on actual renovation work.
The drive to pay for repairs to the villa was placed on hold in 2019 as the school's fiscal condition deteriorated. Some of the Ralston funds were diverted to propping up the university's stressed operating budget.
Beth Martin, president of the school, said last week that, so far, there have been no discussions with Stanford officials about the fate of Ralston Hall. But, she emphasized, "They will own it." 
Asked if there was any possibility of the damaged structure being razed, she offered that, "It would be next to impossible (due to its protected status). But I am speculating."
A Stanford spokesman said the future of Ralston Hall will be part of upcoming discussions with the city, residents and other interested parties.
Prior to being shut down, the mansion was used for administrative and faculty offices, lectures, drama productions, exhibits, wedding receptions and other functions.
The college parcel of the former sprawling Ralston Estate includes just over 46 acres of prime land west of El Camino Real. The property has been underutilized for several years. NDNU's athletic program was abruptly disbanded and eliminated in the spring of 2020.
Due to a severe enrollment decline and a corresponding financial crunch (made worse by the pandemic), college authorities have determined to offer mainly graduate and online courses now.
The need for an athletic field, physical classrooms, dormitories, a cafeteria, a gymnasium and other substantial buildings has essentially disappeared.
According to the college, it is currently educating just 203 graduate students.
Stanford has an option to buy the property by June 15, 2025. The deal (a sale price has not been made public) won't be done unless it can receive the go-ahead and necessary permissions from Belmont for its operations by that deadline.
If Stanford cannot secure those approvals and backs out of the deal, Martin said the NDNU campus would go back on the market.
STATION'S PAST RECOGNIZED: The Daughters of the American Revolution, along with Redwood City's Jim Clifford, are responsible for leading the way to preserve a bit of the past in what is now Redwood Shores. 
A plaque describing a former short wave radio facility, KGEI, has been installed on the site. The station's concrete structure was built in 1941 (it still stands) and became a key radio link with important locations in the Pacific Theater during World War II.
General Douglas MacArthur's pledge to return to the Philippines, uttered in Australia, was carried by KGEI. Those fading call letters have been fully refreshed on the building's facade. Kudos.
GEOGRAPHY NOT A STRONG SUIT: The national TV folks continue to struggle to get it right when it comes to Silicon Valley and the Bay Area. 
During Sunday's coverage of the professional football game between the visiting Seattle Seahawks and the hometown 49ers in Santa Clara, an on-air discussion turned to that community and neighboring San Jose. 
A few highlights were mentioned. Meanwhile, all of the rolling visuals involved spectacular shots of San Francisco. Again.