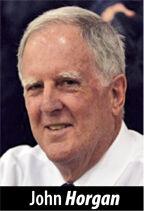 The U.S. Postal Service has been the target of a great deal of scrutiny lately. There is considerable concern about its efficiency, effectiveness, fiscal health and its very future as a viable quasi-government entity. It's lately become a vulnerable political football as well.
But, please, don't tell Sandra Winkler of the Emerald Hills neighborhood in western Redwood City that USPS employees lack a dogged devotion to duty — even it takes awhile, perhaps a very long while. She has proof that they most assuredly do, and then some.
She has reported that she received a postcard not long ago that was dated 1983. It was addressed to her late mother (she died in 2007), who, at the time of the mailing, was working at Stanford University.
According to Ms. Winkler, the old missive was sent by her mom's boss from London. It's not clear how it ended up at the Winkler residence in the summer of 2020 or where it resided through the previous decades.  
The card showed no evidence of a forwarding address. In fact, Ms. Winkler noted that it displayed no special markings at all. It was as though the communication's long journey through the postal system had been perfectly normal, albeit just a tad late.
In any event, she said: "It's impressive it arrived here after all these years." Can't argue with that assessment. 
Larry Teshara was one-of-a-kind administrator
Larry Teshara served public schools in San Mateo County for half a century. He left a positive mark wherever he worked.
Beginning as a teacher in the San Bruno Park Elementary School District, he moved on to the San Mateo Union High School District, finally retiring in 2017 as head of that district's Adult School.
Some of his best and most productive efforts occurred at Burlingame High School. He became the school's principal early in the 1980s; it was a troubling period there.
The school's enrollment was below 1,000 students; it had barely avoided closure in 1980.
More than a few parents viewed its operation with skepticism, especially its wide open campus that made it easy for youngsters to leave at lunchtime, head for an adjacent park or downtown and take the rest of the day off.
Teshara directed a move to tighten things up; the faculty bought in and so did parents. Enrollment edged up. Morale improved. A 1988 girls' basketball state championship brought positive regional publicity and helped boost the school's overall image.
The principal's upbeat, direct, affable style was refreshing and it was seen as a primary factor in the school's turnaround during his 15-year tenure. It was more of the same personal, open-door approach during his 20 years leading the Adult School which thrived under his guidance.
He passed away late last month in San Francisco at the age of 77 after an illness.   
A 75th anniversary of a war's conclusion
When representatives of the Empire of Japan signed official surrender documents on the battleship Missouri on this date 75 years ago in Tokyo harbor, a vicious, barbaric world war came to a merciful end.
For those Americans who served in the savage Asian-Pacific portion of the conflict against the fanatical Japanese military like my late uncle, Richard Brown, the war's conclusion was a relief that bordered on euphoria.
In all, the combined Army and Navy forces of the United States suffered 426,000 casualties, including 161,000 killed fighting Japan. The United States lost 188 warships and 21,255 planes as well, according to official government sources.
The generations that followed can only say thank you.
A flummoxed fowl found loose in Belmont
That was a rather odd spectacle outlined in a police report out of Belmont not long ago.
According to the gendarmes (who assuredly have better things to occupy them at this point in time), a seemingly confused chicken was found wandering in the drive-thru lane at a Wendy's dining establishment.
The flummoxed fowl apparently was not aware that the fast-food outlet features a menu that includes a variety of chicken options. Hello, PETA.
A hopeful sign in these pandemic times
The Holiday Inn Express on the Burlingame Bayfront is no longer set up as a temporary overflow health care facility designed to take patient pressure off local hospitals — at least for now.
John Horgan began writing a neighborhood diary at the tender age of 9 in San Mateo. He's been doing much the same thing as a Peninsula journalist for decades ever since. You can contact him by email at johnhorganmedia@gmail.