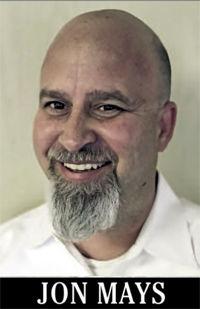 When it comes to generational political power, it comes down to this: boomers have it, millennials want it right this very second and Generation X is "We'd like to get more involved but we are raising kids, then there's my parents who need help and we're busy with work so ... ."
Then there was Beto. Who really didn't have a chance but had the whole Gen X vibe down pat. Hanging around coffee shops, talking to everyday working folk, traveling around and writing wistfully about what he experienced. You could almost feel the cold wind and see the fallen leaves swirling under the middle-of-nowhere town's one traffic signal. He even ended his campaign in the most Gen X way, distracted by something awful (gun violence), feeling angst about it, trying to do something about it, calling attention to it and forgoing a larger goal to focus attention on it. Then calling it quits when no one was with him because, you know, Americans love their shiny objects. Maybe he'll write a book: "Lost in America."
President Trump is the prototypical baby boomer. At 73, he was born in the first year of the boom, 1946. The Democratic front-runners are in his age cohort. Bernie Sanders is 78, Joe Biden is 76. Both are officially part of the silent generation though born after the start of World War II. Elizabeth Warren may seem younger than 70, but she was born in 1949, definitely making her an early boomer. Tom Steyer is behind them at 62 but I'm really not sure what to make of him, though I feel OK in predicting he won't be president.
After that it's Amy Klobuchar at 59, a late boomer, and Kamala Harris, nearly the youngest you can be and still be a boomer, just celebrated her 55th birthday.
Though Beto, 47, had the most Gen X vibe of the candidates, his departure still leaves some representatives in the age group of people born between 1965 and 1980. At 50, Cory Booker is an early Xer. Julian Castro is 45, and Andrew Yang is 44.
Some say Tulsi Gabbard, at 38, and Pete Buttigieg, 37, are millennials since they were born in 1981 and 1982, respectively, but others might argue they are cuspers, or in the Oregon Trail generation, meaning they are digital natives, but only in the rudimentary sense that the once-popular video game represents. Either way, they are on the younger side and since you have to be 35 to be president, it will take another election for more millennials, born approximately 1981-1996, to jump in. And trust me they will. I'm sure a few are already complaining about the age limitation.
So I kind of felt like this was Generation X's one chance to make it into the White House. Not that being a member of a particular generation is a reason to support a candidate, but it doesn't appear Booker, Castro and Yang will be successful despite being thoughtful and interesting.
Boomers and millennials are already fighting, at least if you believe Twitter is an indication of something (I'm not sure it is, but maybe it is). A recent trend is millennials responding to anything a boomer says with "OK boomer LOL." And so Generation X remains — forgotten, wistful and just trying to keep it all together, but wondering how it could be if we were ever put in charge. One thing is for sure, if we were in charge, the boomers and millennials would think they could definitely do it better. After all, no one even bothered to come up with a name for our generation. Though it is capitalized for some reason.
One prediction. Generation Z, born between 1997-2012, is already, believe it or not, exhibiting some of X's characteristics — ennui, existential angst, nihilism. Depending on how the population growth goes, I am guessing they too will be sandwiched between generations — in this case the millennials and the generation after, so far dubbed Generation Alpha, with those born after 2013. It will be interesting if, three decades down the road, we see a trend of "OK millennial LOL."
By then, maybe Beto will have found what he was looking for and, at age 77, will finally make it to the White House — as long as Generation X can get it together by then. At that point, the question might be, do we really want to be in charge?
Jon Mays is the editor in chief of the Daily Journal. He can be reached at jon@smdailyjournal.com. Follow Jon on Twitter @jonmays.