Who knows what will happen tomorrow on Super Tuesday with so many states in play and still so many players. But let's have some fun with trying to guess who might be in the next cabinet if Biden, Sanders or Bloomberg manages to defeat Trump and become president (Disclaimer: I wrote this column before Thomas Friedman's column in The New York Times, Feb. 26 but we pretty much agree).
Let's conjure a Sanders Cabinet. For starters he probably might pick Elizabeth Warren as his running mate. If he wants to make peace with the moderates he might pick Joe Biden as secretary of state even though they have different views on foreign policy. Julian Castro could become head of Homeland Security (read immigration). And he might put Tom Steyer or Alexandria Ocasio-Cortez in charge of climate change, a new cabinet position. He will definitely want to have a cabinet of Bernie loyalists. Maybe that means posts for Ro Khanna, congressman from Silicon Valley, who is his campaign chair or for several of his longtime staff.
Biden would need a woman vice president and he might reach out to Amy Klobuchar. Forget Kamala Harris. He doesn't need California and someone with Midwest credentials would be more helpful. And Harris did stab him in the back during their first debate even though she was supposedly a close friend of the family and his deceased son Beau. He could pick any of the other moderates running for president. Pete Buttigieg as commerce secretary or head of Veterans Affairs. Corey Booker as secretary of education. Andrew Yang as technology czar; and Steyer as head of climate change.
It's harder to figure out whom Bloomberg would want in his Cabinet. He also might pick Klobuchar as vice president. She's younger and a Midwesterner. Or he could make her attorney general. He has the support of many mayors across the country and a few could end up in his Cabinet. Even though Warren has been a fierce opponent she is smart and could find herself in a Bloomberg Cabinet if he doesn't hold grudges but that would be a long shot. But he is not beholden to anyone and he has a wide reach of contacts of competent people across the country whom he could consider for Cabinet posts. Because of his independence, the only litmus test might be excellence and the ability to do the job at the highest level. But he's smart enough to know he has to bring the country together and he will need a skillful team to accomplish that: Democrat, Republican, independent, progressive, white, black, Latino, Asian.
***
What will Trump do if he loses? Will he go quietly? Will be accept the decision of the Electoral College? Will he challenge the vote? Will he use violence to do so?
Will he call out the military to protect him from ouster? What protections are in place to make sure the vote count at each polling place is secure? Will there be election monitors at most polling places as there are in countries under suspicion of election fraud?
***
Here's my take after last week's debate in South Carolina. Biden did much better and by this edition we will know how well he did in South Carolina. But he has not had the time or resources to compete in Super Tuesday states and will not do well in California with competition from Sanders, Bloomberg, Buttigieg and Klobuchar. Although he has always been my favorite and would be an excellent president, he's too nice (to quote him "I am the only gentleman on the stage") to get in the dirt with Trump. Remember another gentleman on the Republican stage, Jeb Bush? And he just doesn't seem to have the organization to rival Sanders or Trump.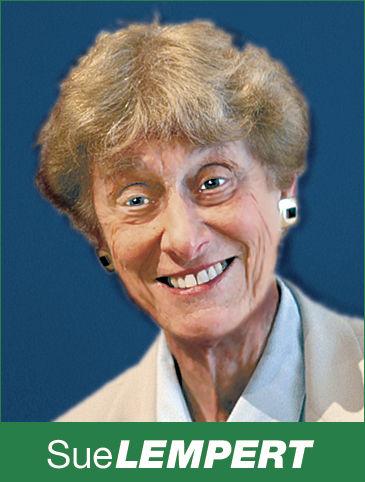 Bloomberg has the resources and the ruthlessness to take on Trump and beat him. But if Sanders has the most delegates going into the convention, there is no way a progressive, liberal leaning group of delegates is going to select Bloomberg. However, the super delegates will have their say on the second ballot and that could make a difference but it would be very dicey. The only way to stop Sanders from getting the nomination is for the field of moderates to shrink. Why is Steyer still in the race? And after Super Tuesday the same question will apply to Klobuchar and Mayor Pete, the youngest and on the debate stage the most intelligent and nimble next to Sanders. She has a great chance to be vice president and for sure Mayor Pete will end up in the Cabinet if a Democrat becomes president.
Sue Lempert is the former mayor of San Mateo. Her column runs every Monday. She can be reached at sue@smdailyjournal.com.