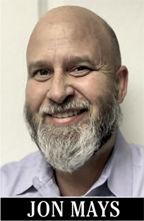 Are we living in a post-debt society, in which people no longer care about the impact of debt or deficits?
It shouldn't be considered old-fashioned to be concerned with these things.
Let's start with some numbers. Since March of 2020, the U.S. government has approved the allocation of $5 trillion in spending from the Coronavirus Aid, Relief, and Economic Security Act; the Consolidated Appropriations Act; and the American Rescue Plan.
Ever wonder how much in taxes the U.S. government collects each year? It's about $4.7 trillion.
Not that the spending, or at least some or most of it, wasn't warranted. We are still in a pandemic and the impact has been great. The government is there to ensure we can all weather this storm. Programs that help with rent, paychecks and provide other assistance are completely warranted. The aid package kept many people and businesses from a spiral into despair. It's good.
However, as with anything, there is an impact. While there has been some discussion about the impact on inflation, economists are mixed on whether this will be permanent or temporary. There is further discussion on an infrastructure package that will add to the debt, and taxes will be needed to pay for it. President Biden has said no one making under $400,000 a year will pay an additional cent in taxes, and that's probably true. However, there are other impacts of debt aside from raised taxes on those in the upper income range.
First, interest rates must rise. Some contend this is good as it incentivizes saving, and I agree, saving is good, people should do more of it and it's nice when they get a little more out of doing it. However, it also means investment overall dwindles, and as more people get more out of savings rather than the stock market, that means the stock market drops. Some say good, it's way too high as it is, and propped up. But that has a serious impact on average people too. They are people with IRAs, or who invest as way to get ahead. Don't forget about all the younger people who just got into investing. It also means the cost of borrowing is higher for businesses seeking to expand, and that could then mean less expansion and fewer new hires.
Second, investors hold that U.S. debt and, as it rises, those investors may lose confidence in repayment ability, which could lead to higher interest rates to maintain that confidence. That, in turn, could affect bond markets and myriad investors from little guys to big firms and create instability throughout the economy.
Third, higher interest payments by the federal government could affect our preparedness for the next emergency. We might also need to offset those higher payments by reducing government benefits and services. These one-time stimuli may provide relief, but there won't be money to continue them, or for other programs, without raising taxes. While Biden proposed to close loopholes and ensure people or companies are paying their taxes, which is a good thing, it may be just a matter of time until that $400,000 amount he promised gets lowered.
Much of this holds true in California, but in different ways. While our state is the beneficiary of about $150 billion in federal money for relief efforts, we had an odd benefit of our own from the pandemic. The rise in the stock market caused our current year surplus to rise to $76 billion, $38 billion if you would rather look at the Legislative Analyst's Office numbers which reveals that certain amounts must be allocated for specific purposes like rainy day reserves, school funding, etc. There is also the fact that about $12 million was pulled from reserves and borrowing for increased spending in his California Comeback Plan. Still, for a $268 billion budget in a pandemic, that's a nice chunk. Yet.
People seem to forget our state's debt and ongoing pension obligations. Though the LAO doesn't aggregate and publish the number frequently, in 2016 it identified $277 billion in identified budgeting, infrastructure and retirement liabilities. That is more than the entire proposed budget this year and makes our "historic" surplus look incredibly tiny. Spending the federal money on programs to assist people contending with the pandemic is a practical and needed step. Brainstorming new programs and "moon shots" is not. It's like spending your bonus on a down payment for a new car, but you don't have enough money to make the payments. We simply don't have the money in California.
Debt and deficit spending has real impact. No matter how we try, we simply can't just "imagine" our way out of that.
Jon Mays is the editor in chief of the Daily Journal. He can be reached at jon@smdailyjournal.com. Follow Jon on Twitter @jonmays.