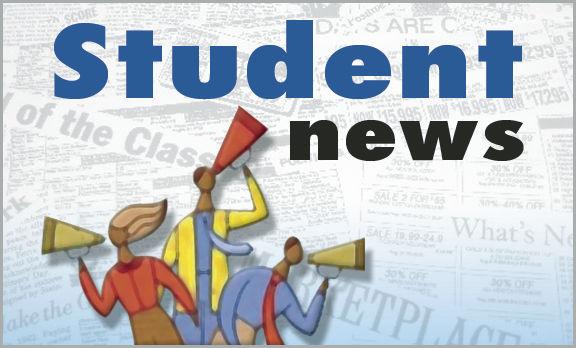 Student News is returning to the San Mateo Daily Journal for the 2019-20 season. I am happy to introduce a new group of student columnists: Veronica Roseborough, Erika Pilpre, Josette Thornhill and myself. We are all passionate about journalism and sharing our opinions with the world. Here is some background information on each of us:
I am a senior at San Mateo High School. This is my second year as a Student News columnist. In addition to working on my school paper, I also serve as secretary for San Mateo High's Interact Club. Outside of school, I work part time at a bakery and volunteer with the San Mateo Youth Activities Council. I'm especially interested in the homelessness crisis and the criminal justice system, and what we can do to fix them. My columns this year will focus on my opinions regarding current events and sociocultural issues.
Roseborough is a senior at Carlmont High School, where she serves as the editor in chief of her school's online news publication, Scot Scoop News. She runs for Carlmont's cross country and track teams and serves on the San Carlos Youth Advisory Council, where she is involved in citywide politics and youth event planning. In her free time, Roseborough enjoys singing, skiing and entertaining her puppy. Her column will shed light on issues from a teenager's perspective and make readers look at things like democracy, college and the vaping epidemic from a different viewpoint.
Pilpre is a junior at Aragon High School. She is a features writer for her school newspaper, The Aragon Outlook and a member of an all-girls FIRST Robotics Team. She has completed various coding projects like Observe, an iOS app that uses speed of processing training to improve memory, and Bye Bye Acne, a questionnaire-based app that finds the best acne products for your skin type. She also loves to cook and experiment with different cuisines and recipes, including crepe-making. Her column will focus on her opinions revolving around technology, science, food and health.
Thornhill is a junior at Aragon High School, where she is the features editor for her school newspaper, The Aragon Outlook. In addition to journalism, she participates in the Political Discussion Club at school and activism in San Mateo County and the Bay Area. Thornhill is passionate about government and policy-making, and dedicated to making sure that students have a platform to participate in them. Her column will focus on her opinions about local and national topics.
We are all very excited to share our perspectives with the readers of the San Mateo Daily Journal. Be sure to check out Student News online on the opinion page or in the weekend print editions of the Daily Journal.
Shavonne Lin is a senior at San Mateo High School. Student News appears in the weekend edition. You can email Student News at news@smdailyjournal.com.