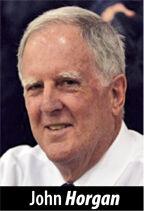 The COVID pandemic is nearly two years old. It's been a rough and deadly slog for far too many of us, particularly the hard-hit elderly.
However, for those who dwell in San Mateo County, we do know one thing for sure about the persistent virus here without debate: Young people are surviving extremely well, many of them without benefit of inoculation against the ailment.
The numbers don't lie. As of last weekend's report from County Health, not one individual below the age of 20 had died from COVID. Not one.
What's more, there had been just a single death in the 20-29 age group. So, countywide, the total number of virus-caused deaths below the age of 30 was one, uno, out of an overall total of 626.
The county data further indicated that 20,285 confirmed COVID cases had been recorded in residents below the age of 30. That figure, as you would expect, did not include young individuals who have had the virus and did not realize it.
In terms of completed inoculation percentages for the young, the county published these figures among age groups: 12-15, 72.4%; 16-24, 85.5%; 25-34, 97.3%.
A significant number in an important age cohort (5-11) had yet to receive a dose of any of the helpful vaccines currently available, according to the weekend county figures.
That doesn't mean children below the age of 12 shouldn't get the jab or simply don't need it at all because their risk factors are so stunningly low and their survival rate is so high. Of course not, assuming parents are on board with the injection.
The vaccines are another very strong form of community protection against the virus. But the data make it clear. The young are the least likely to die from the disease.
SOUTH CITY GOES EXTRA MILE: South San Francisco is going out of its way to honor veterans who have served in the U.S. military (whether in wartime, peacetime or both) this month. Here are some laudable highlights:
• American flags will festoon the North County town's main thoroughfare, Grand Avenue.
• Some generous businesses will provide discounts to veterans with verification of their military status.
• Royal Pin Donuts is set to hand out free doughnuts to vets from 7-10 a.m. on Thursday, Veterans Day.
• Vets may swim for free at the pool at Orange Memorial Park this Thursday and Friday.
• Hand-crafted thank-you hearts from local youngsters will be on display at the Main and Grand Avenue libraries.
• As always, the Veterans Resource Center at the Main Library, 840 W. Orange Ave., will be open from 11 a.m. to 1 p.m. on Mondays, Wednesdays and Fridays. The phone number there for more information about the center's many offerings is (650) 829-3860.
Major kudos to everyone involved in going the extra mile in this municipal effort. Not every community on the Peninsula makes it a point to pay tribute to its veterans to this concerted extent.
DRAG QUEENS ON ICE: The city of San Mateo is preparing to open its outdoor ice rink in Central Park again Nov. 13. It will be a welcome diversion as the pandemic recedes and a most welcome sense of normalcy returns.
The temporary skating venue is a popular option for young and old alike. San Francisco, though, has a slightly different take on this seasonal exercise.
Its version of an outdoor rink will feature, you guessed it, drag queens on ice. Only in Burlap by the Bay. Terrific — what better way to showcase traditional family holiday merriment. San Mateo, take note.
FASTEN YOUR SEAT BELTS: Do what I say, not what I do. That seemed to be the message provided by hundreds of attendees at the global climate summit in Glasgow, Scotland.
Why? Because these self-proclaimed guardians of Mother Earth traveled to and from the United Kingdom in more than 400 polluting private jets, according to the London Daily Mail.
Small wonder the pontificating elites and their grand pronouncements fail to stir the unwashed masses much at all these days.
John Horgan, who has never been a passenger in a private aircraft of any kind at any time, can be contacted by email at johnhorganmedia@gmail.com.