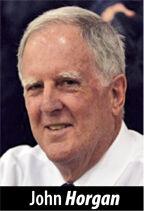 It was one of the darkest chapters of America's homeland experience during World War II. 
The forced internment of 120,000 West Coast Japanese Americans remains a stain on the presidency of Franklin D. Roosevelt to this day. San Mateo County was not immune to his February 1942 decision (which was eventually given the OK by the U.S. Supreme Court).
According to records provided by the federal government, what was then the Tanforan Racetrack in San Bruno was utilized as an assembly/transit center for 8,033 individuals scheduled for relocation, primarily to an isolated camp in Utah.
Of those, 870 were reported to be residents from the Peninsula. Roosevelt's order came in the wake of the December 1941 attack on American Army and Navy bases, including Pearl Harbor, in the Hawaiian Islands by naval and air forces of the Empire of Japan.
Roosevelt's internment mandate, Executive Order No. 9066, controversial then and now, lasted until the end of the war in the summer of 1945.
Eighty years after those thousands of Japanese American men, women and children were forced behind barbed wire, the San Mateo County History Museum in downtown Redwood City is preparing to open an exhibit of photographs taken by Dorothea Lange.
The eight large black-and-white photos depict everyday life as the relocation effort proceeded. The exhibit also will feature a rendering of a new internment memorial and statue planned for the Tanforan site, which currently houses a shopping center. 
The exhibit is scheduled to open to the public Feb. 1 and run through April 10.  
MINI-PARK VANDALISM ADDRESSED: A year ago, we noted that a new mini-park/scenic walkway created by what is now Meta Platforms (Facebook) was no sooner opened than vandalism had commenced on the property.
It was unfortunate. Unthinking skateboard enthusiasts appeared to be the primary culprits at the site, located on the Bayside Burlingame-San Mateo border.
Now, measures have been take to alleviate that problem. Protective metal rods have been attached to wooden benches that had been used as handy skateboard ramps. Graffiti is being kept to a bare minimum. Security has been upgraded. Warning signs have been posted.
In all, the pleasant amenity opposite Coyote Point has been improved. The effort seems to be working.
GENETIC FACTORS SCORE AGAIN: Never doubt the influence of genetics. Just look at that teen football star at the University of Georgia, which captured the national championship vs. Alabama last week.
Bulldog freshman tight end Brock Bowers has strong bloodlines and they course through San Mateo County. His mom is DeAnna Earsley, an outstanding softball pitcher at Carlmont High School in Belmont in the 1980s and later a standout at Utah State University.
She met her eventual husband, Warren Bowers, there; he was a football player for the Aggies. Their union has produced an all-American. Maybe it shouldn't be a surprise. The family lives in Napa.
WELCOME TO PARADISE: Travel, even during a pandemic, can be broadening, or at least a welcome change of pace. A recent vignette at San Francisco International Airport summed that up in a nutshell.
In SFO's Terminal 3, the local home of United Airlines, a seated and masked young man looked around and asked your correspondent in a somewhat befuddled tone, "Is this San Francisco?" 
Great question. Technically, yes and no. SFO is owned and operated by Burlap by the Bay but it's located in San Mateo County. We gave the guy a "yes." We aim to please. Oh, and welcome to paradise.
TIME TO GET WITH THE TIMES: Police in robust Redwood City reported that a citizen recently complained about a man screaming obscenities while grabbing his crotch out there in public on James Avenue.
Apparently, the concerned individual who called the cops has not been paying much attention to a particular form of popular "music" being performed these days. 
Where is Snoop Dogg and his many hip-hop minions when we need them? Time to get in tune with the times, bro.