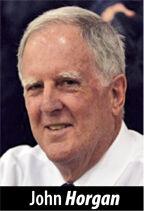 Free money. It's all the rage these days. Whether it's the federal government, the state of California or San Mateo County, the bounty of cash seems to be almost limitless. It's a gusher.
The key reason for this giveaway centers on the pandemic and its consequences. The struggle to deal with COVID and its mutations has been ongoing for nearly two years.
The economic fallout for businesses, institutions, families and individuals has been without precedent in the lifetimes of most of us.
But experiments with a liberal/progressive plan involving monthly cash payouts to low-income people with no strings attached had been gaining steam even before the advent of the current plague.
South San Francisco has joined the movement. It's the first county in the city to try a pilot program that provides a monthly stipend for certain selected folks.
The community's new mayor, Mark Nagales, has been a prime mover in this effort that provides $500 per month to 160 individuals (one per household), all of them considered to be among the most needy and vulnerable in the town.
Still, even with the best of intentions, there are some concerns involved in this test program, which is being administered outside the direct purview of the city itself.
Leading the way is the issue of behavior. The program does not require a stipend recipient to have a clean criminal record. That includes the sensitive matter of legal residence in the United States.
An ex-convict can be a stipend recipient. It's not clear if a stipend recipient who commits a serious crime while receiving the monthly sum will be removed from the program. Nagales, who noted that he became a U.S. citizen as a teen after coming to America as a toddler from the Philippines, said he would have to check with program officials to determine what happens in such a case.
Further, Nagales said he does not know how many, if any, stipend participants are in the country (and South San Francisco) without valid immigration documentation.
He explained that the realities of life here, especially during a pandemic, make such a distinction far less important than it might be otherwise. As he put it in an interview recently, "The pandemic treats everyone the same." It does not play favorites. True.
One South City government source stated that most of the stipend recipients appear to be in the undocumented category since they aren't eligible for other direct government assistance. Nagales said he cannot verify or dispute that allegation.
Still, for each stipend beneficiary who does not have a clean background, a low-income person untainted by troubling legalities, even a U.S. citizen, can be left out of the estimated $1 million, 12-month effort.
And, let's not forget, most of that money comes courtesy of taxpayers. The county's Board of Supervisors even added $100,000 to the mix as 2021 drew to a close.
Nagales said the program will be evaluated at its conclusion and could well be expanded via state funding.
JOHN MADDEN AT COYOTE POINT: The death of pro football icon John Madden last week brought back a particular memory of what many of us of a certain age refer to as "Old San Mateo County." Well, maybe not that old, but old enough.
The garrulous Jefferson High School grad spent a couple of very productive years at the College of San Mateo in the mid-1950s. As a budding football player, the burly Madden honed his lineman skills on a rudimentary practice field at CSM's then Coyote Point campus, the former home of a U.S. Merchant Marine cadet training base.
The site was strictly bare bones. The field, such as it was, could not accommodate actual games. CSM "home" games were played at local high schools. Madden, perhaps the hard-scrabble turf's most illustrious alum, played a role in that exercise.
Today's CSM bears no resemblance to those primitive days on the shores of San Francisco Bay (and in classrooms on what is now the Woodlake condo complex/strip mall properties).
CSM's current hilltop campus includes splendid athletic facilities, including a stellar football mini-stadium that overlooks much of the South Bay.
Madden finished his football playing career at Cal Poly in San Luis Obispo.