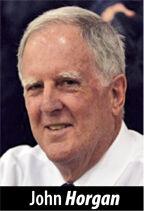 The battle over the future of California's suburbs is heating up. Again. The latest focus in Sacramento is another "progressive" attempt to force local officials to alter neighborhoods zoned for single-family detached homes to allow multiunit housing.
Senate Bill 9 is the controversial vehicle to accomplish that goal. Opposition to it is growing with each passing week. The debate has become far from pleasant.
That's no surprise. These neighborhoods have become a flash point for the state's left-leaning critics.
Homeowners who have invested their savings in the purchase of detached homes with backyards, garages, driveways and other amenities are generally not pleased with moves to change the type and character of their living arrangements.
For many, if not most, of them, these houses provide adequate space, privacy and room for a family to grow. During a pandemic (and perhaps beyond), they also offer a handy, safe, secure off-site working venue.
If anything, the time-honored single-family home is more desirable than ever. Hence the steady boom in prices for these prized assets in San Mateo County and other Bay Area suburbs.
Ironically, their value is rising significantly even as thousands of new apartments/condominiums are flooding (or soon will flood) the county market.
So far, there is no convincing evidence at all that these multistory properties are having any effect on the overall affordability of housing along the Peninsula.
As you might imagine, this circumstance is rarely, if ever, mentioned by advocates for what they term "affordable housing" in these parts.
But they forge ahead using arguments that have lately turned bitter and include allegations of racism on the part of municipal authorities and, by strong implication, suburban homeowners themselves, especially if they oppose sweeping measures like SB 9 and similar proposed legislation.
In other words, if you somehow pull together enough money to buy a single-family home in Redwood City, Foster City, Millbrae or anywhere else in this area and you prefer to keep the neighborhood as it is, you are, by definition, suspect in the fevered minds of some of those protesting the status quo.
The thousands of minority homeowners and their children living in these neighborhoods zoned R-1 (single-family residential) are somehow irrelevant in this tangled train of thought.
It's nasty. It threatens to become even nastier.
A NEW PEJORATIVE BUZZPHRASE: The creative wordsmiths on the side of transforming suburban living to their way of liking never seem to rest.
The fresh favorite pejorative phrase of these social engineers is "exclusionary zoning." They apply it to zoning rules that maintain single-family homes in certain neighborhoods and prohibit anything else there.
But there's a problem with that. Literally all zoning designations, no matter what they decree, are, by definition "exclusionary." That's the entire point of zoning in the first place.
You could just as easily declare that zoning strictly for commercial buildings is exclusionary. Or zoning only for apartments/condominiums or light industrial operations. You get the idea.
Without zoning, municipal authorities would be left with a maddening hodge-podge of unrelated and unworkable structures/enterprises that wouldn't fit together in any logical, cohesive fashion.
And, it should be noted, the days of including racial covenants in deeds (blatant exclusion) are long-gone, outlawed generations ago. And good riddance, by the way.
"Exclusionary zoning?" Sorry. Using the phrase as some sort of condemnation to bolster the argument against single-family homes is way off base.
LATEST ESTIMATE IS A WHOPPER: If you have ever wondered if inflation is heating up, look no farther than the most recent estimate of the cost of a proposed railroad grade separation in Burlingame.
When the plan to construct such an important traffic safety project at Broadway (with its direct access to Highway 101) was first broached some years ago, it was reliably estimated to cost $100 million. Not now.
The latest figure has soared all the way to $327 million, more than triple the total originally penciled in by the experts. Make no mistake, the sheer size of that number is going to give planners some serious second thoughts. And well it should.