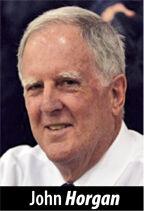 The pandemic has altered the course of our normal lives in so many ways it's hard to know where to begin to list them all.
But another one looms this week. The 93rd Little Big Game will be played at night for the first time in memory.
This is a prep football game between two old San Mateo County rivals, San Mateo and Burlingame highs. The debut of the contest in the series was in 1927.
That was the first year Burlingame had been untethered from San Mateo, the first school in what became the San Mateo Union High School District (it opened in 1902).
For several years, Burlingame had been known as the northern branch of what would become its intimate rival. The two campuses are located about a mile from one another.
Since that first Little Big Game (the name is a spinoff of the Big Game between Stanford and the University of California, Berkeley), the affair has been played on the last date of the regular season during daylight hours, according to available history sources.
But this Friday's 7 p.m. game will mark a major departure in that tradition in a number of ways. For starters, the crowd, typically 3,000 or more, will be severely limited to adhere to the district's pandemic protocol.
There will be no marching bands, no snack shacks, no large reunion events, no rallies, no dances, none of the typical hoopla that surrounds this hoary contest. In fact, it is actually the pandemic-delayed 2020 version of the Little Big Game that was scheduled to be played last November but wasn't.
It's important to point out that the LBG is more than a high school football encounter on the Peninsula. It has become an enduring institution, a community rallying point that goes back generations.
This week's game will not have the same historic feel of its predecessors; it will be unique. But the rivalry remains. Oh, and by the way, the 94th version is set for this coming November, at least that's the fervent hope.
MENLO PARK'S TIMING IS REVEALING: Sometimes, you just have to shake your head in wonder and amazement.
Visionary authorities in Menlo Park are considering an eventual ban on virtually all use of natural gas to become what amounts to an all-electric town. Really?
This suburban brainstorm comes at the same time our Peninsula provider of this vital commodity, Pacific Gas and Electric, is urging us to use as little electricity as possible between the hours of 4-9 p.m.
Why would that be? Because the utility's increasing reliance on solar and wind power is often strained and unreliable during that key time of day.
In other words, if you use natural gas during that five-hour period instead of electricity, much the better. But maybe not in Menlo Park at some point. Go figure.
IMPORTANT ADVICE FROM W.C. FIELDS: In this difficult time of the dreaded five Ds (doubt, division, dysfunction, disenchantment and disease), perhaps we would do well to recall the immortal words of the legendary comedian, W.C. Fields.
That wily career curmudgeon and sage celebrity, in the hilarious film role of a booze-addled Edgar Sousé, an incompetent bank security guard who spent far too much time at a nearby saloon in "The Bank Dick," put it like this: "Don't be a luddy-duddy. Don't be a mooncalf. Don't be a jabbernowl." In other words, don't be a hopeless twit. Ah, yes, words to live by, especially now.
MORE DEFUNCT SM EATERIES NOTED: In the wake of last week's short list of long-gone San Mateo dining spots noted in this space, diligent readers have chimed in with some additions.
Here are 10 more of their old favorites, restaurants that have not served customers for decades in that community:
• Green Willow (in Ben Franklin Hotel);
NO CONFUSION WITH THIS TERSE SIGN: Speaking of dining out, is there a more clear and succinct sign alerting folks to a restaurant than the one outside Artichoke Joe's Casino in downtown San Bruno? It reads simply, "Eat." Can't get any more terse than that.