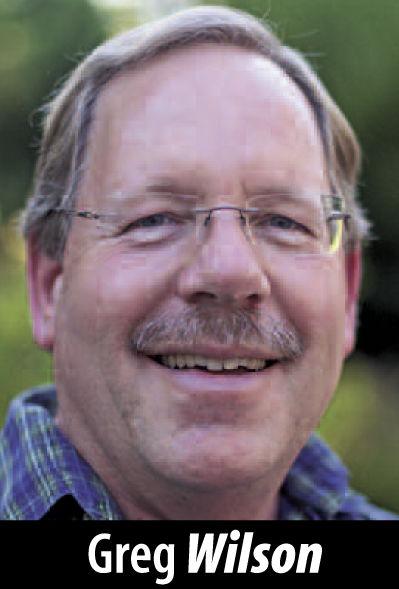 Driving back into town after having spent a long weekend in Los Angeles, I couldn't help but notice that the Highway 101 overpass at Whipple Avenue has been repaved and restriped. Normally I wouldn't pay much attention to an update like this. However, the city has added a can't-miss bicycle lane over the freeway, one that, in the eastbound direction, is painted entirely in a bright shade of green.
This aim of this recent project was twofold: to resurface this well-traveled overcrossing, and to provide "enhanced bike facilities." Westbound the new "bike facilities" are somewhat conventional: a narrow bike lane along the northern edge of the overcrossing feeding into a lane shared with motor vehicles. Heading east, however, the new bike lane is in the center of the street, smack dab between the eastbound and westbound driving lanes.
This central bike lane is clearly marked — that green paint really stands out — and its location in the center of the street will help keep cyclists away from the two Highway 101 on-ramps. Overall, it appears to be a big improvement for cyclists. But is the improvement big enough? With no curbs or other physical barriers, bikes remain vulnerable to rapidly moving, distracted drivers who might find themselves drifting into the bright green lane. If I were riding along it, I'd certainly be nervous.
Drivers don't seem to have much respect for painted bike lanes. For instance, not far away the city recently installed the pilot for the Hopkins Avenue Traffic Calming project. In two places, that pilot includes raised crosswalks across Hopkins Avenue, crosswalks that extend across the driving lanes but stop short of the bike lanes. Among other things, these crosswalks act as gentle speed bumps. But it seems that even these remain too much for some drivers; I've watched numerous cars try to avoid the bump by swerving into the bike lane at the last minute. I can only hope that such behavior doesn't result in tragedy.
The Hopkins Avenue project and the Whipple Avenue overpass both rely on prominent "Class 2" bike lanes: dedicated lanes for bicycles that are separated from vehicular traffic by painted markings. These are just one part of a major effort that Redwood City has been making lately to improve conditions for cyclists throughout the city. Over the last couple of years the city has implemented a number of "safe routes to school" projects that are intended to improve safety for kids (and adults) riding or walking to and from our local schools. Where the roads are wide enough, Redwood City has created Class 2 bike lanes. Elsewhere, they have marked certain streets as Class 3 bike routes. There, bikes and cars share a single travel lane, marked with sharrows (A sharrow is a painted image of a bicycle topped by a double chevron).
Sharing a traffic lane with automobiles seems safe enough on quiet residential streets where speeds are low. On busy streets such as Whipple Avenue, however, bicycles need more protection. A Class 2 lane is definitely a step up, although I'm betting that few cyclists will avail themselves of the new bike lane over the freeway.
Speaking of busy streets, Redwood City's vision for the future of El Camino Real also includes bike lanes, at least between Maple and Charter streets. The city recognizes that few people today ride bicycles along El Camino Real thanks to the inherent danger posed by the many vehicles using that busy road each day. Thus, here the city is calling for Class 4 bike lanes. These are lanes which are physically separated from the regular lanes by curbs, bollards and the like. Although significantly more expensive to construct, they provide an unparalleled level of protection and would undoubtedly encourage many more cyclists to ride along El Camino Real.
I'm sure many people would like to make the journey across Highway 101 by bike, perhaps to explore Bair Island or to commute to one of the many companies located in the vicinity. For them, if the bike lane over Highway 101 doesn't feel comfortable, know that soon there'll be a much safer alternative. This week I checked on the progress of the Highway 101 Pedestrian Undercrossing project (which, despite its name, is also designed to accommodate bicycles). Although the recent rains have turned the project into a bit of a muddy mess, it continues to make good progress. Sometime next year it should open, giving cyclists and pedestrians alike a safe and direct connection between the two sides of Highway 101 — one that goes under, rather than over, the highway. Until that time, though, I'll continue to use the next-best alternative as I walk around Redwood City: the less direct, but much quieter, Maple Street, which spans Highway 101 just south of Whipple Avenue.
Greg Wilson is the creator of Walking Redwood City, a blog inspired by his walks throughout Redwood City and adjacent communities. He can be reached at greg@walkingRedwoodCity.com. Follow Greg on Twitter @walkingRWC.