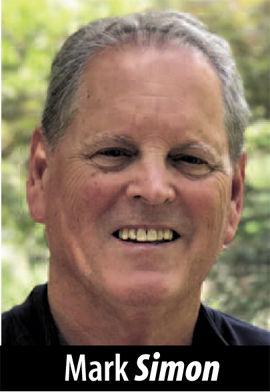 If these items seem a little thin, there were better ones ready to go, but I had a supply chain problem.
BATTLE LINES BEING DRAWN: As was so nobly noted recently in the Daily Journal, the NL West News Champions, district elections are sweeping through San Mateo County. It is too soon to fully understand the impact of this change, but it is likely to be the most revolutionary shift in local politics since the county was formed in 1856.
By the 2022 election, 11 cities in San Mateo County, more than half, will be holding elections by district, rather than at-large. Nearly all of them have done so under threat of a lawsuit alleging that their at-large system was in violation of the California Voting Rights Act. 
Four cities switched districts in time for last year's election — South San Francisco, Redwood City, Half Moon Bay and Pacifica. Menlo Park was the first, moving to districts for the 2018 election. Woodside, where councilmembers have been elected citywide from districts, will move to election by district.
Five cities are switching to district elections. Millbrae received a CVRA threat back in March, but appears to be off to a slow start. Burlingame received a demand letter in January 2020, and is deep in a process it has dubbed "5 Districts — One Burlingame." San Mateo received a demand letter in May and also is in the process. Belmont only recently received a demand letter and has barely begun. San Bruno decided to start the process without waiting to get the inevitable letter.
The remaining cities are either too small to bother threatening (Colma, Atherton, Hillsborough, Portola Valley, Brisbane), sufficiently diverse that a challenge might be unsustainable (Daly City, East Palo Alto) or not yet been targeted (Foster City, San Carlos).
It was my privilege to serve with Redwood City Councilmember Alicia Aguirre and Assembly Speaker pro Tem Kevin Mullin, D-South San Francisco, on a recent political panel discussion, moderated by county labor leader Julie Lind, before the annual Chamber San Mateo County leadership class, and district elections and their implications were of top interest.
Among the many points: More young and progressive minorities are likely to be elected and that they are not going to "wait their turn" to run for office; these new officeholders are more likely to be comparatively inexperienced, which means a steep learning curve for them, their colleagues and city staff; city councils need to increase focus on appointing some of these young and future officeholders to key boards and commissions where they can gain relevant experience; there will be greater demands on city staff as new councilmembers want to focus on the needs of their districts; some of the new councilmembers are not going to be reelected as other would-be candidates learn how to work the new system; and no matter how young and aggressive, councilmembers will have to know how to win over a majority of their colleagues, still an essential requirement for successful service.
And as if district elections are not enough of a change, the advent of all-mail balloting, just made permanent in California, dramatically changes the calculus of who might vote in future elections. That changes everything.
OFFSHORE ACCOUNTS: If you're looking for a truly scary Halloween costume this year, apparently nothing terrifies the powerful, privileged and wealthy quite like taxes.
IN YOUR FACEBOOK: Or you could dress up like Facebook. It sure looks like Facebook has managed to misuse its power sufficient to bring on a new set of federal social media regulations. This is no surprise. Over the course of my lengthening lifetime I can think of no example of an industry effectively regulating itself. Nearly every change to the benefit of the public — tobacco, auto safety, clean water and air and, ahem, bans on offshore oil drilling — resulted from government intervention, often with a significant boost from organized labor. Such changes are accompanied by cries that regulation will kill the industry. Not as fast as they are willing to kill us.
GRUMPY OLD MAN: My recent rant about traffic prompted my son to say I was becoming the Peninsula's Andy Rooney. This he did not offer as a compliment. But since we are in this particular neighborhood, just the other day I heard local newscasters refer to SoCal and SF and San Fran. They are all wrong, San Fran being particularly aggravating. I can trash the self-centered city to the north with the best of them, but, honestly, there is no need to obsessively seek short cuts. San Francisco. Let the word go forth.
Mark Simon is a veteran journalist, whose career included 15 years as an executive at SamTrans and Caltrain. He can be reached at marksimon@smdailyjournal.com.