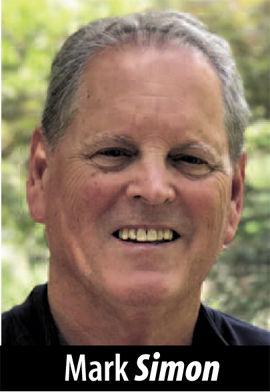 We take a break for the usual campaign nonsense to bring you a whole new kind of nonsense: The winners of our traditional Political Beanbag Awards, which we just made up, and is named for 19th century newspaper columnist Mr. Dooley's observation: "Politics ain't beanbag."
Most Ironic Email: This is a crowded category, but the winner is Assembly candidate and San Mateo Councilmember Diane Papan, whose "Team Papan" campaign sent out this tidbit: "It's unfortunate that for months Giselle Hale has chosen to go negative." I must have missed the Hale hit piece comparing Papan to Darth Vader.
We Can Still Be Friends: To Hale, who denounced the California Apartment Association in 2018 for a wave of negative campaign pieces, then became the target this year of negative hit pieces from the same group, then announced Papan should denounce them.
Cloud Computing: To Assembly candidate and South San Francisco Councilmember James Coleman, who, amid the onslaught of charges and counter-charges between Hale and Papan, said, in essence, that he is floating above it all, a common stance by candidates in a distant third (or fourth?) place.
No Mas, No Mas: To the independent expenditure committees that turned the Assembly race into a bloodbath. As of the latest count, these IEs, representing developers, landlords and corporate interests, have spent more than $850,000 in the Assembly race — about $630,000 in support of Papan and $220,000 in opposition to Hale.
They Might Be Mean To Me: This one goes to Sheriff Carlos Bolanos, campaigning on a platform of openness and transparency, who ducked a second debate with challenger Capt. Christina Corpus because he thought the group sponsoring the event would be asking him unfair questions.
Math: To Corpus for her "disappointment" that I doubted her poll showing her ahead by 10 points and asked how this number was arrived at and achieved — details that were not provided. This race may be very close, but if Corpus wins by 10 points, I will eat this column.
Speaking of Darth Vader: To the pollsters for the aforementioned IEs, who apparently have data showing voters here think the tech industry is the Evil Empire that will steal your secrets and do bad things with them, when social media shows we can do that all by ourselves. (Hello, anti-Yimby radical Nancy Reyering of the county Harbor Commission.)
Wait, She's Retiring? To Rep. Jackie Speier. You may have heard that Speier endorsed Assemblymember Kevin Mullin in the 15th Congressional District race. You may have heard this like, a (modifier goes here)-ton times. One Mullin mail piece has six pictures of Speier. Combined with a Mullin campaign that appears to have shifted from 25 mph all the way up to 28 mph, you could be forgiven for looking at your ballot and wondering why Speier is not on it.
Clarity of Message: To San Mateo-Foster City Trustee Noelia Corzo, running for San Mateo County supervisor in District 2, who told the Daily Journal's Sierra Lopez that she was running because she thought someone ought to run against Belmont Councilmember Charles Stone.
Marathon Man: To Stone, who has been running for the board seat since 2019. Someone ought to tell him there's a line between campaigning and annoying people. Some insiders are asking, "Is it safe?"
Sneakiest Scalpel: To David Pollack, who is running against Mark Church for the office of assessor-clerk-recorder and chief elections officer, and posted on social media a quote from this very column: "It was evident no one likes Church." What he omitted is the rest of the quote in which county Democratic Central Committee members "also described Pollack, in the words of one member, as 'woefully unqualified.'"
Maj. Major Major: To the aforementioned Church, who, facing a challenger in Pollack, opted not to campaign for reelection.
Quien Sabe: To 15th CD candidate Supervisor David Canepa, who launched his campaign by announcing he is of Mexican heritage. Not that there is anything wrong with that, of course, but in 15 years of Canepa running for and holding office, this never came up before.
That's So Coastside: To the entire race for the District 3 seat on the Board of Supervisors, which seems almost off in a world of its own.
The Loco Motion: To 15th CD candidate and Burlingame Councilmember Emily Beach, a former U.S. Army captain, whose campaign tweets are laced with motion-sensor terminology: "I'm still reeling," "It's crunch time," and "We won't back down," and such energetic adverbs as fighting and working. If she makes it into the general election, Beach is going to challenge her opponent to a push-up contest.
Mark Simon is a veteran journalist, whose career included 15 years as an executive at SamTrans and Caltrain. He can be reached at marksimon@smdailyjournal.com.