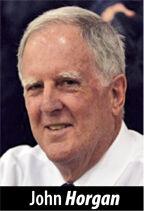 The recent passing of longtime public educator Tom Mohr has received extensive and appropriate coverage in these pages. But one of his most important achievements has not.
Mohr, a former superintendent of the San Mateo Union High School District, was a key guiding figure in the complete rebuilding of the large, multi-story, main academic building at San Mateo High School.
Mohr was in charge of district operations in the late 1990s when it was discovered that the school, fronting on North Delaware Street, was seismically unsafe and unfit for students and staff. It was immediately closed down, essentially condemned. The decision was traumatic for all involved — and it lasted for years.
Mohr, unflappable, directed the effort to plan, finance and construct an entirely new, safe, state-of-the-art main building that adhered to the traditional architectural style that dates back to the late 1920s when the school opened on its present site in northeast San Mateo.
During the extensive rebuild, students and staff were housed in portable facilities on the southeast portion of the sprawling campus off Poplar Avenue.
With Mohr in the administrative lead, the unprecedented effort was finally finished in 2005 after years of work. Not without its share of issues and problems, the rebuild wound up being a stunning success and remains so today.
Over time, other facilities on the property, including the signature performing arts center, swimming complex, main gymnasium, were also renovated or rebuilt to current standards that matched the look of the main building.
The school, the second oldest public secondary institution in San Mateo County, was founded originally in a cottage on the periphery of downtown San Mateo in 1902.
The school's centennial was celebrated during the reconstruction. Its clock tower has been named in Mohr's memory.
CHINA CLIPPER ANNIVERSARY: For local aviation buffs, it's worth noting an important anniversary that helped to shape the travel industry in these parts.
It was on Nov. 22, 1935, that Pan American Airways' new China Clipper successfully completed its first non-stop commercial flight from the Bay Area to Hawaii and, then, eventually to Manila.
It was a technological milestone 85 years ago. The four-prop Martin M-130 seaplane was a marvel in its time. It became a workhorse for travelers heading west; it served the U.S. military during World War II.
In its last years of Pacific service, the aircraft was based at seaplane facilities at what is now San Francisco International Airport.
Today, the airport's international terminal includes an aviation history museum which features the China Clipper's full story. Admission is free.
CARTOONIST MAKES A SPLASH: The days of editorial cartoonists being featured in print newspapers have faded. There aren't many of this talented breed left working regularly today.
The revitalized Pacifica Tribune is bucking that trend; artist Deb Wong is producing some sellar work for that weekly publication which is undergoing a makeover in the wake of its merger with the Half Moon Bay Review.
The two paid weeklies remain separate editorial entities on the coastside. Wong's creative efforts, which have also appeared on Facebook, merit a peek.
HILLSDALE REUNION PROCEEDS: In the Age of COVID (it has come to this, folks), reunions of all stripes are not simple. They typically cannot be handled in person now.
As a result, many of these traditional gatherings have been called off. Not at Hillsdale High School. There, the 25th annual alumni luncheon is set to proceed as scheduled — virtually.
The computerized (Zoom) affair is set to be held from 11:30 a.m. to 1:30 p.m. Dec. 5. For more information, please email former Hillsdale principal Don Leydig at dcleydig@gmail.com.
SEA BOWL STYMIED AGAIN: Like other sporting ventures, Pacifica's Sea Bowl can't catch a break. It had just reopened when, as bad luck would have it, state officials ordered it closed again due to reimposed pandemic restrictions in San Mateo County. At some point, this economic yo-yo has to be moderated in more consistent, logical fashion. 
John Horgan, beginning his 58th year of writing about the Peninsula this month, dotes on local items of interest. Contact him by email at johnhorganmedia@gmail.com.