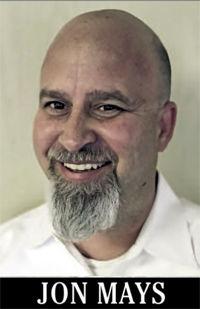 I have long said that one of the most important nonprofit service agencies in this county is the Samaritan House. Not to denigrate the work of our many nonprofits that provide a tremendous and wide range of services in challenging circumstances, but Samaritan House provides an essential safety net for those who sometimes desperately need it for nearly 50 years. It provides everything from food, shelter, health care, clothing to financial empowerment. The needs in the community are always strong and it is always there to help.
But it wasn't always that way. While he was not the founder of Samaritan House, John Kelly could be seen as its heart and soul — and its spiritual father. Kelly died at the age of 90 last week.
I first met Kelly at a San Mateo City Council meeting 20 years ago when the city was contemplating how it would spend its federal grant money. At the time, deciding those grants was a multi-layer process with a variety of nonprofits applying for them, pitching their cause at a Community Relations Commission, which made recommendations to the council, which made the final decision.
At the time, there was some discussion of spreading out the money to more nonprofits rather than giving it to some that provided core services. When Kelly got up to speak, he did so eloquently and with tremendous purpose extolling the virtue of each and every group that sought funding and also providing a context for the council's decision. He said the council would make the right decision but in doing so provided an illustration of what his organization does and how it fit into the larger fabric of the community. It was just about the most amazing synthesis of the essence of community service I had ever seen. It wasn't a soft sell, it was a genuine explanation and could have provided the council sufficient cover to provide less funding to his very own organization. It didn't. In fact, when he was done speaking, you could feel his words wash over each and every person in that chamber. It was both awe-inspiring, inspirational and lasting.
I received more from that brief monologue than any other utterance in that chamber and elsewhere over my years observing this community. It was a genuine and extremely powerful expression of community service delivered in such a way as to provide the true meaning for the work that was before the deliberating body. It showed to me a man who was interested in serving his fellow man for the most genuine of reasons — simply helping as many people as possible in every way possible.
I come across a wide range of people in my business. Many seek to help others but sometimes do so to advance themselves or some other agenda. Not Kelly. He was the noble embodiment of community service. Those who knew him better than I did say he lived a pauper's life, with very few material possessions. In this era and place of riches and the trouble caused by such riches, seeing and knowing someone who shirked it is certainly notable.
Later, after his stroke, Kelly had the idea of writing a few pieces for us about his experience in restorative justice at San Quentin State Prison. He felt others might benefit from his discoveries and mentioned that he thought we might be a good venue for revealing it. I was happy to do it. He made a point to come into the office to meet me and slowly made it up to the second floor with his walker to do so. He felt we should meet again if we were to be working together. Though he was only able to write a small amount for us, I do believe it was a positive for the community to learn what he was up to. We exchanged notes now and then but then lost touch as he got older and less able.
These are small exchanges and my observation in the council chamber was but one piece of a larger body of work that Kelly exhibited throughout all his years. Countless others have felt the power of his passion for community service. However, part of my role in this community is to observe it and, at times, let others know the meaning of what I experience. It is my experience that people like John Kelly don't come by very often and, when they do, we should appreciate it and learn from it. If we do, then the purpose of his life lives on after his death and becomes part of each and every one of us. John Kelly's commitment to the community was the selfless embodiment of service to others — ensuring that no one was without help when in need. This was a life lived well.
Jon Mays is the editor in chief of the Daily Journal. He can be reached at jon@smdailyjournal.com. Follow Jon on Twitter @jonmays.