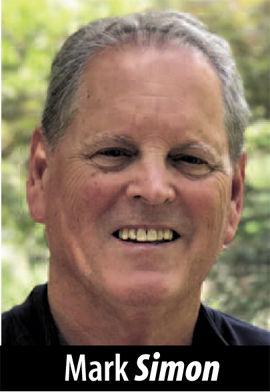 There were only four of us. To play baseball, we had to mark off a limited field and make up some rules — you pitched to your own team, you could only hit the ball from the foul line to midway through centerfield, the fielders had to throw the ball to the pitcher before the hitter got to first. There were ghost runners.
I think Barney was on my team and Jeff and Ed were on the other. Ed was wearing his T-shirt like a headdress for some reason. He was playing shortstop, but he was somewhere in mid-left field, so deep that he was scooping every grounder and throwing us out. He was loudly praising his own fielding range. I was getting fed up with Ed.
I squared up one pitch and hit a screaming line drive. It got to Ed so fast he couldn't put his glove up. It hit him in the chest with a loud thump. He wobbled and fell. Then he scrambled for the ball and threw me out. I was laughing so hard, I fell down halfway to first. When we looked at Ed's chest, you could see the stitches from the ball in his skin.
I could tell stories for days about Ed. But this isn't a story about him, it's about baseball.
We played it any way we could and we would play it all day, breaking only for lunch, and ending only when it got too dark. We walked to different parks in town, looking for games to play.
Baseball came fully into my life in 1958, when the Giants came to San Francisco and I went to my first game at Seals Stadium. I played until I was 16. I wasn't very good, but I loved the uniform. And I loved the game. 
I got this from my dad, who was good enough, growing up in North Beach in San Francisco and playing ball with the DiMaggio brothers, that he could have played pro or on a scholarship in college. Instead, in the middle of the Depression, he got a job and he held on for dear life. 
But from the moment the Giants came to town, they were the centerpiece of our summers — background noise when we worked in the yard on weekends or as I fell to sleep on weeknights.
And so they have remained — the one constant, as the James Earl Jones character says in "Field of Dreams."
Until this, summer, of course, as they begin spring training two weeks after spring has ended.
I miss the game deeply. I miss its company. I worry the weird plans and odd accommodations won't work out and I hope they do, because, gosh, I miss it.
This is on a subconscious, subcutaneous level. Without being aware I was doing so, I recently read three baseball books in a row, and rewatched PBS' Ken Burns series "Baseball."
The first book is "Intangibles," by former San Francisco sports columnist Joan Ryan. She addresses the question whether there is such a thing as team chemistry and if it helps a team win. A mixture of approachable science and wonderful interviews, written in her clean, light prose, Joan answers with a resounding yes. 
There are Giants all over the book and if you loved the Humm Baby Giants of the late 1980s, as I did, you will love this book.
The next is "24," and if you have to ask whose number that is, move along. The book, written with Chronicle baseball writer John Shea, is jammed with Willie's thoughts on the game and life. It is the kind of book you cozy up to. I have idolized Willie Mays nearly my whole life. His book shows that my faith was justified. 
I got to see Willie Mays play baseball.
The "Baseball" series is wonderful and a true history of the sport — in all its glory and its shame. It has to be a great game to survive all the ways that owners have tried to kill it.
The last book is a collection of essays, recollections and ruminations about baseball by friend Audrey Wong, whose son collected them all into a paperback. There's a good chance you'll never read it and she wrote these stories as much for herself as anyone else, including me.
But it's baseball, and that'll do in a pinch, because only baseball can draw out of us the mixture of wonder and sentiment that connects us to our youth, to a day when our mom or our dad took us to our first ball game and said, "Watch this."
Mark Simon is a veteran journalist, whose career included 15 years as an executive at SamTrans and Caltrain. He can be reached at marksimon@smdailyjournal.com.