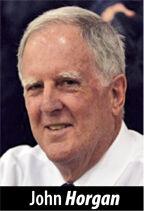 Maybe it's a generational thing. Back in the day as kids/young adults, we must have marched to a different societal drummer.
We didn't require serious inducements to do the intelligent thing, the obvious step in the correct direction. No blatant bribes to cooperate for us.
In fairness, we often didn't have much of a choice. I can well recall lining up with my classmates as we awaited our turns to get vaccinated for childhood illnesses.
Reluctantly (few, if any, of us relished the notion of a needle in the arm), we accepted the jab. Then it was right back to the classroom for more English and math, sore arm and all.
That was it. No discussions. No protests. No lawyers. No social media spewing falsehoods and inaccurate medical data. We just did it.
Not so much now. With the latest pandemic still a concern (though easing for sure), there is a considerable swath of America that simply doesn't see a compelling reason to be vaccinated.
So what's the answer? Well, right here in the Lovely Land of Loons, our generous state officials are going to provide monetary rewards as a lure to get those dubious folks (and others who have been derelict in this matter) to receive their shots.
This vaccine lottery, with a stockpile of $116 million, is scheduled to crank up this week. Even people who have already been inoculated are eligible; let's call it "a retroactive bonus." It's another happy cash giveaway during a period of seemingly endless largesse funded by the taxpayers in one way or another.
But why stop with the anti-COVID jab, or jabs? Why not take this exercise another step or two? You can almost visualize the possibilities for the creative bureaucrats in Sacramento and elsewhere.
Where to start? Oh, how about a colonoscopy? That's always a less-than-desired but helpful examination. Stimulate compliance with your doctor's recommendation with a gift card from Dulcolax, a favorite preprocedure colon cleanser.
Then there's your mandatory license renewal at the Department of Motor Vehicles, always a delightful adventure in interpersonal relationships and wasted time. Let's get proactive and provide Netflix/Hulu credits for people who do their duty without a lot of whining and moaning.
BECKER'S TRUE COLORS REVEALED: When Josh Becker was seeking to represent most of San Mateo County in the state Senate a year ago, it wasn't always clear precisely where he stood on the issue of preserving residential neighborhoods as they are — and have been for generations of suburban homeowners.
Now we know for sure. Becker, a Democrat from Menlo Park, voted in favor of Senate Bill 9 last week. That piece of legislation, which now goes to the state Assembly for a vote, would force municipalities to permit multiunit housing on properties now zoned for single-family detached homes.
As fully anticipated, the county's other state senator, Scott Wiener, also voted in favor of SB 9. He has been an outspoken critic of R-1 zoning for years.
SB 9, if it were to become law, would mark a sea change in single-family neighborhoods along the Peninsula and throughout California.
Homeowners who purchased their detached houses in areas zoned specifically for such structures would find themselves facing something new well after the fact.
Becker, who describes himself as a "public policy innovator working at the nexus of community activism, technology and social justice," will have to face the voters again, assuming he will choose to seek reelection.
Becker's 2021 vote on SB 9 will no doubt provide helpful perspective at that time.
NICK GENNARO HAD A TOUGH TASK: When Dr. Nicholas Gennaro was named superintendent of the San Mateo Union High School District in 1984, he assumed that position during a very difficult period.
The district's enrollment decline was precipitous. Finances were tight and budget cuts were always looming. Gennaro, who died May 20, served as the district's top administrator until 1996.
It wasn't easy but he managed to guide the district through those shoals with a marked degree of skill, humanity and dedication. He was 86 at the time of his passing.