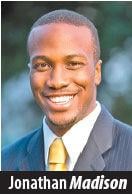 You may be familiar with the story behind the moving lyrics of "The Star Spangled Banner." In the courageous battle at Fort McHenry in the War of 1812, world-renowned patriot and poet Francis Scott Key helplessly watched from a great distance as American troops were bombarded by British forces. He watched as countless American soldiers fearlessly held high the torn and bloody American flag before being slaughtered by British reinforcements. As soldiers died carrying the flag, others would quickly take their place and continue to hold high the colors, only to succumb to the same fate.
At dawn, Key was shocked at the sight of the battle scene — the flag still stood high amongst countless American bodies. From witnessing the immortal courage of those soldiers, Key subsequently wrote our national anthem that you and I know today.
I often emphasize with humility in my column the inevitably short lives that you and I possess. This is not intended to frighten you about the fact that tomorrow is not promised — rather, the emphasis is intended to draw your attention to the limitless value in every breath we take and every moment we witness. This humble understanding of our fate is what makes us appreciate those who sacrifice their lives for others.
Indeed, nothing moves our spirits to a more patriotic place than the brave men and women who proudly defend our country from every shore with the most valuable possession they hold dear — their lives. In spite of the endless debates we often have about our various ideologies and differing opinions on public policies, our soldiers love and believe in the values of our country enough to risk their lives for the longevity of our state. These individuals fight for our freedom, regardless of their political views, or ours for that matter.
Our strong national defense has played a pivotal role in enabling our country's longevity and to preserve other democracies across the globe. Their sacrifices have made possible what many deemed impossible for decades, such as the collapse of the Berlin Wall, becoming the largest engine of economic freedom the world has ever known following World War II, and liberating Europe from tyranny.
Just remember, soldiers are sacrificing their lives for you every day, most of whom you have never met. As such, I would like to dedicate this column to the veterans who have courageously defended our nation. While I am proud to note that the Fourth of July is five days away, we should not let a day go by without recognizing our nation's independence, and the sacrifices our veterans have made to defend that independence. Freedom rings in our country every day because of the sacrifices our veterans make, and we should continue to faithfully stand behind them.
A native of Pacifica, Jonathan Madison worked as professional policy staff for the U.S. House of Representatives, Committee on Financial Services, from 2011-2013. Jonathan is lead partner at The Madison Firm and can be reached via email at jonathanemadison@gmail.com.