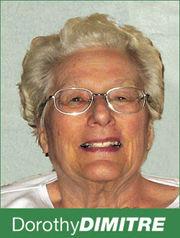 "Life's tragedy is that we get old too soon and wise too late." — Benjamin Franklin.
Today I am commemorating Grandparent's Day which was on Sept. 8 and a momentous birthday of mine which comes up next week.
When I enjoy the company of my grandchildren and great-grandchildren, I always think about the kind of world that they are growing up into — a crazy, dysfunctional world that threatens their stability from many directions. Seems that what they desperately need to know is how, in spite of it all, to make a go of it and lead a satisfying and rewarding life. I course, it's not that I know all of the answers, but, after all, a grandmother who has lived this long and has paid attention to the vicissitudes of life has some good advice that can help them lead a satisfying and productive life as they grow up and have to deal with a rapidly changing world. 
Now that a new school year is well underway, I am hoping that, besides the usual academics, my grandkids will learn — of course with the help of their parents and grandparents — at least some of the following:
1). Practice voluntary simplicity. In spite of what our corporate interests want us to believe, a lot of unnecessary possessions are not essential to happiness. Being satisfied with what you have and refraining from always wishing for more contributes to peace of mind. Enjoy nature, beautiful creations of human beings, express yourself in creative ways and enjoy time with friends and family. Our worth isn't in what we have, but how we think and what we contribute.
2). Good friends are priceless treasures. They are worth cultivating and enjoying by being a good friend in return. Also, remaining close to supportive family and other loved ones who have your best interest at heart provides satisfying connections that can add immeasurably to our lives.
3). Remember, no one has it ALL together. We all have some quirks. Expecting everyone and everything to live up to your expectations can only lead to disappointment. Keeping this in mind helps us put up with frustrating people and also may help us be a bit easier on ourselves.
4). Responsibly question authority. Along with this, avoid anyone who tries to exploit you for their own purposes. Learn to recognize a scam so others can't take advantage of you. Keep an open mind, but remain skeptical. Don't let anyone talk you into anything that you feel is not in your best interest.
5). Learn to know yourself well. Appreciate and enhance your good qualities. As you grow up, develop a healthy and mindful philosophy of living that sustains you. Find out where your talents lie, but don't forget that there are a lot of other things to learn that you might not be aware of yet.
6). Be very selective of what you watch on TV and other media. Try to keep it upbeat and inspiring instead of depressing and violent. Limit your time with your cellphone, etc. so you have more time to relate to others face to face and enjoy interesting hobbies.
7). Remember that alcohol, recreational drugs, smoking can damage your brain and/or compromise your health in other ways. Avoid soft drinks and other nutritionally deprived foods like most sweets and fast foods. Learn how to eat healthfully — what kinds of foods are best. A healthful lifestyle supports better health — not only in your life now, but in the future. Also get plenty of exercise by taking part in physical activities that you enjoy.
8). Concentrate on doing well in school. Remember though not all of it will please you, doing well will open more doors in the future — like choosing a college and/or a career.
9). Integrity is where it's at. Include honesty, responsibility, decency and compassion. It's a good feeling to know that you did the right thing when the chips were down. Following high standards of behavior creates a secure base for healthy self-esteem.
10). Above all, keep up those hugs and smooches whenever we greet each other and remember that Grams has the welfare of my grandchildren utmost in my heart.
This will be one of the gifts that my teenage grandchildren will find in their birthday cards as their special days approach. I realize that I'll be lucky if they read 1-10 at all, much less all the way through. Hopefully, they'll be curious enough to see what Grams came up with. After all, it's not only one of the ways I can express my love for them, but my way of commemorating Grandparent's Day all year.
As Ashleigh Brilliant wrote: "Everyone is entitled to my opinion." 
Since 1984, Dorothy Dimitre has written more than 1,000 columns for various local newspapers. Her email address is gramsd@aceweb.com.